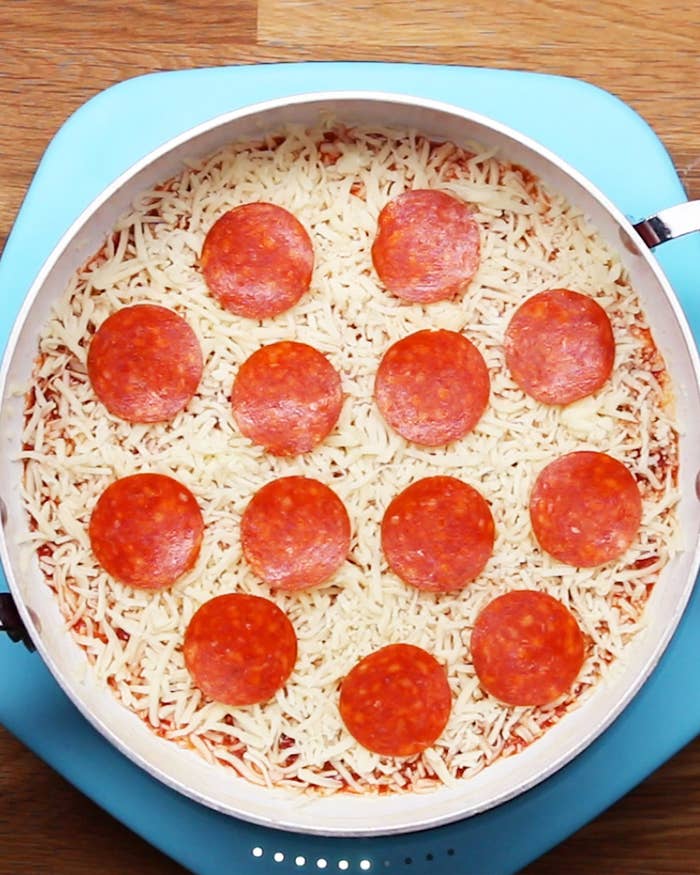 Ingredients:
for 2 servings
½ cup warm water (120 mL)
1 tablespoon olive oil
⅔ cup all purpose flour (85 g)
½ teaspoon sugar
½ teaspoon instant yeast
½ teaspoon salt
TOPPINGS
½ cup marinara sauce (130 g)
2 cups shredded mozzarella cheese (200 g)
½ cup pepperoni slices (75 g)
fresh basil, chopped, for garnish
Preparation:
1. In a large nonstick pan, combine the warm water, olive oil, flour, sugar, yeast, and salt. Use a spatula to stir the ingredients, then smooth the dough to the edges of the pan.
2. Spread the marinara sauce over the dough, all the way to the edges. Sprinkle the mozzarella evenly over the sauce, then top with the pepperoni.
3. Place over medium heat, cover, and cook for 10 minutes with the vent covered.
4. Uncover the vent and cook for 5 more minutes, until the edges are crispy.
5. Slide the pizza out of the pan onto a cutting board and let cool for 5 minutes.
6. Sprinkle with basil, then slice and serve.
7. Enjoy!