From "The Adventures of TasteeBQ"- Courtesy of www.TasteeBQ.com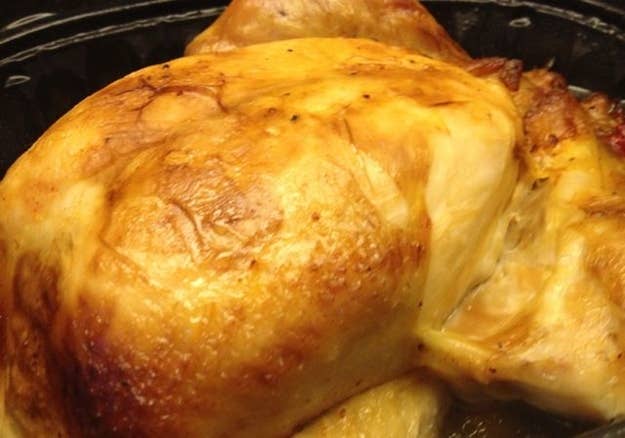 This is one of the greatest mysteries of all time. Where do those Chickens come from? Why are the prepared ones cheaper than buying fresh ones? What road did those (same sized) Chickens cross to get to our table side ? Why are they so good? TasteeBQ had no time go ponder these deep thoughts. It was dinner time, traffic stucked, and those Rotisserie Chickens at the grocery looked mighty fine.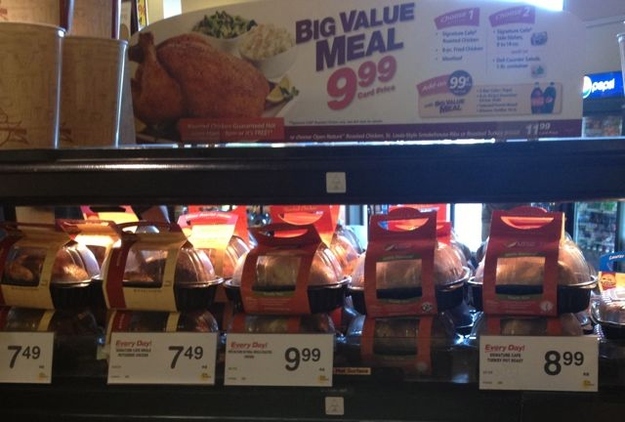 But hadn't he consumed a whole Rotisserie Chicken every night for the past four days? He considered getting that $5.00 Fried 8-pc Chicken deal tonight… Nah maybe next time. So our Hero had to come up with a scheme. Some way to make the same, tasty Rotisserie Chicken taste not so… same. TasteeBQ came up with a Plan. Why not fly all over the world and seek Herbal Wisdom in a jar?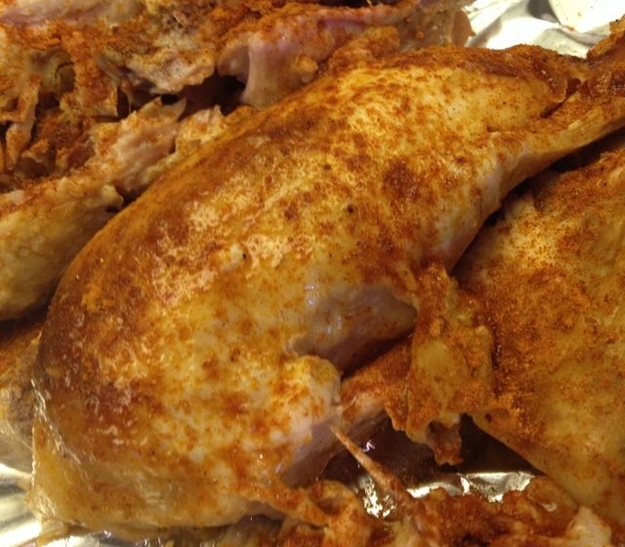 Recipe #1 RUB RUBBED CHICKEN (Not Jerked)
Enough pondering. Time for dinner. The first recipe he tried was really fast and easy. TasteeBQ used his Magic Rub with 9 Sacred SuperFoods. He simply removed the Chicken from the plastic tub, sprinkled it with the Rub- and Yum! Those who have yet to acquire the Magic Rub can use the following potion:
TEMPORARY HOME RUB POTION
2 Tbl. Smoked Paprika
1.Tbl. Garlic
1. Tbl. Cumin
1. Tsp.Turmeric
1. Tsp. Raw Sugar
1/2 Tsp. Sea Salt & 1/4 Tsp Pepper
[Salt and Sugar optional]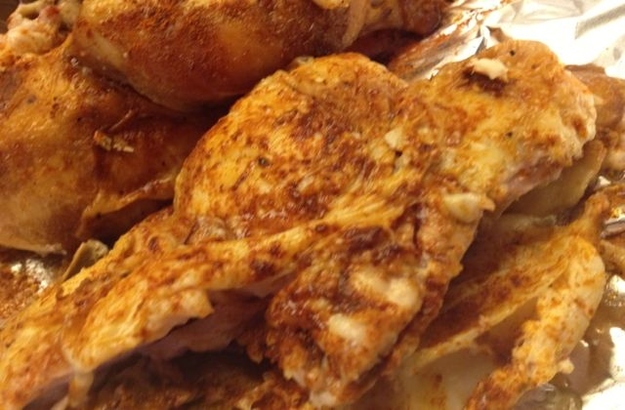 This is not to be confused with Jerked Chicken. TasteeBQ found that Paprika is considered a SuperFood by some. Paprika is said to have famously dueled with Citrus Foods and won the title for "Most Vitamin C". Who knew? Our hero found the spice to be popular everywhere from Hungary to Spain, Morocco, Mexico and in the Caribbean. The dishes ranged from Sausages, to Stews, Paellas and more. He also learned that applying heat to Paprika brings out even more of it's natural smoky flavor. This led him to a brilliant idea.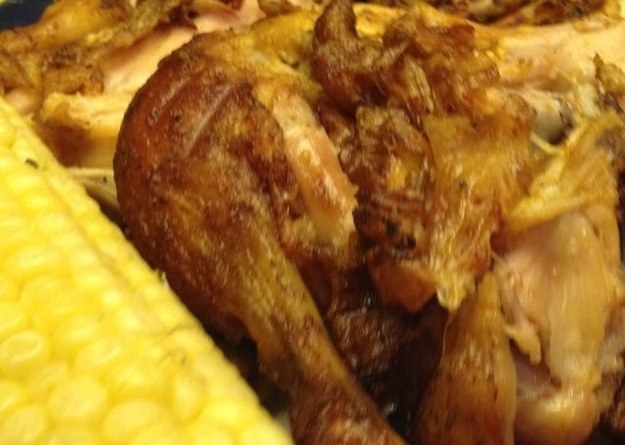 Recipe #2- HEAT RUBBED CHICKEN
Simply genius. Who could of thought that adding flame to a re-seasoned Rotisserie Chicken could make it taste better? After applying the Magic Rub, TasteeBQ tried heating it, using several techniques. The results came out the same- Delicious!
Grill- Cut in half (lengthwise) and marinate Chicken in Rub (or Potion) for 15 minutes while firing up the Grill to Medium. The longer you grill Chicken on indirect heat the more BBQ flavor you'll get. Use wood chips for even more flavor.
Oven- After marinating, bake whole Chicken at 400 degrees for 1/2 hour. Then Broil for 5-6 minutes to get tasty, crispy skin.
Skillet/ Grill Pan- Heat up a little oil. Cut marinated Chicken into 4-6 sections. Pan sear Chicken on both sides, to caramelize. For extra flavor, you can saute' Chopped Onions and/Garlic along with Chicken.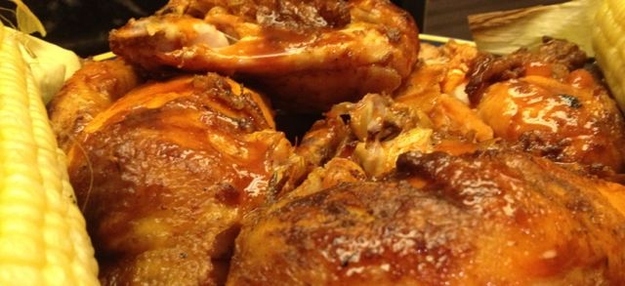 If Grilled Chicken makes you Scream, Smoked Chicken is the Mona Lisa. It is almost impossible to describe the beauty and deliciousness of nicely smoked meat. But the flavor is simply unmistakable. That reminds TasteeBQ of Garlic, which he considers the Mona Lisa of Spices. Garlic has been used as both food and medicine in many cultures for thousands of years, everywhere from China to Japan, Egypt, India, France, Russia, South Korea, South America and here in the U.S.
Gratuitous Bonus Video- See the Mona Lisa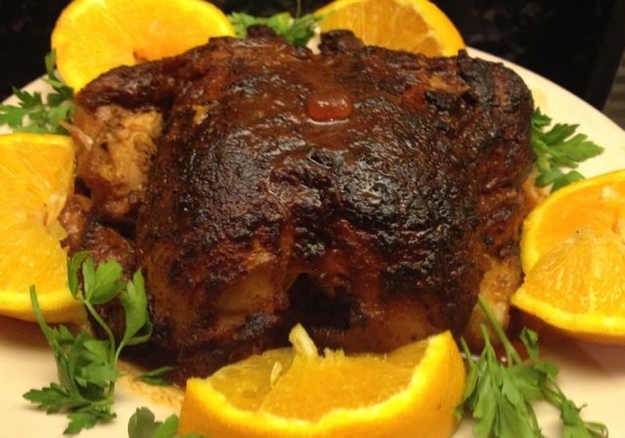 Next time (in Part 2), TasteeBQ will reveal the techniques for making Homemade BBQ Sauce and Smoked Rotisserie Chicken. Stay tuned.
californiagoldrub.com
Introducing POWER- a delicious BBQ Seasoning and Marinade; Gluten Free with 9 SuperFoods. See website for Recipes, including healthier homemade Gluten Free BBQ Sauce.
tasteebq.com
Los Angeles onsite BBQ Catering. Also offering Group Demos and Private Grilling Lessons.