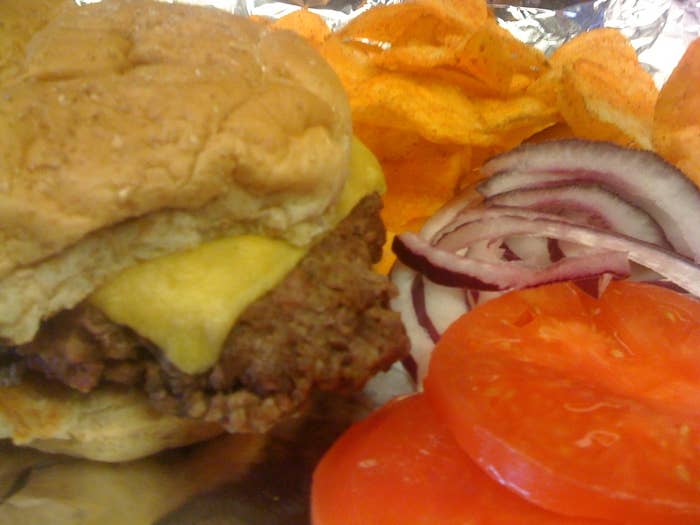 courtesy of www.tasteebq.com
Well, we don't actually go to the Big Game, it is more like a Human Home Gathering of Football Fans…
Our hero TASTEEBQ was called to the Rescue by Jill, a Damsel in Distress. Tired of frozen burgers and salty hotdogs for Super Bowl, Jill was determined to do something more exciting on the Grill. Plus, some of Jill's expected guests were from the Tribe of Vegan. But… What to Make? And How? Help!!!
Hearing her distress from far away TASTEEBQ answered her call. …Using a powerful Distance Connecting Voice Module (some may call it an iphone). On a lifelong Mission to defeat his longtime arch-nemises Boren'GFood, our Hero is always happy to lend a hand. He flew to Jill's lair immediately and was amazed to see her Pantry, which contained everything needed to make 5 Super Easy Super Bowl Recipes for the Grill.
In a Snap!, TASTEEBQ was able to help Jill make a truly Heroic Menu. Her guests were overjoyed to consume these delicious morsels, which miraculously disappeared as fast as they were served. With an assist on the Grill from her husband Jack, both hosts became Legendary Heroes in the eyes (and stomachs) of all their friends. They even scored points with the Vegans, which can be quite the challenge.
5 SUPER EASY SUPER BOWL RECIPES for the GRILL
Barbeque Chips
Smoked Nachos
Grilled Caesar Salad
Smokin' Hot Wings
Bistro Sliders
Supplies:
Our Hero was Jazzed to find the basic Grilling Supplies needed on hand: Barbeque Grill (Gas or Charcoal), Wood Chips (Hickory, Mesquite, Cherry, and/or Apple), Grill Tongs and Spatula, Metal or Foil Pans and Aluminum Foil.
1. BARBEQUE CHIPS
TASTEEBQ flew to the Pantry for one simple ingredient- Kettle Cooked Potato Chips.
Then he said: "This is the easiest of the easy. It's not really a recipe, more of a Neat Trick or Technique. Use any flavor Chips you like and put them on the Smoker for 8-10 minutes to add a fresh, delicious Grill Smoked Flavor. This works especially well with Chips for dipping and served warm. Try with Kettle Barbecue Potato Chips, Ruffles, Doritos, Fritos Scoops, Pita or Veggie Chips (for the Vegans.)" [*Uncompensated Brand Endorsements]
Technique:
Jack preheated the Grill, then coaxed it to full smoke after adding soaked Wood Chips to the heating element. He evenly layered Potato Chips across bottom of Pan, leaving space for the smoke to circulate. Smoking on Low Indirect Heat for 8-15 minutes, Jack watched carefully (for Potato Chips not to burn) and tossed them with Tongs once or twice to circulate flavor. Serving them hot, the guests really dug these Chips with French Onion Dip.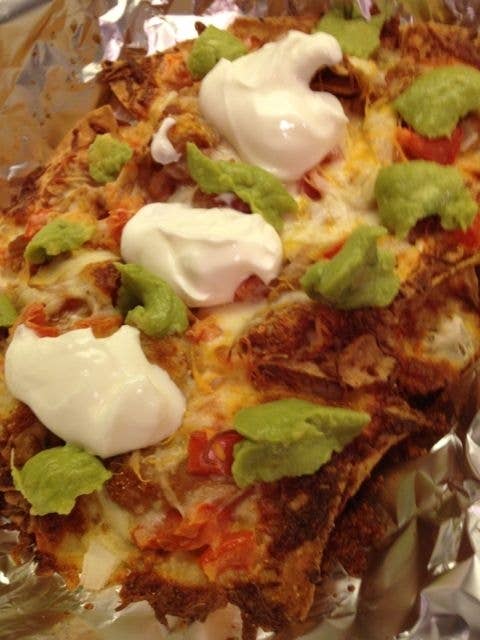 2. SMOKED NACHOS
Our Hero had the host couple grab a bag of their favorite Tortilla Chips and choice of Toppings, and assured them: "This will win Big! every time in the game of Grill vs. Microwave." From the Pantry they extricated: Tortilla Chips, Cheese, Salsa and a variety of Toppings which can include: Chopped Onions, Tomatoes, Jalapenos, Black Beans, Sour Cream, Guacamole and Bean Dip. In nearby Galaxies, humans are known to also add Taco Seasoned Ground Beef, Cooked Chicken, Steak Bits or Crispy Bacon.
Basic Technique:
Jill layered the Tortilla Chips evenly across the bottom of Foil Pan. Then she sprinkled with one layer of Cheese to help prevent the Chips from getting soggy. Next, she spread Black Beans (or Bean Dip), then- Chopped Tomatoes, Onions and a final Topping of Shredded Cheese.
To the Grill! The Chips were smoked on Low Indirect Heat for 12-15 minutes. Guests were able to top their own Chips with Scoops of Sour Cream and Guacamole. They also had a choice of Mild Salsa, Jalapenos and Cholula Hot Sauce.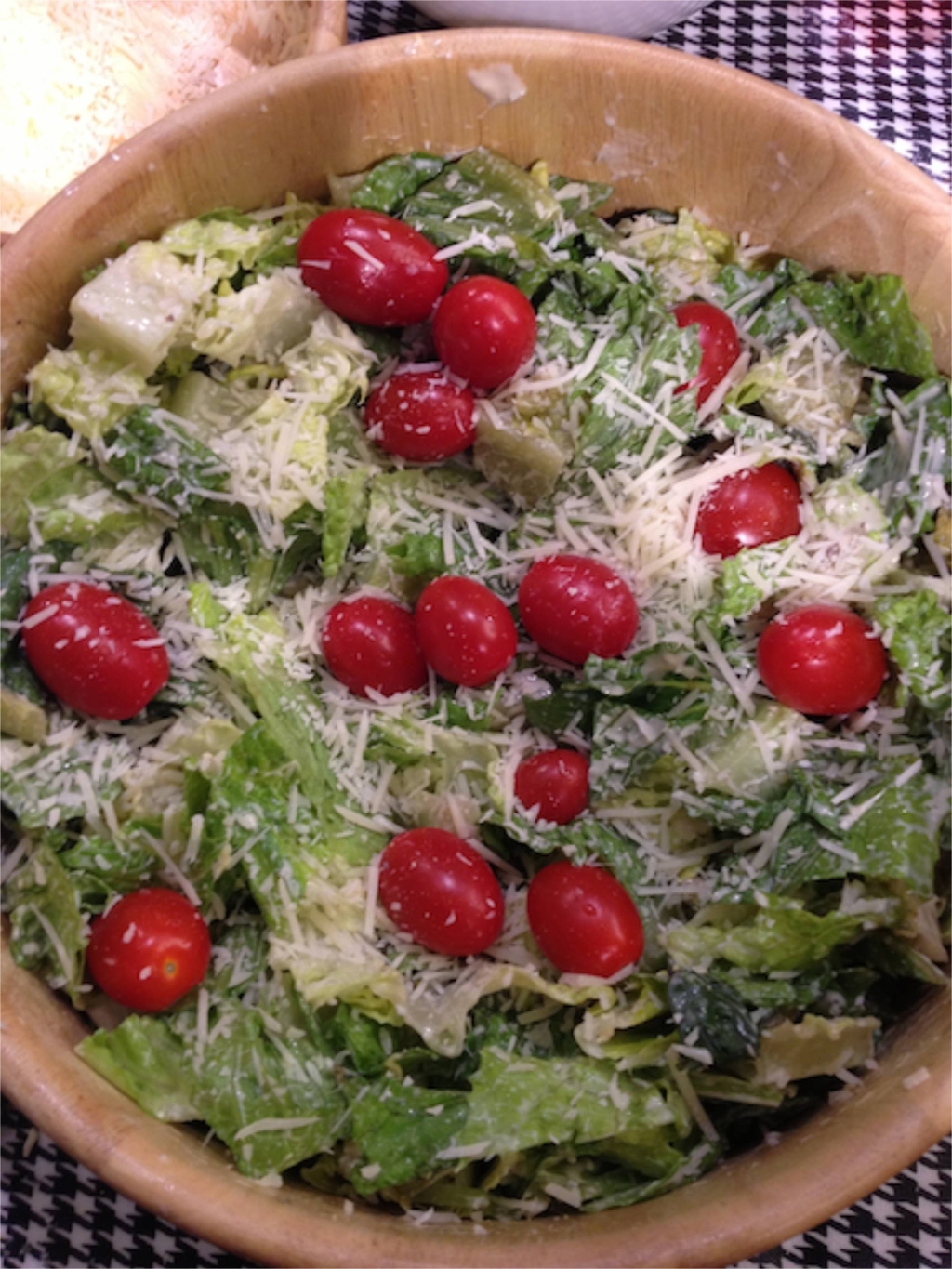 3. GRILLED CAESAR SALAD
Happy to spy several glorious heads of Romaine Lettuce in their home Cooling Closet, TASTEEBQ advised the hosts in an earnest voice: "Serve that store bought tray of precut Carrots, Veggies and Dip if you must. But beware falling into the clutches of the evil villain Boren'GFood. To defeat him, you should toss the Veggies on the Grill for few minutes, sprinkle with your favorite prepared Dry Grill Seasoning Mix (or Rub), then return them to the Platter around the Dip." [***Bonus Recipe Alert!].
He added: "In this Modern Age, guests with Vegetarian and Gluten Free tendencies will appreciate the extra effort. From what I hear, the Tribe of Vegan can get downright hostile when confronted with a cold store bought Veggie Platter as their only option. They usually can't even partake in the Dip.
This Caesar Salad recipe will please Carnivores and Vegetarians alike. Make a separate Bowl for the Vegans using Miso Caesar Dressing, and hold the Cheese."
Basic Salad Technique:
Our Hero had Jack rinse and dry 4 Heads of Romaine Lettuce, They chopped 2 Heads in half, drizzled with Olive Oil and Grilled them on Medium Heat for about 5-7 minutes (until lightly carmelized). Then they chopped all 4 Romaine Heads into 1 1/2 x 3 inch squares, mixing the Fresh and Grilled Lettuce. Jack tossed in Caesar Dressing, Croutons and Parmesan. They even put Chopped Fresh Basil and Cherry Tomatoes on top for even more flavor.
SuperBowl Twist- Substitute large cracked Fritos or Doritos for Croutons
Gluten Free (GF) Alternative- Grill GF Bread and cut into cubes or use cracked GF Crackers. Or just skip Croutons, altogether. Also, make sure Dressing is Gluten-Free.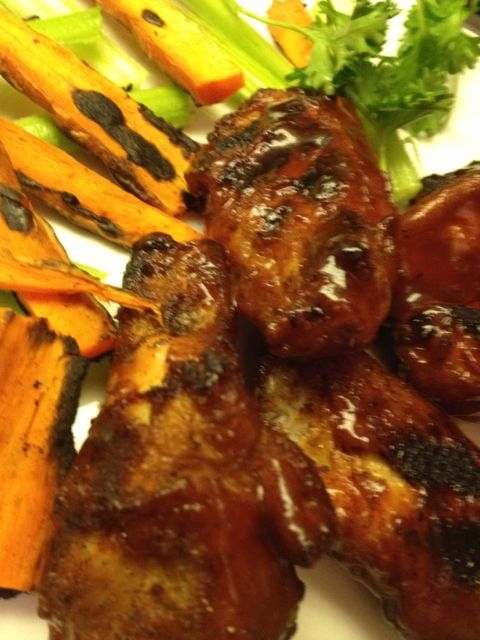 4. SMOKIN' HOT WINGS!
Jill had encountered a pack of Precooked Chicken Wings while shopping in the Deli Dept., and thought "How Convenient." She planned to Bake them or toss 'em in the Microwave.
TASTEEBQ suggested: "Girll! Let's take a detour to the Grill."
Basic Technique
TASTEEBQ commandeered the use of a Ziplock Bag, and seasoned the Precooked Wings with Dry Grill Seasoning. Then they Grilled the Wings on Low Indirect Heat, for approx. 15-20 minutes, adding Wood Chips for smoked flavor. He suggested:
"For Buffalo Wings- Toss wings in Franks Hot Wing Sauce, garnish with Celery and Grilled Carrot Sticks.
For Barbecue Wings- Toss wings in your favorite Barbeque Sauce, garnish with Grilled Texas Toast.
For Teriyaki Wings- Toss wings in your favorite Teriyaki Sauce (Asian Sesame Dressing is also OK), sprinkle with Chopped Green Onions.
Serve wings with Bleu Cheese and/or Ranch Dressing for dipping."
[Recipe for using Fresh Chicken at website www.tasteebq.com/adventures-of-tasteebq/5-super-easy-recipes]
5. BISTRO SLIDERS
With some coaxing from his wife, Jack summoned up the power to resist the store's Frozen Burger section. Instead, he proceeded to the Meat Dept. and brought home some perfect 80/20 Ground Beef. Detecting the presence of Fresh Meat at the party, TASTEEBQ gave Jack a High Five- and said: "This Recipe is also great for Picnics and Tailgating."
Basic Burger Technique
They took 2 lbs Ground Beef (1/5-1/4lb. Beef per Carnivore) and seasoned with Salt, Pepper and Worcestershire Sauce. Then they made small Patties and Grilled on Medium High Heat for 10-16 minutes, depending on desired doneness. Flipping Burgers at 4-7 minutes, they added Cheese halfway thru second side
After also Grilling the Mini Hamburger Buns, they allowed guests Free Will to choose from a vast array of Burger Condiments, including Tomatoes, Lettuce, Onions, Pickles, and Jalapenos. Also there were a variety of optional Sauces- 1000 Island Dressing, Herb Mayo (Mayo mixed with Dry Garlic/Italian Seasoning), Barbeque Sauce, Stoneground Mustard and Ketchup for the kids.
Success!!! At no point throughout the Super Bowl Party did the villanous Boren'GFood dare rear his ugly head, to dampen the Fun. Those Burgers made Jack the King of the Hill. He and Jill celebrated with a Touchdown Dance after bidding "Farewell" to their guests. TASTEEBQ did the Moonwalk, as well. Going back faster and faster, gliding backwards until he was Out-of-Sight(!). That is, until Valentine's Day...
Stay Tuned for more of The Adventures of TASTEEBQ...