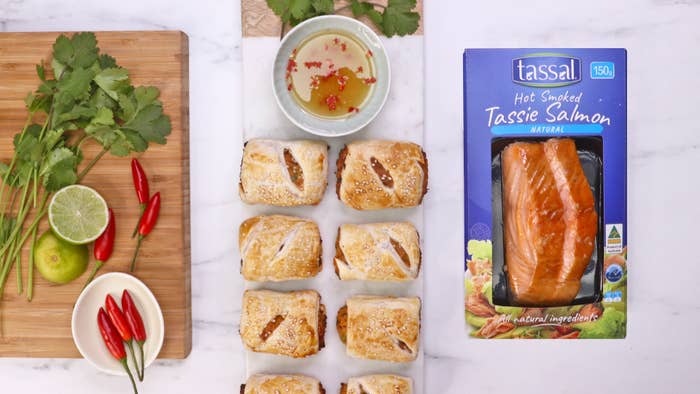 Ingredients:
150g Tassal Hot Smoked Tassie Salmon
1 cup panko breadcrumbs
½ cup sweet chili sauce
1 spring onion, sliced
1 tbsp coriander, chopped
3 eggs
1 tsp ginger
1 tsp chilli flakes
1 tsp pepper
2 puff pastry sheets
2 tsp sesame seeds
For the sauce:
1 lime, juiced
2 tsp sugar
2 tsp fish sauce
1 tbsp rice wine vinegar
1 tsp garlic paste
½ small red chili, diced
Method:
STEP 1: To a large mixing bowl, add the Tassal Hot Smoked Tassie Salmon and break up using a fork. Add panko breadcrumbs, sweet chilli, spring onion, coriander, 2 eggs, ginger, chilli flakes and pepper. Mix well to combine.
STEP 2: Divide the puff pastries sheet into halves and use a spoon to scoop the salmon mixture onto the sheets, spreading it down the long side of the dough and shaping into a long sausage.
STEP 3: Brush the edge of the dough on the long side with egg wash, then roll the pastry, ensuring to firmly press the edge where it seals and placing it on a lined baking tray with the seam facing down. Repeat step 2 and 3 until all the dough and salmon mixture has been used.
STEP 4: Using a sharp knife, score each sausage roll and then cut into 4 even portions.
STEP 5: Brush egg wash on the top of each sausage rolls, then sprinkle with sesame seeds.
STEP 6: Bake the sausage rolls in the oven at 180C for 25 minutes until golden and flaky.
STEP 7: To make the sauce, add lime juice, sugar, fish sauce, rice wine vinegar, garlic paste and red chilli to a bowl and mix to combine.
STEP 8: Serve and enjoy!