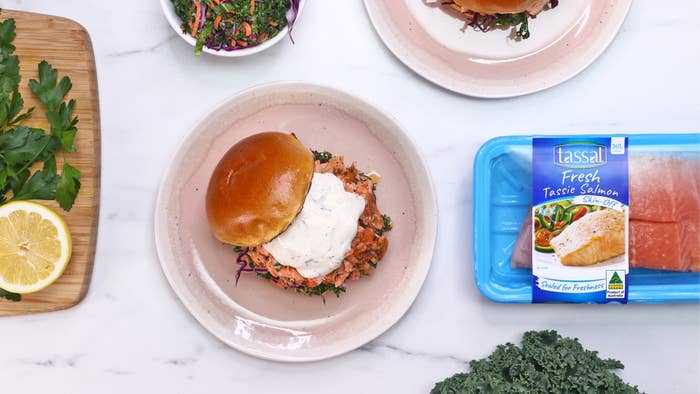 Ingredients:
260g Tassal Tasmanian Fresh Salmon Fillets, Skin Off
Salt, to taste
Pepper, to taste
50g butter
1 tsp garlic
1 tbsp parsley, finely chopped
4 kale leaves, stalks removed
2 carrots
1/4 head purple cabbage
2 tbsp mayonnaise
3/4 cup Greek yoghurt
1/2 lemon, juiced
3/4 tsp garlic powder
1/8 tsp cayenne pepper
1 tbsp dill, finely chopped
2 brioche buns
Method:
STEP 1: Prepare the Tassal Tasmanian Fresh Salmon Fillets by seasoning all sides with salt and pepper.
STEP 2: Add oil to a frying pan over medium heat, then once it's hot enough, fry the salmon for 4 minutes on each side. In the last minute add butter and garlic to the pan, then baste each salmon fillet. To finish, sprinkle in the parsley, then remove and lay on a chopping board to rest.
STEP 3: To create the slaw, thinly slice the kale and purple cabbage, then add to a bowl. Grate the carrot and add to the bowl with mayonnaise. Mix to combine with a wooden spoon and stir for 5 minutes to massage and soften the vegetables.
STEP 4: To create the dill sauce, add Greek yoghurt to a bowl, with lemon juice, garlic powder, cayenne pepper, and dill. Mix to bring together.
STEP 5: Halve the brioche buns, then place with the inside facing down on a frying pan over medium heat, and toast until golden.
STEP 6: Using two forks, tear the salmon in opposite directions to pull it apart into large chunks.
STEP 7: To build the burger, add a layer of slaw on the base of brioche, then add pulled salmon and top with a generous spoonful of dill sauce. Add the top bun to finish.
STEP 8: Enjoy!