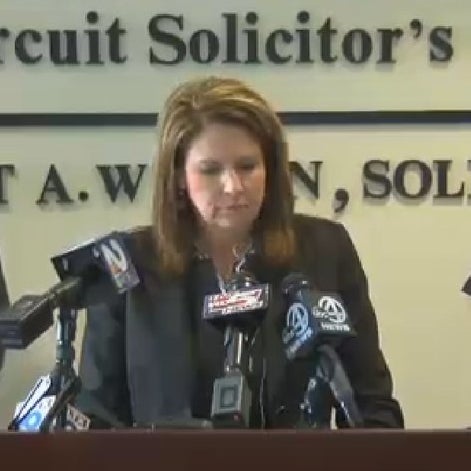 Ninth Circuit Solicitor Scarlett Wilson said Thursday that South Carolina prosecutors are seeking the death penalty for Dylann Roof — the 21-year-old accused of fatally shooting nine black parishioners in a historic Charleston church in June.
"This was the ultimate crime and justice for our state calls for the ultimate punishment," Wilson said at a news conference.
Wilson said she had several meetings with survivors and victims' families who "stood strong in the face of such a tremendous and profound loss."
She added that while some did not believe in the death penalty — citing their religious beliefs — others felt that the death penalty "is just too easy." Others believed that the death penalty was "entirely appropriate" for what Wilson described as "heinous acts that changed the future of 10 families forever."
Wilson said that while many had expressed hope to find forgiveness to heal and move forward in their lives, "know that forgiveness does not mean foregoing severe consequences."
Court papers filed by prosecutors cited various factors in their decision to seek the death penalty, including the fact that Roof's alleged act of murder "knowingly created a great risk of death to more than one person in a public place by means of a weapon or device" and also that more than two people were allegedly murdered by Roof.
Prosecutors also said they intended to present evidence on Roof's mental state, adult and juvenile criminal record and other conduct, as well as his apparent lack of remorse for the killings.
State charges against Roof include nine counts of murder and three counts of attempted murder.
Roof was also indicted on 33 other counts, including federal hate crime and firearms charges. It is not known if federal prosecutors intend to seek the death penalty.
In a July hearing, Roof's attorney, David Bruck, said his client wanted to plead guilty to the charges but Bruck said he could not advise Roof without knowing if prosecutors planned to seek the death penalty.
"Mr. Roof has told us that he wishes to plead guilty," Bruck said in court, according to the Associated Press. "Until we know whether the government will be seeking the death penalty, we are not able to advise Mr. Roof."
U.S. Magistrate Judge Bristow Marchant entered a not guilty plea for Roof at that time.
On June 17, Roof allegedly opened fire on parishioners attending a Bible study at the Emanuel African Methodist Episcopal Church, killing three men and six women.
According to survivors, Roof allegedly pulled out a gun after sitting at the study session for an hour, and told the victims, "You are raping our women and taking over our country."
An online manifesto, which apparently belonged to Roof, featured photos of him posing in a former slave plantation, clutching a handgun, and holding the Confederate flag. The white supremacist manifesto detailed a hatred toward black people, Jews, and Latinos and described black people as "the group that is the biggest problem for Americans."
Roof is being held without parole at the Charleston County Detention Center in North Charleston.
Read the prosecutors' notice of intention to seek the death penalty:
Download PDF