1.
A game-changing Zoku Slush and Shake Maker that'll let you make fun, icy drinks in less than five minutes. Soon you will be questioning why you ever used a blender to make a milkshake when this is so much better.
Look, summers are hot here and I do not like fighting mosquitos to walk down the street to go get a milkshake or a slush. Enter this slush cup. It is one of those things that I didn't know I was gonna use as much as I do. PLUS IT'S ONLY ONE DISH! It's just so simple to use — just pour your drink in and stir — and within minutes you'll have a delicious slush or milkshake. I tend to leave mine in the freezer until I want to use it and never had an issue. Also, my mom got so jealous when she came to visit and saw my cup and so I ended up getting her one too. I also use their ice coffee cup when I am being impatient and don't want to wait for ice to cool down my coffee. 

Get it from Amazon for $22.99.
2.
A Zulay handheld milk frother because it is as simple as pressing a button to make quality lattes in your own home. It's so straightforward to use that even if you're severely sleep deprived, you'll still be like BAM, kick-butt latte. 

At the beginning of the pandemic, I started a journey to make budget-friendly quality drinks at home. I bought this frother along with a stainless-steel pitcher. It's been about three years and it still works. It takes two AA batteries that I change like every six-ish months. Definitely a great purchase.
"If you are like me and the only thing you enjoy more than a refreshing iced coffee is a creamy iced latte, then do yourself a favor and get this frother ASAP. It is SO easy to use. Literally, with just the push of a button, you'll be able to froth up your milk of choice and then add it to your iced coffee to make a latte or perhaps even a cold brew to create a cold foam layer on top. Seriously, even my parents who thought this was a silly purchase when I first told them about this are now obsessed with this thing and they weren't even fans of lattes before owning this."—Sam Wieder, BuzzFeed Editor 
Get it from Amazon for $14.99+ (available in 41 colors).

3.
An affordable Brentwood iced tea maker to enable your sweet tea obsession. This simplifies the process into two steps: dump the tea and press the button to brew.
Promising review: "I have wanted a tea maker for a long time. I finally decided to get one because I make a gallon of iced tea every day. I looked at many and I decided to take a chance on this one because of price and the double filters. We love tea. Excuse the picture of the inside with my tea stained top filter. I just made a gallon before taking these pictures. I have had it since March 5, 2021. It was not expensive and still works great. You can choose the strength you desire. As you can see I have it on max. It makes half a gallon. I buy the one gallon Lipton tea bags, put it on max and add half a gallon of ice water to my gallon container (an upcycled, clean, plastic milk jug, because I'm fancy, lol). It is easy clean up, fast making, and just super convenient. If you love tea, and are thinking about getting one, then this is the one for you." —Melissa Eller
4.
A Genuine Fred umbrella drink marker that clips on any drink, allowing you to imagine you're on a tropical island somewhere and not sitting through yet another work meeting. They are BPA-free and phthalate-free. Plus washing them is a breeze.
These are just fun. I know they are so you can tell drinks apart, however, I mainly just use them so my drinks can have a more island feel to them. They are affordable and most importantly reusable. I just quickly hand-wash them. No matter how sticky my drink it, a quick wipe of a towel gets the stickiness off. They don't have that weird silicone smell either. Great for parties or just to use at home!

Promising review: "I love these little guys. I admit, I've used them just for funnsies a few times right after I got them. We had a big luau-themed pool party and used them on everyone's drinks. Sure the cups were different colors so they weren't necessary, but they sure were fun. Everyone had fun picking their cup and umbrella color combo. They aren't so large as to impede drinking and the umbrella section sits right on the rim of the glass. I've been able to fit these over regular drinking glasses, Coca-Cola glasses, thick plastic cups (no glass around the pool), and on Solo cups as well. In the past I've been super happy to use the adorable drink umbrellas but they (traditional toothpick umbrellas) just aren't practical to use in drinks. These sit nicely on the rim of the cup and look festive, even in an empty cup. I also ran them through the dishwasher after the party (I just tossed them in the silverware holder) and all came out well and ready for another go." —K. Carriere
Get a pack of 6 from Amazon for $10.99. 
5.
An inexpensive drink shaker set so you can make fancy drinks from the comfort of your own home. Th
Honestly, I use this all the time for non-alcoholic drinks because it is both fun and functional. I am often mixing lemonade, syrup, and ice in the shaker before pouring it in my glass. This helps me make my drink cold without having to put ice in my cup. Also, no worries if you're accident prone like I am, I have knocked it over a billion times while it was filled and the pop doesn't pop open! I've had more expensive ones that definitely never worked as well as this one.

Get it from Amazon for $14.44.
6.
A SodaStream One Touch, the famous sparkling water maker that has so many flavor offerings that the only limitation will be your imagination. This cuts down on the amount of single-use plastic. Plus, it allows users to control the amount of flavoring and carbonation.
Promising review: "We are longtime SodaStream users...our 8 year old unit finally started to fail, so we upgraded to the One Touch. Absolute dream...easy to use, consistent, efficient. As good as the manual carbonator was, this is even better. Just push the filled SodaStream bottle onto the One Touch, you don't even have to screw it in, hit the start button twice and in about 10 seconds you have a liter of fresh carbonated water. Can't emphasize enough how simple this is. We drink four or more liters of seltzer a day in the summer so this machine has gotten a fair bit of use since we set it up...100% reliable to date." —Tom Wolski
Get it from Amazon for $89.99+ (also available in white.)
7.
Or a variety pack of Bubly Sparkling Water for a crisp, delicious water with no funny aftertaste. This pack comes with eight distinct flavors to fit any mood.
When I wanted to stop my soda habit, I turned to sparkling water. I really like carbonation and carbonated water was my solution. I think Bubly is one of the best sparkling waters on the market. Unlike some sparkling waters, the flavor is subtle and doesn't leave gross aftertaste. My personal favorites are the Blackberry and the Raspberry Bubly. It's sparkling water and not supposed to be sweet, but if you want it sweeter, you can easily add a little flavored syrup or fresh fruit to it. I make a lot of Italian creme sodas using Bubly because of how complementary the flavors are with syrups. There's also a caffeinated version that I sometimes drink, but I prefer it uncaffeinated waters. Plus it's cheaper than artisan sparkling water that would be a similar quality. 

Promising review: "I've really enjoyed most of the flavors I've tried of the Bubly waters available. This pack is one of my favorites. Some of the flavors are more subtle than others. To me, the Lime, Cherry, and Blackberry have a more pronounced flavor, while the Grapefruit and Strawberry are not as intense. The Mango is the most subtle. Also, the carbonation does vary from flavor to flavor. All of them have a nice bubble to them and have a nice taste without the cloying sweetness that you get with so many soda pop drinks." —Lori C. 
Get a pack of 18 for $10.99 (available in 12 different sets).
8.
A personalized Disney Starbucks cup in rose gold because you should be able to bring the two most magical places everywhere you go. 
For The Love Of Pixie Dust is a woman-owned small business that sells super cute Disney-inspired merch and gifts! 
"I have one of these cups (as seen above) and it makes me happy every day. The finished product is super cute and you will love that your name is spelled correctly for once. AND you can carry Disney magic around with you no matter where you go!" —Heather Braga, BuzzFeed Editor
Get it from For The Love of Pixie Dust for $21.
9.
A pack of Hapy Shop Reusable Plastic Ice Cubes to keep your drink cold without having to worry about it getting watered down. These colorful stars will liven up your drink and show others that you are fabulous.
Promising review: "I love these. I bought them for some punch I made for a party and they worked great! Kept the punch cold for hours! Easy to clean and re- freeze!" —Trisha Montgomery

Get a pack of 40 from Amazon for $13.99.
10.
A hiss-terical cat shaped ice cube tray that is purrrfect for any cat lover. The ice will still be small enough to fit in your glass, while adorably looking like a kitty curling up in your drink.
This product is to replace the original one that was published. This one is very similar and with a ton of positive reviews. Thank you.
Promising Review: "Who Knew We Needed Cute Ice Cubes? But we do. We need those cute little cat-shaped ice dreams. They look so good in our glass. And . . . kitties! The trays are made of good-quality silicone, so the cubes come out nicely and you can then easily make more cubes. If there's any shortcoming to them, it's that because they are silicone, if you try and move the tray when they're full of water, they will drip. I find that it's best to put the trays on something flat and solid to sit on while I'm transferring them into the freezer. That way, there's less leakage. But, overall, they're great!" —GvilleBill
Get it from Amazon for $10.99.
11.
A bottle of Monin Blackberry Syrup to jazz up any drink with an explosion of flavor. Perfect for anyone whose favorite everything is Blackberry.
I will die on the hill that Monin's syrup is the best. I have a house filled with different flavors and I add them to my drinks all the time. You can add as much or as little as you want to use. I personally tend to add a few drops because I don't like overly sweet drinks. Add them to sparking water, lemonades, coffee, tea, whatever your heart desires. A bottle lasts me months, but I do mix up flavors so I am not using the same one every day. My absolute favorite is the Blackberry syrup because it is the perfect blend of sweet and tart. I also really been into their floral syrups lately. Lavender iced teas and rose flavored lemonades have been filling my fridge. Definitely a must have for summer drinks.  

Get it from Amazon for $14.81.
12.
A set of Anotion Mason Jar Glasses with golden reusable straws that will automatically enhance your drink by 80%. These large cups are perfect for when you want to take your iced coffee on the go because coffee makes you less annoyed that everyone is in your way at the grocery store.
I personally drink out of these all the time and I absolutely love drinking out of them! I have used them for both hot and cold drinks and have no issues. I do suggest using the guard if you're drinking hot coffee, just to protect your hands. I rarely use the lid, but it does fit the jar well and doesn't leak. 
Promising review: "I just got this wide mouth mason jar and I'm IN LOVE! I gave one to my mother because anything I have she wants too, lol. Presentation was lovely. I was able to successfully wash and apply the tops back on to the mason jars with NO PROBLEM. I really got discouraged after my purchase. And I prayed that nothing would be wrong with these glasses. My prayer was answered. I brought this cup to restart drinking my green juice and hold myself accountable for my fitness journey! Can't wait!" —Vee
Get it from Amazon for $23.99+ (available in various colors and sets).
13.
A pack of Flathead reusable silicone straws for those who must use a straw to drink out of everything, but don't like using disposable ones! These are durable, dishwasher-safe, and even come with a pouch for traveling.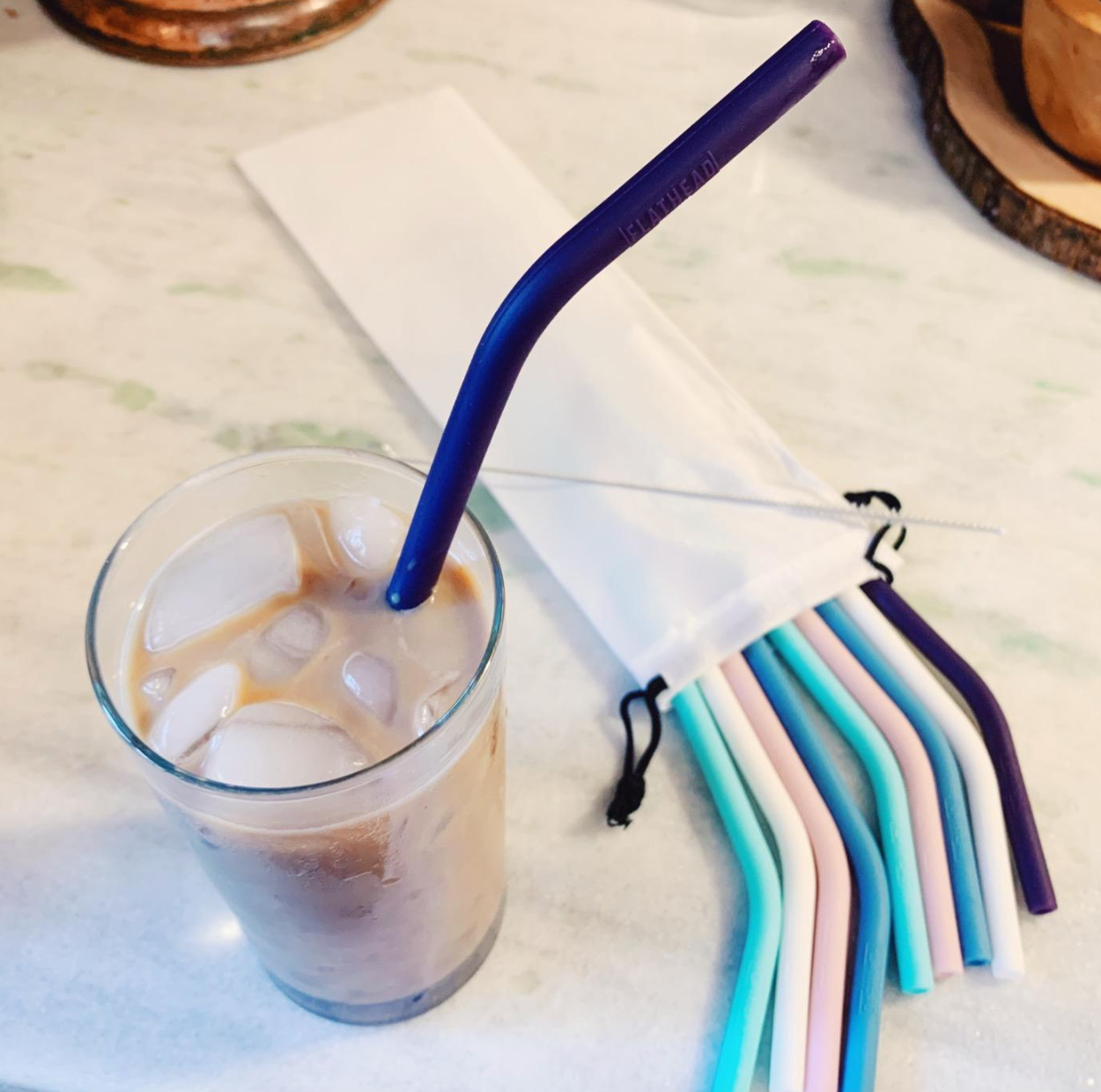 "I actually own these straws and I love them and specifically use them for my iced coffee/cold brew (as well as water). They're sturdy, can be put in the dishwasher right after you use them, and I feel good knowing I'm not wasting plastic just to enjoy my favorite chilled drinks at home." —Sam Wieder, BuzzFeed Editor 

Get a set of 10 from Amazon for $10.99.
14.
A Rgontar donut coffee stir to add some cuteness to your morning cup of joe because nothing goes better with coffee than doughnuts.
I actually bought these swizzle sticks as a birthday gift for a friend who LOVES donuts. She uses them all the time and says they are great for all types of drinks. They also work for taller traveling mugs. They look exactly like the photo and are really sturdy.
Promising review: "These were the perfect cute addition to my coffee bar. They are long so work perfect in tall glasses too!" —April Neidlinger
Get a pack of 4 from Amazon for $8.99.
15.
A sleek Prodyne fruit infusion pitcher that helps provide delicious fruity beverages without making it necessary to pick out mushy pieces of fruits.
You can put any kind of drink in an infusing pitcher. I like to pour iced tea in mine and add in a ton of fruit.
Promising review: "I had to have one of these after I went on a Disney Cruise and they had a lot of infused water in their spa. I was not disappointed with my purchase! This makes water so refreshing! It's a great way to get some flavor in the water without adding tons of calories and sugars. Best purchase! I even got my mother-in-law one for Mother's Day and she loves it too!" —Olivia
Get it from Amazon for $19.99.
Reviews have been edited for length and/or clarity.