1.
Orly's Synthetic Symphony, a long-lasting, vibrant purple nail polish that will have you strutting around like royalty. FYI, this is cruelty-free and vegan!
"I've gotten really into at-home manis during the past few months and have become an absolute Orly convert. Compared to other more 'It' nail brands that begin with 'O' — OPI and Olive & June? This outlasts 'em — really. Whether it's their regular polish or their Breathable line, I find that the colors are gorgeous and rich, they go on smoothly even if you low-key suck at doing nails like I do, and they stay looking fresh for days — longer than any other polish I've tried. That means a lot coming from me, since I wash my hands constantly and am prone to picking at my nails and cuticles. With my track record, finding a polish that still looks pretty darn good after about a week is a massive win. The only exception to this is their glitter polish, but like, when has glitter polish ever worked well outside of a salon?? Orly's topcoat and remover are also the best I've ever tried, and I love the rubbery, easy-to-grip handles on all their polish bottles. And this color in particular??? It is pretty and rocker chic and glam and quirky all at the same time (all the things a perfect shade of purple should be), and it is basically my aesthetic in a bottle. It feels really different from the myriad other purples in my collection, too, so I recommend it if you're looking to stand out this summer." —Katy Herman
Get it from Orly for $9.50.
2.
An affordable Kiss imPress press-on manicure set that gives you fabulous gel-like nails from the comfort of your own home for less than $10! These are easy to apply, aesthetically pleasing, and will last — even if you normally ruin your manicure in less than 24 hours.
"I'm quite adept at painting my own nails (the only time I get a professional manicure is when I want gel before going on vacation), but these press-on nails have me feeling super lazy about painting my nails because they're so easy to use! And that's OK! Each set costs you less than 10 bucks and rather than fool with a bottle of nail glue that ends up anywhere but the nails, each nail has a peel-off plastic that reveals a super sticky surface you press onto your real nail. I find that all the nails stay on about three days when I do stuff like hand-wash my dishes, pet glorious dogs, and scratch many layers of dry shampoo on my scalp. You'll get 30 nails with each set, which helps you find the right sizes BUT I've also found comes in handy when a pointer or middle finger nail pops off (those are the first to go in my experience) so I end up getting about a week's use of wear out of each nail set. Multiple friends have seen me with the nails on and all have believed they're the real deal!" —Elizabeth Lilly
"My mother-in-law and I both recently put this new OPI x Impress Nail collaboration to the test. We're both pretty hard on our nails and were rather, dare I say, impressed with how well they managed to stay on! I felt fabulous with them on — as if I had come straight from the salon." —Heather Braga
Get them from Target for $6.99 or Amazon for $6.49+. Also get the OPI collab from Impress Manicure for $9.99 each (available in 10 colors)
3.
A cruelty-free and vegan bottle of Seche Vite top coat to give your finished nail polish a glossy shine. Also it's fast drying, so no more accidentally ruining your nails from opening a bag of your favorite snack as you rewatch The Office for the fifth time this year. 
"I am incredibly impatient and truly hate waiting for my nails to dry. I have spent close to 30 minutes at times allowing my nails to dry (even at the salon) just to smudge them a few minutes later. This top coat must be formulated with pixie dust because my nails are legitimately dry in 10 minutes. I still try and be careful so I can avoid potential smudging, but I started using this about two years ago and it's a true miracle product. I even bring this with me to the nail salon now, it's THAT good." —Samantha Wieder
Get it from Amazon for $8.10.
4.
A bottle of Fluide Rainbow Cactus 7-Free nail polish, that's cruelty- and paraben-free, while still coming in vibrant, creamy colors that will absolutely shine on your nails. Plus it doesn't have that way-too-strong nail polish scent? Score.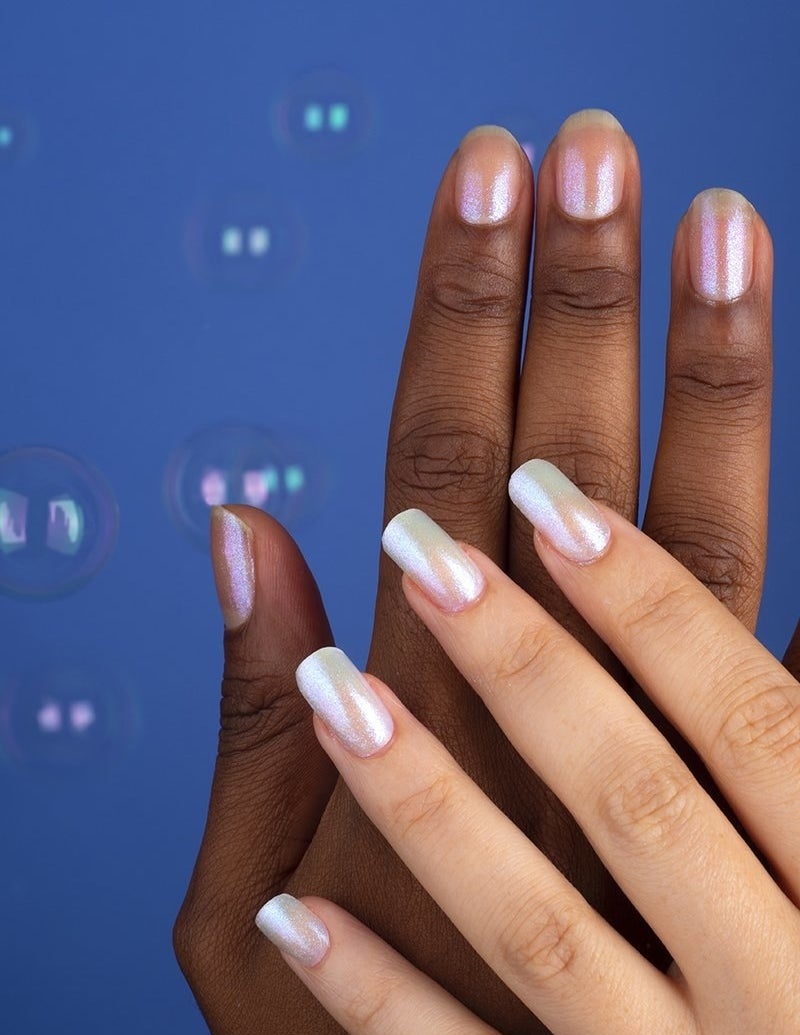 Rachel Dunkel` / Via BuzzFeed
"I hardly ever wear nail polish because I'm terrible with a tiny brush and just can't be bothered, but I LOVE popping on this shade when I have the time. It's ~groovy~ and fun, and is delightfully sheer enough that I can paint somewhat haphazardly with no consequences. Also, Fluide is just an amazing, inclusive, queer-owned company I adore." —Rachel Dunkel
Get it from Fluide for $9 (available in 10 more colors).
5.
An Orly Genius Remover that lives up to its name by removing even the toughest nail polish (including gel!) without a ton of effort and hassle. And there's NO overpowering acetone smell. Yas!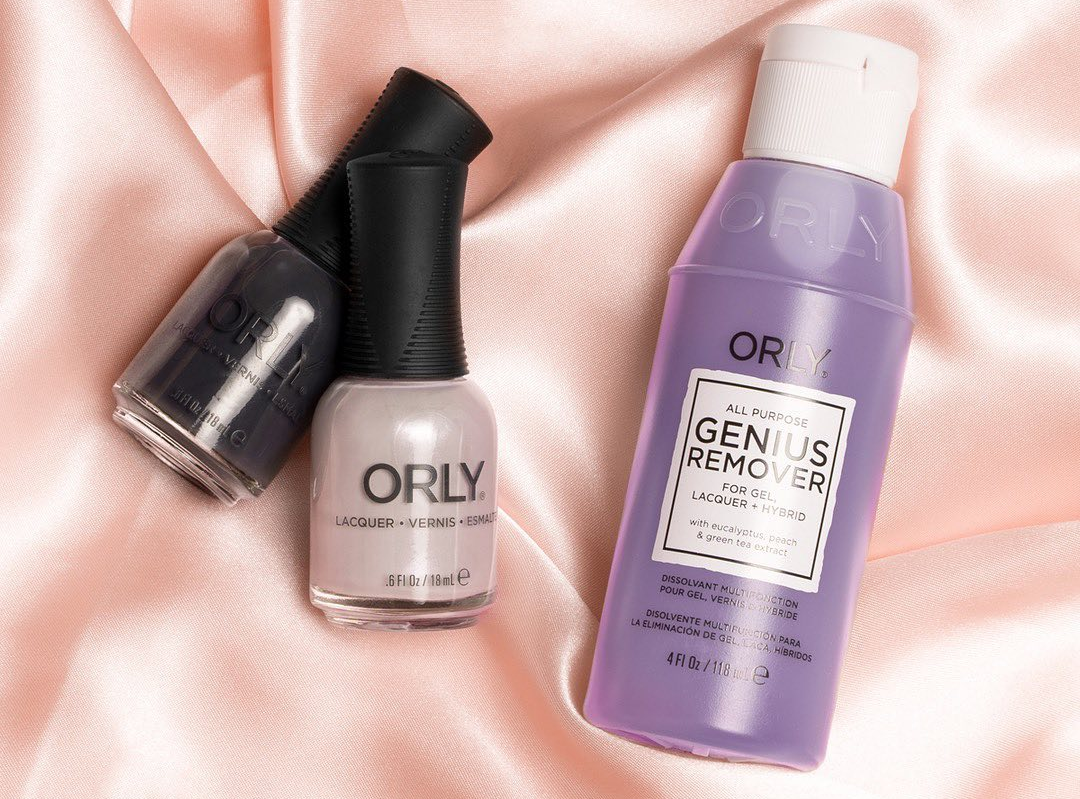 "Words can't even do this nail polish remover justice, but I will try my best to articulate just how much I love this stuff. Before the pandemic started, I was in the routine of getting my nails done every two weeks — I was AWFUL at painting my nails and keeping my nails painted at all times has helped tremendously with my old nail-biting habits. 
Come March 2020, I had to learn to start painting my own nails (I'm really good at it now, might I add), but my least favorite part of my at-home manicures was removing old polish. I HATE the smell of acetone and it would seriously linger on my hands for hours, if not an entire day. I got to try out this amazing polish remover and since then, I've never looked back. Somehow this stuff removes my polish quickly and more easily than acetone-based polish remover and it seriously smells so good. This is the only polish remover I use anymore and it's the only one I plan on using ever again. I never thought I'd feel this passionate about nail polish remover, but here we are! Do yourself a favor and buy this! You won't regret it." —Samantha Wieder
Get it from Orly for $9.
6.
A Gellen kit packed with gel nail polish you can use to give yourself a professional mani while binge-watching Selling Sunset. Now treat yourself to a nice restaurant with all the money you'll be saving by doing your nails at home.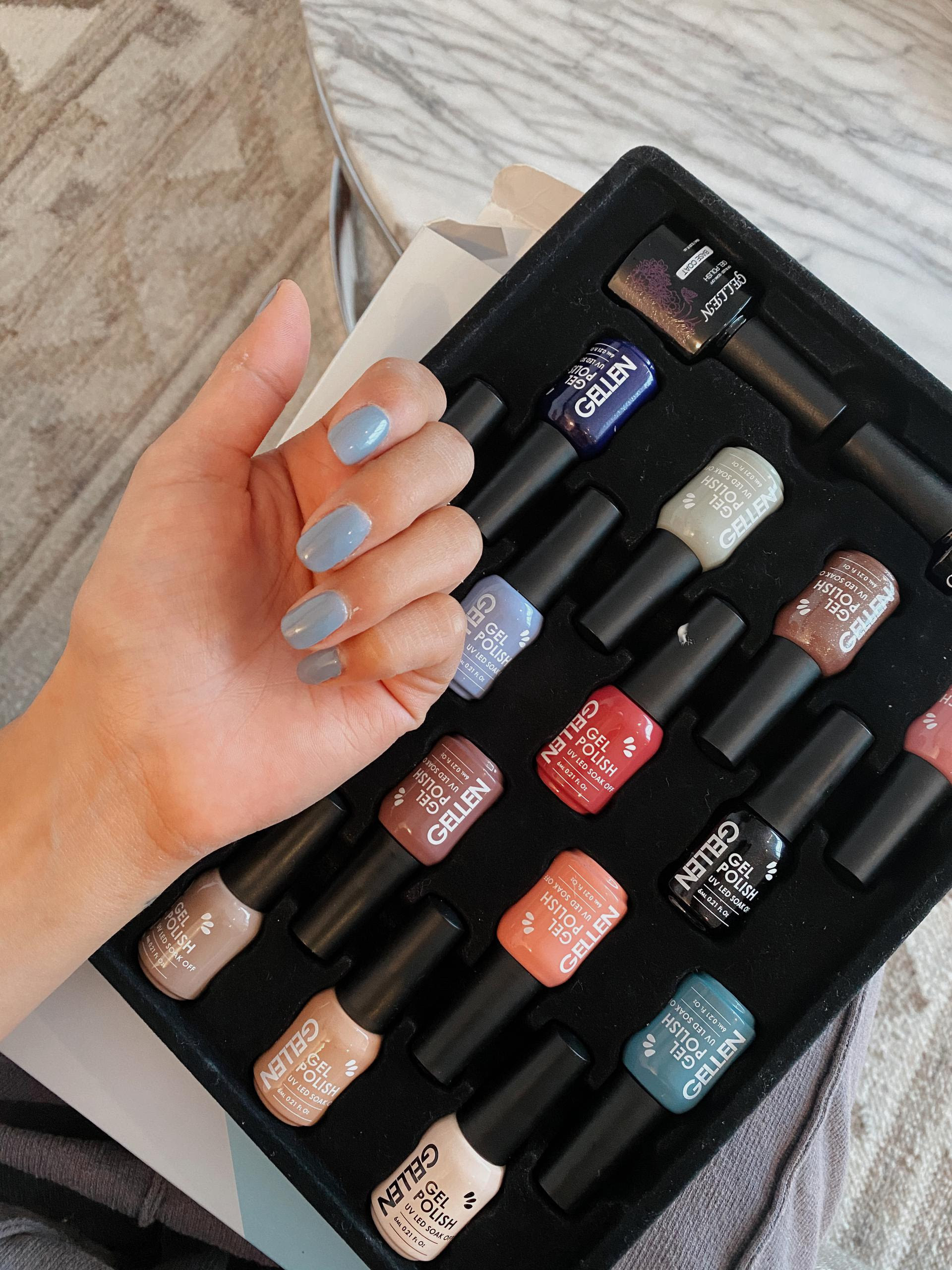 The set comes with a base coat, 16 colors, and a top coat. This only comes with the polishes, so you will need a UV lamp — try this one for $33.99 on Amazon!
"Long before quarantine days I was a nail salon regular. Once lockdown really hit, I realized I needed to take my manicure ~into my own hands~. These Gellen gel polishes give salon-quality results at home. Truly, I can get a full two weeks without peeling/chipping/breaking. The amount of $$$ I have saved." —Kayla Suazo
Get it from Amazon for $25 and see the full collections here. 
7.
A ManiMe stick-on gel set that have a ton of awesome designs and patterns that let you create professional nail art without having to go to a salon. These will be simple to use — just press and stick — that you'll be wondering why you've been spending so much to have fun nail designs done at a salon all these years.
"I'm always skeptical of high-tech versions of everyday products, thinking they'll be gimmicky or unnecessary extra work. But after a friend told me about these, I was able to submit the needed nail pics in minutes, and I don't have to worry about taking them again when I order new styles (which I have done several times since learning about the brand six months ago). Each set comes with a cleansing pad, file, and 15 gel stickers — so if you mess up or one comes off, there are extras. I will say that it took me a while to get the hang of applying them, especially with my super-short nails (lifelong nail biter here). The first several times I used them, some nails would lose their stickers pretty quickly. It was annoying, but the patterns that I could never ever achieve on my own (again, short nails = terrible for nail art) still looked darn cool alternating with plain nail polish on the nails that had lost their gels. However, the last two times I've done them — with the two designs above — my standout mani stayed fully intact for DAYS. The practice definitely paid off, and it's important to follow the directions, press down hard as you apply, trim any rough edges, and top with a light layer of topcoat. If I need to try to re-stick one that's fallen off and I've already tossed the prep pad, I use a rubberized base coat. The creative prints (often created in collab with famous nail artists) just make me so happy every time I look at my nails!!! They also make designs for toes and solid hues if your style is more minimal. I will continue to be a regular customer every time they drop new designs!" —Katy Herman
Get the zebra prints from ManiMe for $7.50 or see all available styles here. 
8.
A set of Nails of LA extensions that come with everything you need to create a simplistic manicure, with a pop of color that will wow everyone.
"That's my hand! With this set, I rocked them for a little over a week and only had one thumbnail pop off while doing some really intense hand-washing of sweaty summer clothes. (It was really easy to glue back on.) After that success, I used the glue option again on another set of their nails to wear to an eight-day trip to Croatia that entailed lots of boating, swimming in the sea, kayaking, whitewater rafting, and scaling up a very vertical rock to jump into the bay of Dubrovnik that had me questioning all of my life decisions. With all of that watery action, I had only about four nails pop off throughout the week, which I was able to glue back on with the company's excellent glue that comes with the set. (Plus, the glue tube took up next to nothing in my toiletries bag!) The kit comes with 24 nails of various sizes, a file/buffer, nail glue, adhesive adhesive tabs, and a cuticle stick." —Elizabeth Lilly
Get them from Nails of LA for $14 (design also available in nail wraps).
9.
A Nova Pear nail polish, a vegan polish that looks fabulous and won't chip away after one day so you won't have to take time out of every night to do touch ups.
"I've had a bottle of Pear Nova nail polish (the maroon color featured above) for about a year and it's definitely the one I reach for the most when I'm painting my nails at home! It goes on thicker than most nail polishes, so I only use two coats max when painting my nails. When you use a base and a top coat with this polish, you'll get a chip-free look for at least a week. I always get compliments when I have this nail polish on, and it looks good with practically anything I wear!" —Ciera Velarde
Pear Nova is a Black woman-owned small business based in Chicago that creates cruelty-free, vegan-friendly nail polish.
Get a pack of four from Pear Nova for $50.
10.
A budget-friendly set of Sawyer and Scout nail wraps, perfect for those who want fun nails in multiple designs at once. You're gonna be smiling when you get these.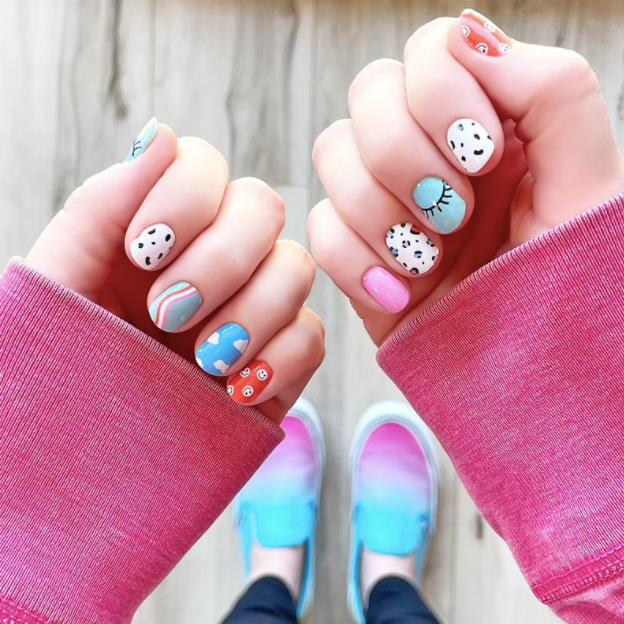 Shop Sawyer And Scout/Etsy
"I just ordered this set after trying out a different, now-sold-out pattern from this Utah-based shop, because I had to have more. I'm honestly blown away — I've had these stickers on for over a week and they are still over 90% intact on every finger, and not a single one has fallen off since I applied them. As if that wasn't enough, they're somehow only FIVE BUCKS. They weren't hard to apply or shape to my nails at all. All of that + the fact that this small biz makes tons and tons more designs for their wraps  (which are made from real nail polish on medical-grade adhesive) = many more orders in my future. The only thing I didn't like was that there was a lot of pesky peeling involved to access each sticker, and that combined with my short nails mean that the process made a decent amount of waste. Still, I'm super excited about finding this brand, and the fact that each set comes with a few extras means you have backups if you mess up *or* you can save them for future manis to come (hello accent nails!). And psst, another tip: I finished off my mani with my favorite Orly top coat." —Katy Herman
Get 16 wraps from Sawyer and Scout on Etsy for $4.99.
You better show off those fabulous nails.