1.
An afforable baguette ring that you'll be wearing FOREVER. It looks great along or in a stack. 
"This is my most beloved ring at the moment and I've wanted one in this exact style for some time now. I love the asymmetrical placement of the stones where they're not in a perfect aligned shape, it adds some character. It honestly looks fab when I wear it on any finger — thumb, index, middle finger (it truly doesn't matter, it looks good ALWAYS). I've washed my hands a bunch with it too and I've seen no signs of wear and tear. This is a jewelry ~steal.~" —Ali Faccenda
Get it from Amazon for $16.99+ (available in sizes 5–9 and seven finishes/styles).
2.
A pair of elegant Caitlyn Minimalist safety pin earrings, that won't irritate your ears and will look great as you strut around town this summer being a boss. 
Caitlyn Minimalist is an Asian woman-owned Etsy shop based in LA and specializing in some of the most truly special custom jewelry pieces I have ever seen.
"I bought these earrings about a month ago and have been wearing them every day! I am not gentle with my jewelry — I wear them to sleep, while I shower, etc. I also have v, v sensitive ears and I'm happy to report that these haven't irritated my skin or tarnished even a bit! I have three sets of lobe piercings and wear these alongside my plain gold huggie hoops and they are the perfect complementary piece." —Chelsea Stuart
Get them from Caitlyn Minimalist on Etsy for $23.62 (originally $31.50; also available in silver)
3.
A chic Kendra Scott pendant, the perfect gift for the glamorous person in your life (or yourself). A statement piece that can dress up even the simplest outfit. 
"My sister-in-law gifted this to me and her other bridesmaids as a thank you for being in her wedding and it quickly became one of my favorite pieces of jewelry. It's well-made, beautiful, and goes with all my other baubles." —Heather Braga
Get it from Amazon for $65 (available in 29 styles).

4.
An incredibly detailed My Little Belleville ring hand-painted to look like your darling's eye, so you can gaze into their eye, even when you're apart.
Michelle Christensen's woman-owned shop, My Little Belleville, is located in Salt Lake City and was a finalist in the 2020 Etsy Design Awards. You can find home goods, art, and jewelry with Christensen's iconic painting style throughout the shop. 
"I got myself a lover's-eye ring of my husband's eye for Valentine's Day. The quality is incredible and it's my new favorite conversation piece!" —Mal Mower
Get it from My Little Belleville on Etsy for $168.30+ (available in eight styles). 
5.
A rocking Awe Inspired Medusa necklace made of hypoallergenic metals. Soon you'll be channeling your inner goddess and making everyone freeze in place when you walk past.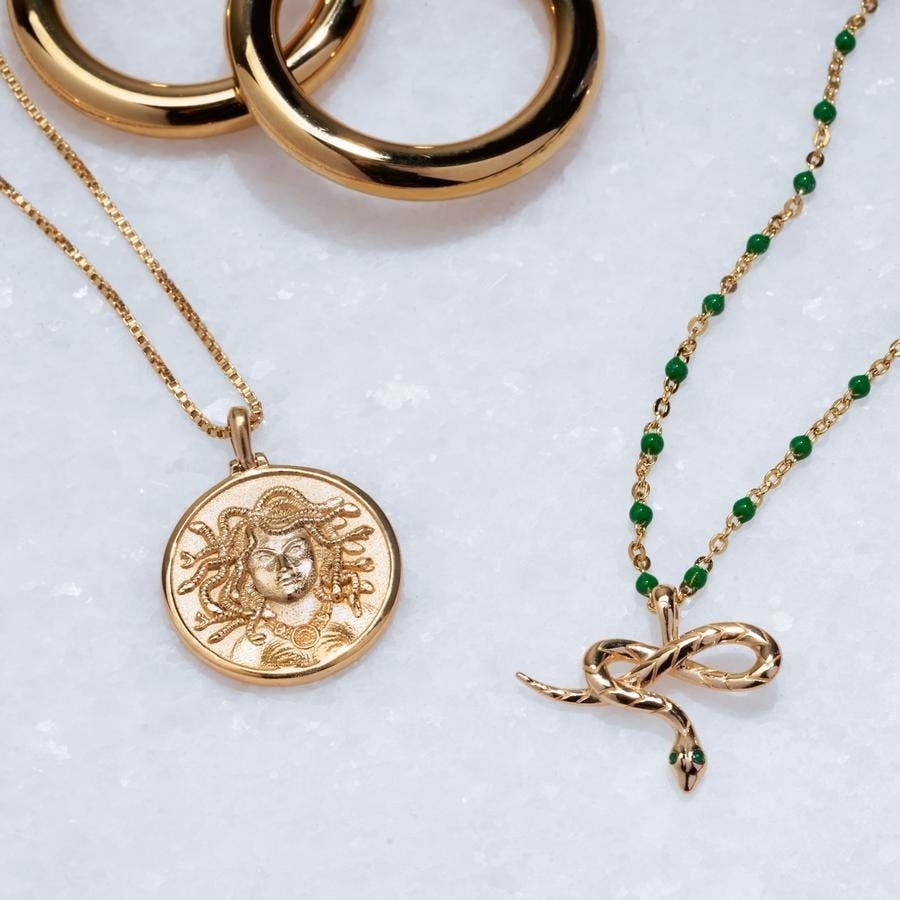 "I have two necklaces from this mother-and-son-owned company, including this awesome Medusa piece. It's sturdy but somehow still feels delicate. I love the way I can layer it with other necklaces I already own. 20% of all proceeds of this style will go to help women in need. The brand has hand selected an array of charities, such as The American Nurses Foundation; CancerCare; the NAACP; The National Alliance on Mental Illness; the Rape, Abuse, and Incest National Network; Emily's List; and The Trevor Project, that they donate to on a rotating cycle. Additionally, the  jewelry is manufactured in Minneapolis, Miami, New York, and abroad in Italy, Istanbul, and Bangkok." —Heather Braga

Get it from Awe Inspired for $175+ (available in four metals, two chain styles, and two chain lengths).
6.
A pair of Tiny Tassel tortoiseshell hoops, funky earrings that are actually extremely lightweight and hypoallergenic. 
"I'd wanted something from The Tiny Tassel — a Black woman-owned, Charleston-based small business specializing in super whimsical and smile-worthy handmade clothes and accessories — for ages. I finally ordered these adorable earrings after including them in a roundup of stylish things from Black-owned businesses. They're such a cool twist on classic hoops and I wore them with several different outfits as soon as I got them (they really stand out on video calls!). They perfectly combine several of my favorite fashion things: statement earrings, scalloped details, acrylic tortoiseshell, and a gorgeous lavender hue (can you tell from this post that I like purple??). My one note of caution is that the tassels can come off if you tend to play with your jewelry like I do, but that is totally my fault. Honestly, even if I eventually lose all the tassels, they'd be great plain (or not-so-plain) hoops!" —Katy Herman

Get them from The Tiny Tassel for $36 (available in nine colors).
7.
A BONBONWHIMS tennis bracelet that's fully customizable with over 70 charms to pick from to make it your own. It's stylish while still screaming "totally me."
BONBONWHIMS is a BIPOC, woman-owned small business specializing in quirky, nostalgic accessories that will bring you back to the glory days of the late '90s, early 2000s.

"I've worn this bracelet every day since I received it. It's so dainty and comfortable and means even more that I was able to hand select which charms went on it. By being able to customize this piece, it ensures that I'll love it and will continue to wear it. It's a great size to stack with my watch too!" —Ali Faccenda
Get it from BONBONWHIMS for $56+ (add up to 2 charms; PayPal, Google Pay, and Shop Pay are available).
8.
A pair of Maison Miru nap earrings for the person who NEVER remembers to take off their jewelry when they get home. You can even sleep or shower in these and they'll still be pristine.
"I can confirm that these earrings are in fact poke-free and are the perfect way to add a little sparkle to an everyday look. Their push pin flat backs take a little getting used to, but since they're designed to be worn 24/7, I don't take them out unless I want to swap them for a different style. And lucky for us, the brand provides a helpful guide for inserting this piercing jewelry!" —Jasmin Sandal
Get them from Maison Miru with styles ranging from $75 to $420.
9.
A splurge-worthy Mejuri pearl locket for those who binge-watched Bridgerton and are now leaning into the Regency style aesthetic. You can also get it engraved along with putting in a photo of the one nearest to your heart. 
"It also layers beautifully with other chains without tangling. I love this locket because it features a nice-sized stone for the price. Plus, pearls are perfect for spring and summer — it's the birthstone for summer. Even with long nails, I didn't find it difficult to open the latch. This is one of my go-to everyday jewelry pieces." —Christine Forbes
Get it from Mejuri for $195.

10.
A V Coterie "Happy Pill" charm to remind you that you're doing great and every day you are a gift to this world. You can add it your favorite piece of jewelry or carry on your keychain.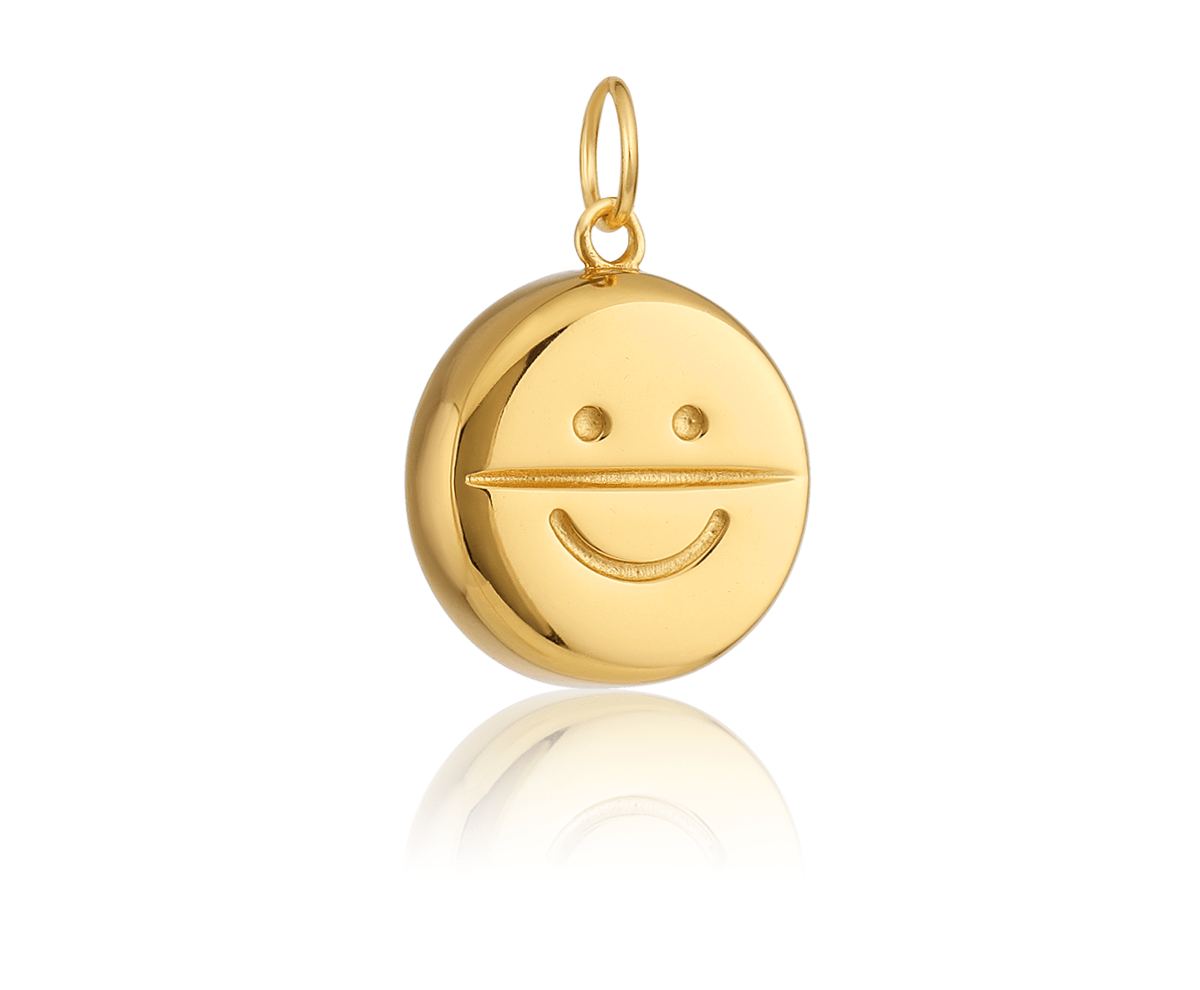 "I was gifted one of these and am obsessed with it for multiple reasons. I love that it subtly pays tribute to my struggles with my mental health (as well as how far I've come!), as it's shaped, quite literally, like an antidepressant pill. However, that's only apparent if you look closely — otherwise it's just a cute smiley face! Additionally, V. Coterie is a woman-owned small business based in Tulsa, Oklahoma that sells products designed to celebrate medical professionals." —Heather Braga
Get it from V. Coterie for $78.
11.
An understated JWLGANG initial necklace using Old English script. A tasteful piece that you can rock with any outfit. 
"If there's one thing I'll treat myself to, it's cool jewelry. I've bought rainbow clay earrings, a nose-shaped ring, and other baubles I wear on the reg. The latest addition to my collection is an initial 'G' necklace. I have a long French name, and squeezing nine letters on a chain is kinda difficult. This tiny piece still works and I love its Gothic-inspired design." —Genevieve Scarano
Get it from JWLGANG on Etsy for $26.60+ (available in four finishes, four lengths, and in capital or lowercase letters A–Z).
12.
An OXB disco chain, a lightweight and eye-catching necklace that looks amazing alone or layered with other necklaces.
"I recently treated myself to this handmade necklace from the woman-founded small company, and I love it so much. I love wearing simple chains but found it annoying that I would have to remember to take them off before I did a workout or even showered. I've worn this chain (along with the satellite chain) for the past week, and so far they have held up great. I've done a number of workouts with them, and they don't get in my way at all. I love that the necklaces are simple enough that I can wear them with everything (including sweats), but they add an interesting detail. I like how this disco chain looks as the light hits it. It's really cool! I'm already eyeing more necklaces from the site to add to my collection." —Abby Kass
Get it from Oxb for $66+ (available in 18 lengths and gold-filled or sterling silver).
13.
A BaubleBar golden ring set, great for those who wears the same piece of jewelry basically every day. No more worries about excessive use causing wear and tear, or tarnish.
"I am really lazy when it comes to jewelry. Like, really lazy. I am always wearing four sets of earrings and at least six rings at once but that said — I never *ever* swap them. Once I find something I like, I wear them day in and day out and I don't baby them. I sleep in them, shower in them, slather my hands in hand sanitizer, etc. I've had this threesome of stacking rings from BaubleBar for a few months now and so far they're holding up beautifully despite it all! They haven't tarnished, left any tell-tale green rings on my fingers, or irritated my skin in any way. I like that I can stack them all together or wear them on three different fingers and they compliment each other and my other pieces. They're exceptionally easy to wear." —Chelsea Stuart
Get it from BaubleBar for $88 (also available in silver).
14.
A chunky Alv Jewels necklace, with a large mother-of-pearl heart that is gonna WOW everyone and make you the talk of the party. 
Alv Jewels is a woman-owned small business that specializes in the most gorgeous minimalist jewelry perfect for stacking and layering.

"I have a few pieces from this brand and they're such amazing quality, I've even worn them in the shower and they've stayed shiny unlike other gold-colored jewelry I've had through the years. I will definitely repurchase from them again and again and plan on gifting some pieces from them this holiday!" —Ali Faccenda
Get it from Alv Jewels for $60 (choose from two different chains).
15.
A pair of Ten Wilde gold-dipped hoops for those looking for a classic, sleek look. Plus they are sturdy without being too heavy.
Ten Wilde is a Black-owned and woman-owned all-gold jewelry line based in LA. The brand's designs are also beloved by celebs like Lily Singh, Tracee Ellis Ross, and Delilah Belle.
"If you haven't already noticed, I have a ~thing~ for simple gold jewelry — especially versatile pieces I don't have to fuss with. I throw these babies on whenever I want to look like I put in a little more effort than usual and they totally do the trick! My favorite part is how lightweight they are — they don't tug at my ears or feel heavy after hours of wear." —Chelsea Stuart
Get them from Ten Wilde for $35.