Eggplant Parmesan Boats
Eggplant Parmesan Boats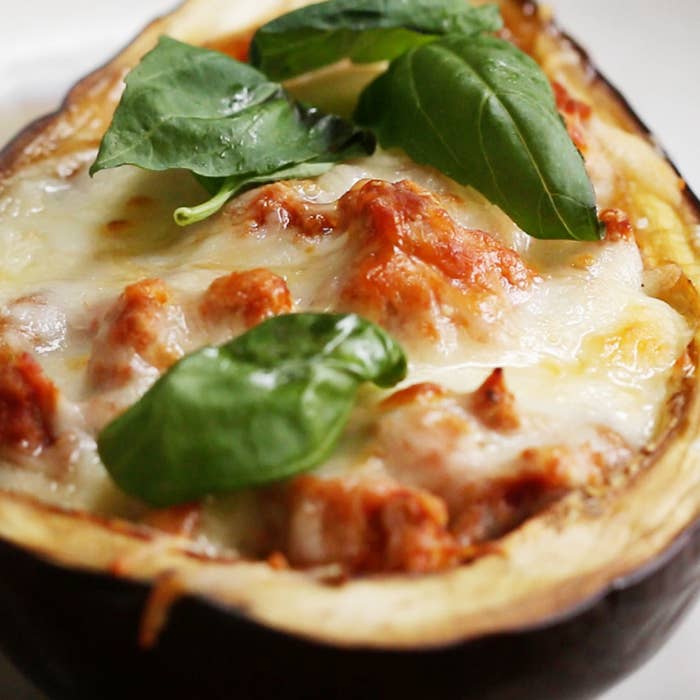 Ingredients:
for 4 servings
2 medium eggplants
2 tablespoons olive oil
salt, to taste
pepper, to taste
½ lb ground turkey (225 g)
1 onion, diced
2 cups marinara sauce (520 g)
2 cloves garlic, minced
1 cup shredded low-fat mozzarella (100 g)
½ cup grated parmesan cheese (55 g)
fresh basil, for garnish
Preparation:
1. Preheat oven to 400°F (200°C).
2. Scoop out inside of eggplant leaving about ½-inch (1 cm) border inside.
3. Chop the remaining eggplant and reserve.
4. Brush the scooped out eggplants with olive oil, sprinkle with salt and pepper.
5. Bake for 10-15 minutes.
6. Heat olive oil in medium skillet over medium heat.
7. Add onions and garlic to the pan. Cook until translucent. Add ground turkey and season with garlic powder, salt and pepper. Cook until the meat is browned.
8. Add leftover eggplant pieces to ground turkey and onion. Cook for 5-8 minutes or until tender.
9. Add marinara sauce and cook for another 3-5 minutes.
10. Scoop meat sauce into the eggplants and sprinkle with mozzarella and parmesan.
11. Bake for 10-15 minutes, or until cheese is melted.
12. Sprinkle with basil and serve.
13. Enjoy!