The 22 Most Hilariously Accurate Moments From "Being Canadian"
"Canada is a feeling," the movie producer told BuzzFeed.
1.
When a group of Americans were asked to name the nation's capital.
2.
When another American (who is also called Kathy Griffin) laid out everything she knew about us.
3.
When we get asked if we know "Steve" from Canada. And when we do.
4.
Or if we actually live in igloos. And when we do (just kidding).
5.
When producer Robert Cohen admitted something we, as Canadians, are all guilty of.
6.
Whenever you ~reveal~ yourself to non-Canadians.
7.
When former prime minister Kim Campbell was asked to explain Canada's history in a few words:
8.
When these American teens were asked if our history was ever taught.
9.
When we prided ourselves with building the super vital Canadarm for the space shuttle, and American Ben Stiller wanted to clarify that it was just the arm we celebrated...
10.
And when Russell Peters perfectly captured the victoriousness we feel when anything or anyone is ours.
11.
When a woman randomly stopped and gave Robert money to create his film after seeing the movie logo on the car.
12.
When journalist Manisha Krishnan explains the few times we accumulate "street cred" as a nation:
13.
When Mike Myers tried to make "Canadian cuisine" analogous:
14.
When the filmmaker tried to talk to Harper but he was out buying snow tires, according to his gate guards.
15.
When Alex Trebek explained how our humour is superior*.
16.
Explain further, Malcolm Gladwell:
17.
When this truth about our non-American identity identity was plainly laid out:
18.
When Howie Mandel shared our confused frustration over why our neighbours know nothing about us.
19.
And the feeling that immediately follows: Sadness :-(.
20.
When Shatner vulnerably talked about our constant insecurities.
21.
When Catherine O'Hara explained our endearing habit of adding "eh?" to the end of thoughts.
22.
But mostly, and most accurately, when Robert attended the Vancouver Canada Day parade and realized the diverse and quirky interpretations of patriotism is exactly what "being Canadian" is all about.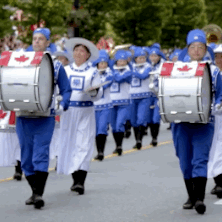 Even after finishing the movie, Robert wished he could have captured a lot more about our national identities. "I wish there was a way that the movie could convey the supercool feelings about being Canadian," he told BuzzFeed Canada. "Something about Canada... it's this amazingly rare mix of something. Canada is a feeling, and it's hard to describe the feeling."