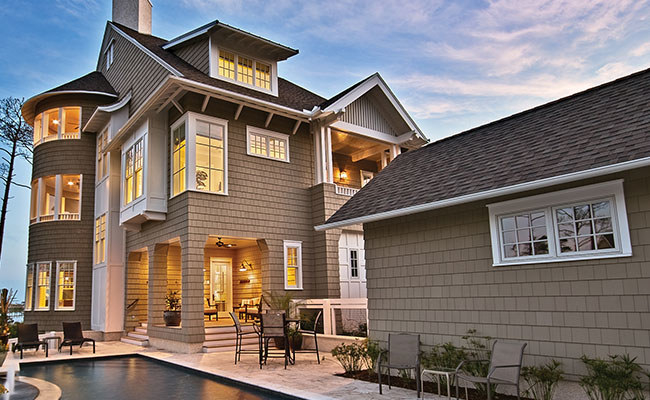 GAF
GAF is a product most commonly found at your local Home depot, or your local hardware store. As evidence from its limited product line, most homeowners and siding contractors, use it for patching existing siding, replacing those hated asbestos-cement shingles, or maybe even for siding an entire small add on. Most users who are experienced using this kind of siding material sets fairly cheap and a good value. It can be painted multiple times, and the color and texture will look amazing when installed on hard surfaces. And, of course, its fire and weather resistance capabilities are also a big plus.
James Hardie
One of the most famous, and popular types of fiber cement siding is ubiquitous to the fact that JHI does nothing else but fiber-cement and cement boards. The Hardie plank a simple 5/16" thick by 12' long lap siding, comes in a variety shades and baked in colors. Lowes home improvement professes it as its brand of choice, for any fiber cement siding project. Typically billed as a low-maintenance, long-lasting material, James Hardie has lived up to its reputation over the past twenty-five years, and still continues to thrive ad one of the leading manufactures for the cement siding industry.
MaxiTile
Though a bland name among most enthusiasts or siding contractors, the way it MaxTile runs its company is quite unique. One way it tends to get its position amongst many siding projects, compared to its major adversaries such as James Hardie, is usually with an honest approach, and trusted service. Now the company seems to be only selling roofing products, which also fair in the industry as well. Unfortunately, many consumers have complained of sudden shrinkage, and cracking of the siding within a year.
Nichiha
Not a common name for the fiber cement industry, though this 60-year-old Japanese company, seeks to be a gigantic international supplier of fiber cement siding material, though the quietest in the residential field. With a quick drive, around popular fast food restaurants and stores, you are guaranteed to see Nichiha in their construction. Nonetheless, many find it a shame since. Nichiha has a number of innovative products that would look great on residential housing.
Allura Plycem aka CertainTeed
A huge building and remodeling products company, CertainTeed finds itself on the opposition of James Hardie. Slightly lighter than the Hardie equivalent, CertainTeed produces less Silica dust when cut, and the end result might be that it a project is completed faster. Though many people have complained about issues with their siding. Made with fly ash as a filler the fly ash allows the board to expand and contract on the wall, which can cause huge gaps and seams or to burst if it expands.
So, with many options to choose from, and considering the provided information in this article, speak to a professional Michigan siding contractor for the best decision in your next fiber cement siding installation.
This post was created by a member of BuzzFeed Community, where anyone can post awesome lists and creations.
Learn more
or
post your buzz!