Since How To Get Away With Murder's premiere, there's been one main question on everyone's lips: Who killed Lila Stangard? Lila's boyfriend Griffin and the mysterious Rebecca were originally arrested for her murder. Annalise got Rebecca acquitted of the charges against her, and all suspicions turned to Annalise's cheating husband Sam. Some fans have taken to Tumblr however, to point the finger at one particular cast member who could be guilty of Lila's murder- Bonnie Winterbottom. In the first two episodes, Bonnie's feelings for Sam are subtly, but firmly established. In the first episode, when Sam and Annalise make out, after Bonnie and Sam exchange pleasantries Bonnie stares daggers at them. We also see Bonnie watch a news report about Lila Stangard's murder with an interesting expression on her face. She doesn't look surprised or shocked, but interested. In another scenes, Bonnie plainly hits on Sam, and acts awkwardly when Annalise walks in on them. To make things more obvious, Bonnie even kisses Sam on the cheek at one point. Later, when Bonnie chides Frank for sleeping with students, Frank says he's not the only one up to something and says "what, you think I didn't notice?" The only thing this exchange could reasonably referring to that has any precedence in the series is Bonnie's quite evident attraction for, and possible affair with, Sam.My theory is that Bonnie, like Annalise, believed that Sam was having an affair with Lila and got jealous and killed her. In the last few episodes, it's become clearer and clearer what a lying douchebag Sam is. And he does have a great motive to kill: Lila's pregnancy. However, pregnancy isn't the only motivation to to kill someone, and Bonnie has a motive that's just as good: protecting Annalise. In Bonnie's eyes, murdering Lila would mean getting her out of Annalise's way, and ending the affair without Annalise ever finding out about it, because Bonnie knew that finding out about it would destroy her (and we see it do just that throughout the season). What we do know for sure, is that whatever happens when the season finale airs on February 26 - Shonda will once again manage to shock us all.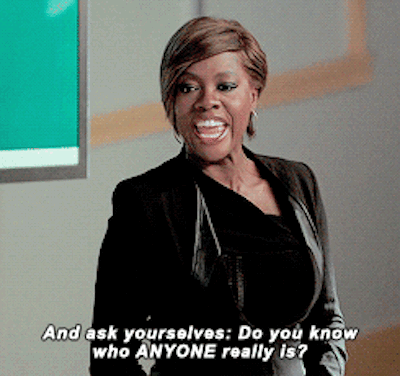 Do you think Bonnie murdered Lila Stangard?

Absolutely! She's obviously guilty.

Definitely not. She's not smart enough.
Oops. Something went wrong. Please try again later
Looks like we are having a problem on the server.
Do you think Bonnie murdered Lila Stangard?
Absolutely! She's obviously guilty.

Definitely not. She's not smart enough.