If You Couldn't Be Fucked Watching "Married At First Sight", Here's The TL;DR
I did it for you. You're welcome.
Hi. As you may or may not have realised from Channel 9's excessive ads, Married At First Sight is back, and it's touted to be the most ~dramatic~ season yet.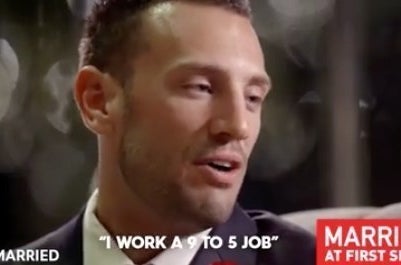 If the show title doesn't give it away, the premise of the show is basically about unlucky in love individuals who are set up with other unlucky in love individuals by psychologists and luuuurve experts. They then meet for the first time on their wedding day. Romantic stuff.
If you didn't have time to sit down and watch three nights back-to-back to see who got paired with who, I decided to do it for you.
My housemates were thrilled. Absolutely thrilled.
Episode One: The evil "ex" and the farmer sure does want a wife.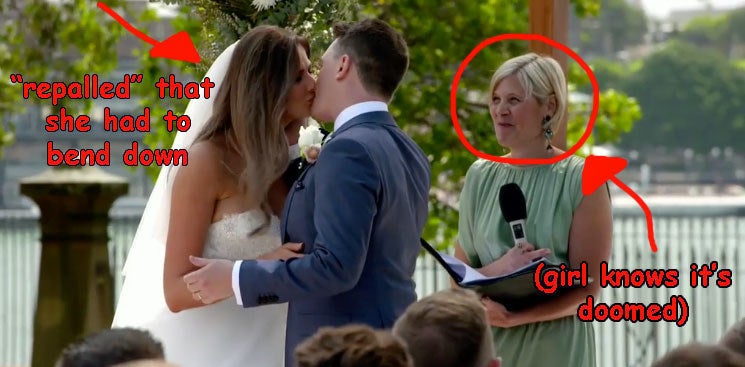 Episode one basically introduced us to all the ladies and men who are taking part in this ~social experiment~. Normally when I take part in a social experiment, I try going out for once in my life rather than get married, but we're all different.
Fast-forward to the "hens" and "bucks" party where everyone gets introduced and talks about pre-wedding jitters. Then we meet our first couple. Jonathan is an "entrepreneur" which honestly makes him perfect for any reality show. In all the years of Married At First Sight, The Bachelor, etc, I am still yet to find out what an entrepreneur even does. Jonathan, while shopping for fancy watches, says being one is "hard" because he isolates himself from people. Sad!
He's matched with Scottish Cheryl, who upon seeing him at the altar says she's not "repalled" by him. We're off to a smashing start.
The REAL drama went down at the reception, in the form of a blonde girl called Emma, who referred to herself as "John's sister". There was mass confusion when he described her as "just a mate", while she stood there asking if he wanted to talk. "DO YOU NEED A HUG?!" she basically screeched in his face as he tried to ignore her, and remember his new wife's name. Things got shadier when Emma told the camera she didn't think Cheryl is the "one" for John, because that person "is already out there". Eventually she tells John she loves him, before taking her winged eyeliner and flouncing off. I'm ready for Emma's spin-off show, please and thank you.
Episode Two: Australia's "pickiest" man and the awkward non-kiss.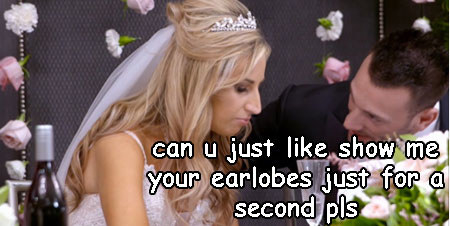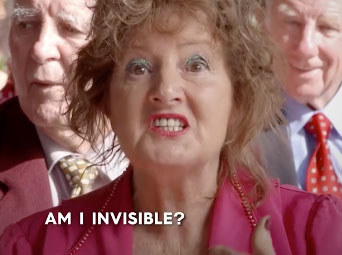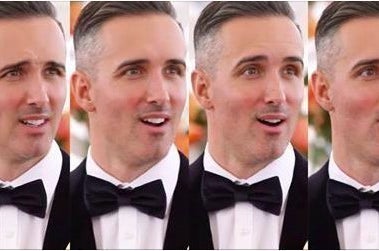 Meanwhile, everyone in Australia was basically falling in love with Anthony, as he watched his new wife Nadia walk down the aisle. Look at how bloody stoked he was! It's like the feeling when your Menulog delivery rocks up 10 minutes earlier than expected. Pure bliss.
Unfortunately Nadia looked a lot less stoked. She avoided sealing the marriage with a kiss, referring to the fact she didn't want to move, "so fast". Which totally makes sense Nadia. Like really. It's fine to, you know, marry a stranger, that's definitely taking it nice and slow. But giving them a peck after you exchange vows? WHOA, SLOW DOWN NADIA. DO NOT PASS GO. Later on in the hotel, she then built up a wall of pillows in bed between them, just in case Anthony had gotten his wires crossed. Thankfully, Anthony had read the signals, cementing his status as Australia's new favourite love-struck dummy.
Prediction: Michael and Scarlett will definitely have a physical thing happening, but it won't last. I am praying Nadia comes around to Anthony but I get a bad feeling he's going to come out with a broken heart.
Episode Three: The shy guy and the culture clash.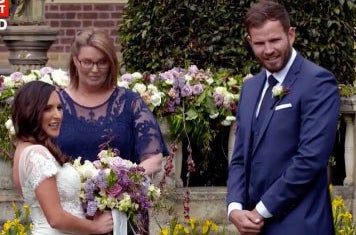 Vanessa said before the wedding that being matched with a shy guy would be the worst thing that could happen. Tbh I feel like racism, and blatant misogyny should be up there instead, but each to their own. Unfortunately for her, Andrew is a shy guy, and seemed content just to let her babble and utter a few uncomfortable laughs from time to time. "All he's done is listen!" Vanessa exclaimed, not noticing by now she was just talking to a brick wall and Andy had bailed.
Prediction: Simon is friendzoned already, poor chap, but Vanessa and Andy may stand a chance if he learns how to use his tongue. Wow, ok, not in that way you dirty, dirty person.
There's been a hint that next week will feature a runaway bride. I figured this out by every single promo Channel 9 used back-to-back screaming "RUNAWAY BRIDE". What a time to be alive.