Here's The Final Recap Of "Married At First Sight", BECAUSE IT FINALLY FUCKEN FINISHED
It's cute how we were all so young when this show started.
Hi, me again. Did you forget about me because I didn't recap last week? Well surprise bitches, I'm back.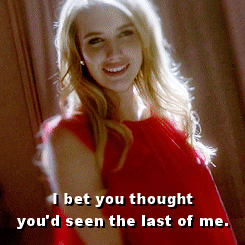 How could I not recap finale week? I even did some of this while I was drunk! Shout out to my high school teachers that thought I wouldn't make something of myself!
Sunday's episode: Everyone reunites, Nadia and Anthony are over (sad!), and our runaway bride drags Jonesy.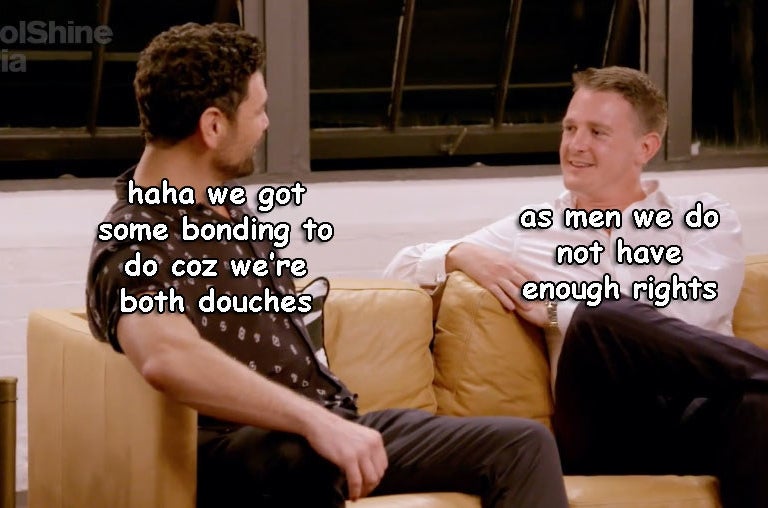 Wow. It's the dinner party none of us asked for. Every single person is reunited, including Trumpy Jonathan, Stripper Michael, "aspiring author" Scarlett, and Debbie who apparently hasn't found a Polynesian husband in the last two months. What could go wrong?!
Well, unfortunately they also brought Jonesy back, so we all knew this was going to be a shitter.
Things kicked off with Jonathan and John being the first to enter, and suddenly we had tuned into the whitest television to appear since the last episode of Neighbours.
Of course, in an unspoken rule, Jonesy and Jonathan bonded over their experiences with Cheryl. "He's a good dude," Jono said about Jonesy. Just for context, Jono supports Donald Trump and men's rights, so his opinion doesn't mean much. "It's almost like the people who have been through the hardest time are clinging together," Jonesy said. ICYMI this experiment has been really hard for Jonesy. Like that time his bride left him because he was a douche, and that time he bagged out Cheryl for her boobs, and that time he insulted Cheryl's intelligence, and that time he mocked her accent. Pray4Jonesy!!
Debbie seemed to think perhaps John and her were still in the experiment, when she passive aggressively mentioned he didn't kiss her on the cheek, nor offer to get her a drink. A Polynesian man would NEVER!
Scarlett decided to drape herself all over Jonesy, obviously missing the memo that he enjoys starting fires, not putting them out. "If I was stuck up a tree, would you rescue me?" she asked. Honestly, one could only wish she was stuck up a tree during this reunion so I wouldn't have to watch her painfully flirting with Jonesy.
The biggest statement of the night was Nadia walking into the dinner party alone. "I'm here!" she said smiling, while her eyes said, "bitches do I have some stories for YOU". She kind of looked like me after a uni night out on a Wednesday. Tired, weary, questioning most things about life, but also thriving on the fact some good gossip had come out of it. "As soon as the cameras stopped rolling, he dropped me like a hotcake," Nadia told the girls. Which is very irresponsible of Anthony if you ask me, because last I checked hotcakes at Macca's were nearly $5, and nobody should waste money like that.
Unfortunately we weren't spared Anthony from the dinner party. He came in late, bearing down on the table, while Nadia's eyes fell out of her head and onto her dinner plate. Eventually, he sat down next to Nadia and offered her a half-arsed apology, because apparently only one can apologise and look like a good dude when they're on camera. Nadia, to her credit, gave him stilted one-word answers, avoiding all eye contact. Anthony seemed a little taken aback at her lack of warmth, forgetting he had dropped her onto a sticky, dirty floor at Macca's. "I'm chill," Nadia later yelled during some one-on-one time with the camera, looking very flustered and not at all chill. "BUT SERIOUSLY?!", she screeched. Honestly, this is the best Nadia has ever been on the show. Hell hath no fury like a dropped hotcake. "He's such a fucking douche," Nadia said – no, no guys, she literally said that, this isn't my creative input. Our beautiful, precious hotcake had finally seen the light.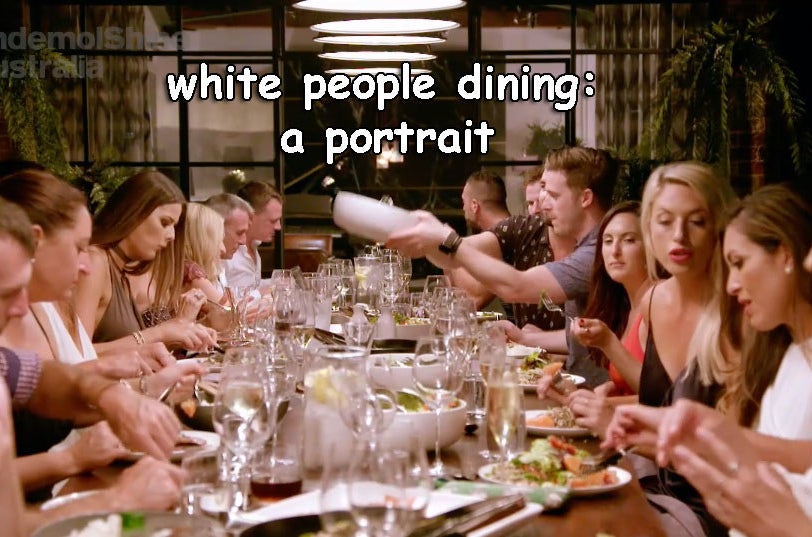 For some reason we were tortured with more Scarlett scenes. First she was pissed that Michael left the dinner party early, but tbh, I'd say that made him the only one in the room with common sense. Then Cheryl decided to take her aside to talk about Trumpy Jonathan and the "texting" saga. "You're the fakest girl I've EVER met," Scarlett angrily told Cheryl, as she flipped her hair extensions around. Cheryl seemed to find the whole situation hilarious. "The only fake thing about me is my boobs, and some of my lips," she later clarified, smirking. Look I know she has her haters, but this woman has been a true icon this season.
Scarlett then flounced into the dining room to try and find a sympathetic ear from Jono, who quite frankly, couldn't give two fucks. Realising no one cared, (I mean douchelord Jonesy called her Charlotte for fucks sake), she then left the dinner party to probably go get stuck up a tree or something.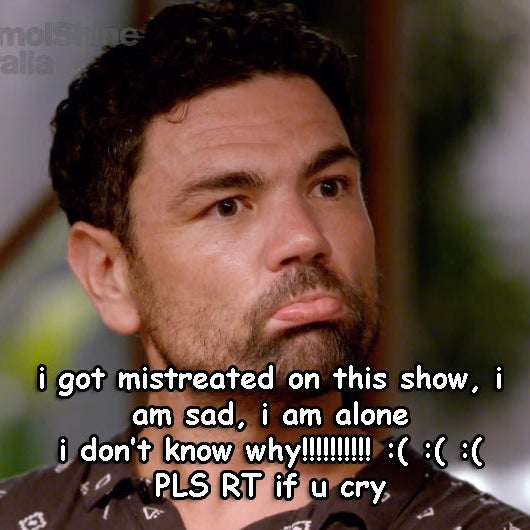 Meanwhile, a slightly inebriated Lauren decided to go give Jonesy a piece of her mind. "You try to be the joker but guess what? Your joker cards are all fucking gone," she crowed. Normally having no joker cards is a good thing, because I can't think of one card game the joker is actually handy for, but regardless, anyone who wants to go head-to-head with Jonesy has a fan in me. Jonesy made a dig about not taking advice from a runaway bride (once again conveniently forgetting she ran away from him, which says more about him than her?????) and she called him a cocky little prick. She then called him out on not being able to take criticism, and look, I fucking love this bitch and I just wish she had been on the show more.
Monday's episode: The "boys' night" footage is finally aired.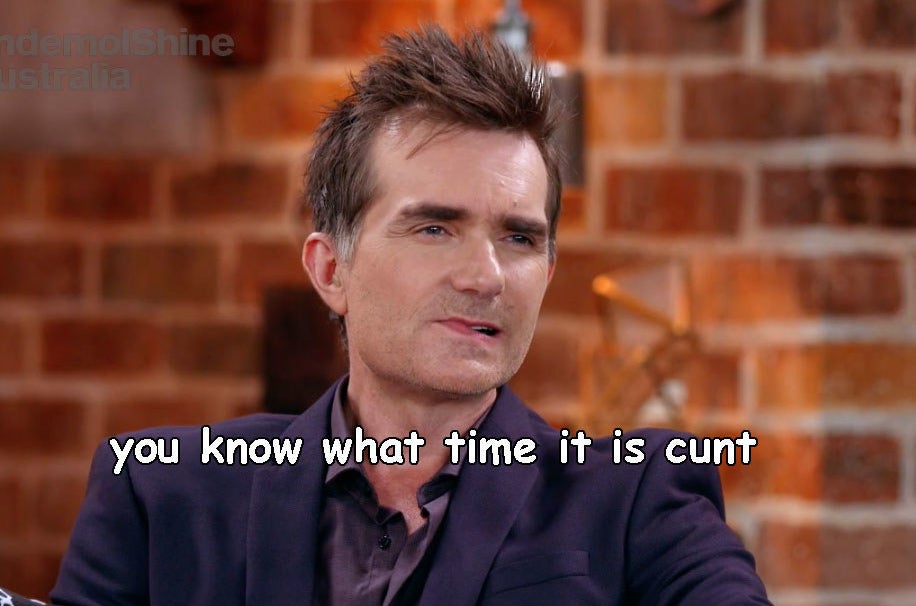 Moving on, the best part of the episode happened. As he gleefully rubbed his hands together, psychologist John revealed it was time to show the boys' night footage. "You thought Cheryl misinterpreted what happened, didn't you?", psycho John said to Andrew, with the exact excitement of a sibling dobbing on their brother or sister. "Well, why don't we WATCH IT," he yelled, his voice reaching ecstatic pitches of pleasure. You could just tell he had been waiting for this moment and it may just be the highlight of his strange, strange career.
Anyway, here's how everyone reacted to the infamous boys' night footage.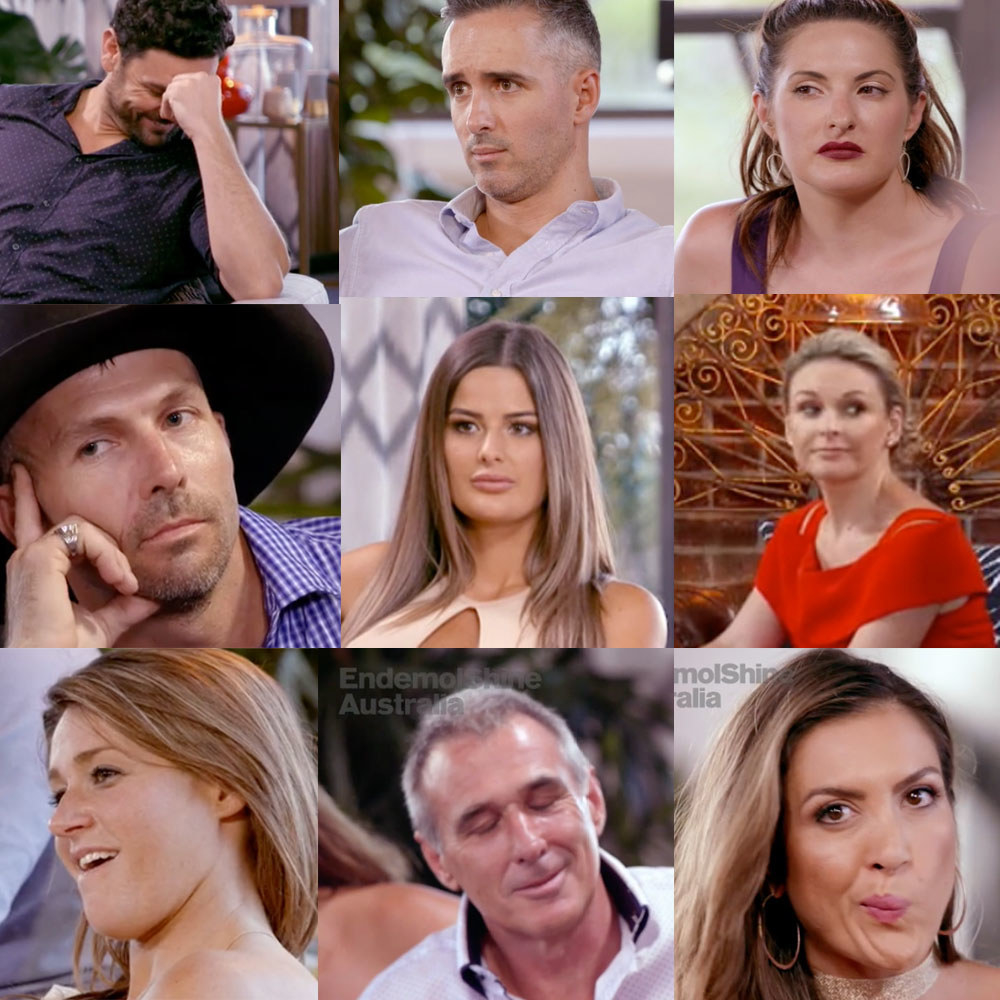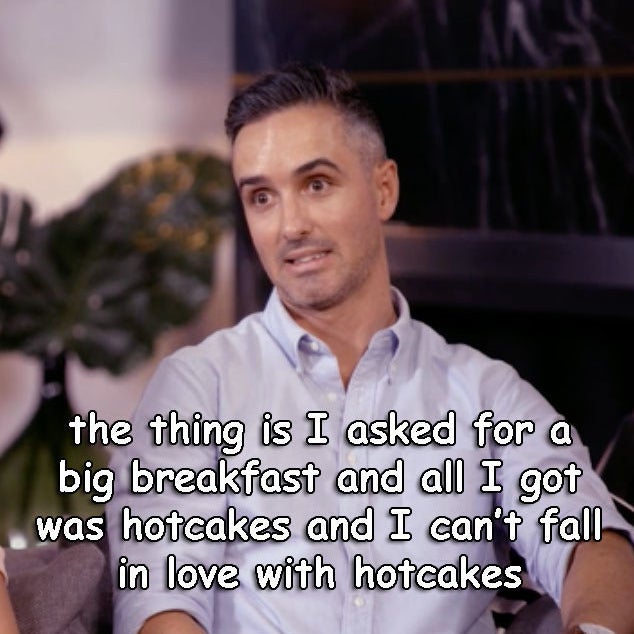 In Anthony and Nadia's world, the tables turned and Nadia decided to take on Anthony's advice of calling a spade a spade. Except this time she was calling an arsehole, well, an arsehole. In the most silent we've ever seen Anthony, Nadia let him have it. "You didn't give me a chance," Nadia started. "Instead you ran away. I spent so much time in this experiment investing in us, and opening my heart to you... and that feels so disrespectful," she said, with the tone of a disappointed mother. Accusing him of switching off and ending things as soon as the cameras stopped rolling, for once in his life, Anthony didn't have an opinion. "I can see how it appears that way," he said morosely. "I wish things were different." I guess he wished she was a bacon and egg McMuffin or something. Honestly, this scene was weird for many reasons, three main ones of which I will list:
1) Nadia was literally going to move to Sydney for Anthony. I mean, do I need to even go into that? The dude doesn't wear socks with his suit for god's sake.
2) Anthony was the most subdued we'd seen him all season. The cockiness was wiped from his body, and a strange, robot Anthony sat in the seat, maybe in a last-minute effort to show Australia he has a heart.
3) Nadia's eyes weren't planning escape routes around the room anymore. The darting had completely stopped.
Unfortunately it may have taken Nadia a few months to realise Anthony was a horse man, and she wasn't a horse woman. But at least she got there in the end.
For some reason we didn't do any deep-dives or find out any more info about Vanessa and Andy, Jesse and Michelle, or Lauren and Andrew – the only sad thing about this is I would've loved to watch Lauren give Jonesy another serve. #cockylittleprick
So where does that leave us? With 2.5 couples out of 10 managing to make things work, and most of Australia emotionally exhausted.