We Have So Many Thoughts On Episode 3 Of "The Bachelorette" Australia
PASH HER SASH!
by
,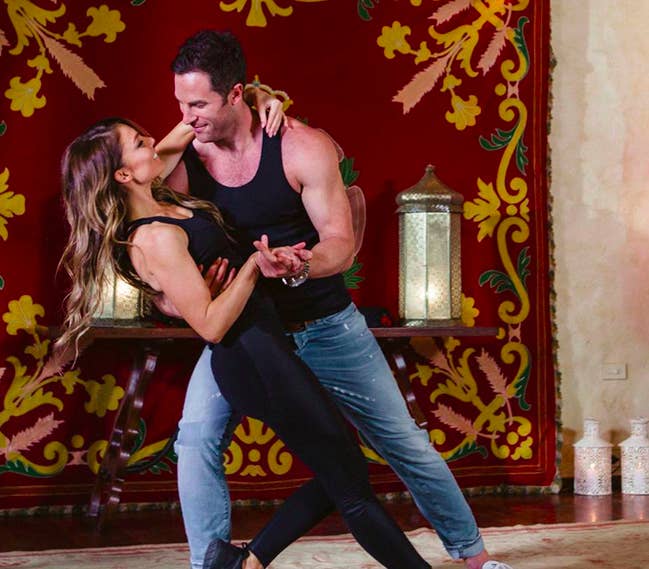 1. We open to the guys all agreeing David was embarrassing, so at least we're all on the same page here.
2. The bro code was apparently a term for "mutual respect", but now these guys have decided it's safer to just call it "mutual respect".
3. OK then.
4. Thank god we can stop talking about the bro code.
5. How hot is Sash tho.
6. How hot are all of them.
7. THEY JUST SAID "CHEERS TO TEA". So cute.
8. *Clink* except I've got wine not tea lol.
9. Oh hey Osher in knitwear.
10. I'm so glad they filmed this in winter.
11. Sasha's got the date!
12. Yaaass Sash.
13. "Sashalicious" THESE GUYS.
14. Dave's a bit jealous!
15. "I hope he breaks his leg," I don't know how Dave can say that but still be so cute and non-threatening, even though he has the body of a Greek god.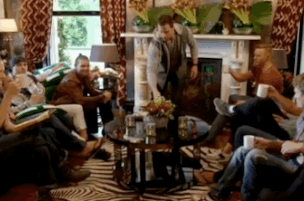 16. OMG I'm dying at how nervous Sash makes Sam. It's so goddamn adorable.
17. I'm so glad she's never ashamed about being "girlie". She's the best.
18. And I love how every time she tells Sash he makes her nervous, he just stands there looking completely dumbfounded.
19. I SHIP IT SO MUCH.
20. "Well, I love to dance!" Do you tho Sam, that didn't sound super believable.
21. YAS SASHA, take that shirt off.
22. I'm getting like Elliot Stabler vibes from Sasha now that he's in his singlet?
23. I'm here for it.
24. Sam's face expressions are absolutely priceless when the instructor is telling her to touch Sash.
25. SHE CAN'T LOOK HIM IN THE EYES. THIS IS SO AWKWARD AND BEAUTIFUL ALL AT ONCE.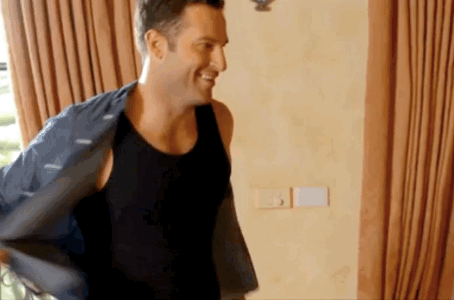 26. What do you get when you group a bunch of Bachelors together? Denim. Denim as far as the eye can see.
27. Seriously, they are all wearing blue, did they deliberately coordinate?!
28. Can Davey go on a date so he can stop talking about it please.
29. I'm surprised Alex hasn't had a date yet tbh, not even a group one.
30. He's quite dreamy and Sam seemed pretty into him.
31. Maybe she's saving him for later.
32. Anyway back to Sash and Sam. I hope the makeout.
33. Yep, I'm just feeling this Elliot Stabler look.
34. I get the feeling Sam isn't good at saying the obviously scripted stuff, it comes out very stilted. But she's such a natural otherwise.
35. They both share love for their stepdads, it's so sweet. But like, why are they sitting on this awkward bench?
36. GET THEM A COUCH.
37. AND MAKE THEM KISS.
38. Sash is starting to fall for Sam and I am starting to fall on the ground because I am dead.
39. THAT OUTFIT THO.
40. THE WAY HE LOOKED AT HER.
41. LOL there's nothing more Aussie then Sasha saying "Olé!"
42. It's so weird watching them dance to empty space. I know there's a whole camera crew there but I'm just imagining them rehearsing all day to… perform for no one?
43. Still a hot AF couple doing a nice dance tho.
44. "Maybe I will find love," Sam says TALKING ABOUT SASH I AM SURE.
45. Look at him rubbing her leg, get it son.
46. This gets deep REALLY fast considering it's meant to be their "first" date.
47. Omg the awkward sexual tension.
48. JUST KISS ALREADY.
49. OMG A ROSE!!
50. KISS.
51. KISSSSS.
52. KISSSSSSSSSSS.
53. Sam why did you dodge that kiss. JUST KISS HIM ALREADY, MASH YOUR FACES TOGETHER, I WANT TO WATCH.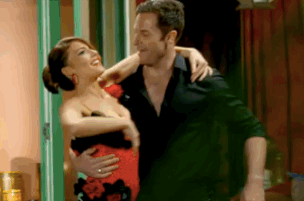 54. Group date time! And it's a photo shoot, because that's such a good ~date~.
55. Love when my partner takes me on a photo shoot for fun.
56. Every time Tony pops up it's like "Where did you come from?"
57. He also looks just SLIGHTLY too much like Dave that in the background I just assume it's Dave.
58. Real talk, is Michael never NOT serious?
59. OMG they're all going to be shirtless HOLDING DOGS. THIS SHOW. THIS GODDAMN SHOW.
60. I love it. It is 100% catering to me and I fucking love it.
61. LOL at Sam choosing dogs to match each guy's personality.
62. The push-up prep they're doing just killed me. Again.
63. "You look like a hot, rugged Aussie dude," Sam says to Dave. Pretty sure that's exactly what he is though.
64. I want those two Pomeranians, give THEM a rose.
65. OMG IMAGINE A BACHELORETTE BUT FOR PUPPIES.
66. I feel like Tony is trying to do a photoshoot with a newborn baby instead of a dog.
67. Omg why does he keep kissing it.
68. Why is he lifting it in the air?
69. It's just a little bit creepy?
70. Is he going to eat it?
71. Put the dog down, Tony. It's literally asleep.
72. Poor Kayne with that hyper dog. It's actually so cute tho.
73. WHOA. WILL. WHERE HAVE YOU BEEN HIDING THOSE ABS.
74. Poor Davey, that's so much to deal with the bath and the dog and the shirtlessness.
75. Sam seems SUPER into Michael but I don't totally get it?
76. I think he's nice, but it's like choosing a Kingston over a Tim Tam. Like you just wouldn't do it.
77. "It's hard for me to show emotion" Michael says in a monotone voice. Ya don't say.
78. Michael is like the :/ emoji.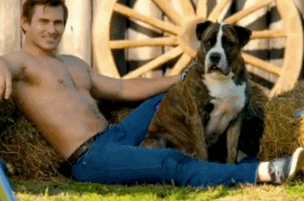 79. OK so they're going to let Sam dictate who she talks to. How nice of them.
80. "Who is on the chopping block tonight?" Whoa guys GO IN.
81. I hate when they don't show us conversations at cocktail parties. I WANT TO KNOW WHAT SAM AND DAVE TALKED ABOUT.
82. And Kayne jumps in, go Kayne, redeem yourself.
83. He wants to do something to impress her, is he going to try another headstand?
84. "How do you feel about rap?" Oh no.
85. YOUR NAME IS KAYNE NOT KANYE.
86. I feel so much secondhand embarrassment and it hasn't even started yet.
87. Oh god, all the boys are going to watch.
88. Ho, don't do it.
89. Oh my god.
90. I think I'm blushing.
91. This is the whitest thing I've ever seen in my whole life.
92. So spontaneous he typed it out and printed it beforehand.
93. OK look it was kinda sweet but also bro, just call it a poem not a rap.
94. Drew's man bun is proof he should definitely cut his hair. It looks so much better away from his handsome face.
95. Sam is so not into him, you can tell.
96. He's like a sad little puppy trailing around after her.
97. "Who makes you feel comfortable?" Mmm probably not you, with those lusty eyes Drew.
98. "I am one of the quiet ones." Understatement of the season, Tony.
99. Sasha has a rose and is safe, yet Sam still grabs him!
100. For a chat that is, tho I feel like she does want to grab him elsewhere.
101. Same tbh.
102. His hand is on her knee. Be still my heart.
103. I'm sensing a cheeky little kiss.
104. A sneaky pash-a, if you will.
105. PLEASE.
106. The sexual tension on this chair right now is ridiculous.
107. She's actually just staring at his lips the whole time though, she's ready.
108. OMG THEY'RE REALLY GOING FOR IT.
109."I really want to kiss you right now." "You should."
110.…
111.…
112.…
113. GUYS I AM DEAD.
114. I AM DECEASED. RIP ME.
115. That was so fucking hot. YAAAAAAASSSSSS.
116. "I feel like now was the right time and place." What, like when the other 10 guys are only a few metres away? Perfect.
117. Not that I'm complaining.
118. Holy shit they're going at it again.
119. AND AGAIN.
120. GO IN SAM. GO INNNN.
121. SHE LOVES HIM.
122. I love them.
123. I wish they'd showed them walking back in the room, like how do you hide that much ~heat~.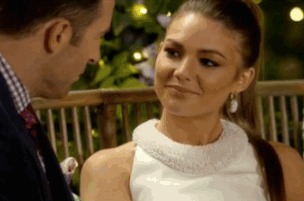 124. Lol that look from Osher @ Sash, he totally knows they were pashing.
125. I'm picking Drew to go home. He's just FAR too emotionally invested and Sam won't want to lead him on. She's too nice.
126. Tony is kinda boring AF though.
127. But pretty.
128. Oh Kayne, there's so much more you can do than rap to impress her. Like, pretty much anything else.
129. Oh good Alex is safe. HE NEEDS A DATE.
130. Oh, yep, bye Drew. Poor guy, he is so lovely. But there was no chemistry there.
131. You can genuinely tell Sam feels bad though, she's so sweet.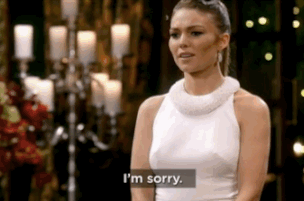 Like BuzzFeed Oz on Facebook