It's Not Good Enough In 2018 For Australian TV To Be Giving Controversial Men A Platform
Using shock value to attract viewers seems like a foolproof ploy by the creators of Australian reality TV – but should networks be taking a harder stance on casting men with outdated views on women?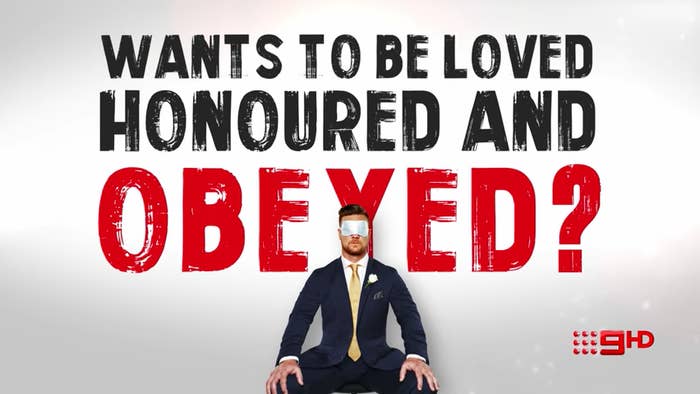 "It's hard to say without sounding sexist. But I like a girl who's girly, and knows that I'm the man and I'm in charge. I want to be the alpha male, and she needs to respect me as the man. I think that's a traditional role that still exists in some other countries in the world, and Australia's lost that. A lot of guys are just afraid to be men now, and they're just getting whipped by their women."

These exact words were uttered by a blindfolded man, Dean, on a TV promo for the new season of Married At First Sight. Dramatic music played under his words and a caption flashed up that read: "Dean wants to be loved, honoured…and obeyed".
Married At First Sight is sold to viewers as a way to help unlucky singles finally find love, after being matched by professionals.
Yet in season four in 2017, the formula of the series was shaken up, with a heightened focus on the drama at the weekly dinner parties taking precedence over any real connections being formed by the couples.
It's a formula that looks set to continue this year – with one source from the show telling BuzzFeed "there will be marriage swaps" and that things are only going to get "more dramatic". As we move away from the actual premise of the show, it leaves us watching everyday people fight with each other, for the sake of ratings.

The last series left a bitter taste in the mouths of some viewers, after numerous episodes shed a spotlight on the underlying misogynistic values held by some of the "grooms".
Perhaps the most talked about episode last year was the controversial experiment led by the show's "relationship experts", where the women and men were separated for a "girls night" and "boys night" to blow off some steam.
What ensued was one of the men, Andrew "Jonesy" Jones, making vulgar jokes at the expense of his "wife", Cheryl Maitland, commenting on everything from her intellect to her hair extensions, before making a lewd gesture about her breasts.
Another groom, Sean Hollands, called out Jones on his behaviour, and it later became the hot topic at one of the many dramatic dinner parties. Many of the other men sided with Jones under the guise it was all a bit of harmless fun and that "boys will be boys".
The rampant boys' culture and toxic masculinity on display last season not only turned viewers off the show, it managed to draw attention to the bigger societal issues at play – not only did the grown men involved think this behaviour was normal and OK, but Channel Nine also deemed it worth airing.
"Yes, it's just a stupid TV show, but it publicly shows how horribly some men treat women," one viewer tweeted as the episode aired. "I actually feel sick and close to tears."
Had Channel Nine learnt anything from the shock and disgust expressed by viewers, you'd assume it wouldn't have given another "alpha" male any kind of spotlight. However, with last season being the most popular since the show's premiere in 2015, the temptation to use shock value for ratings seems like a foolproof method for Australian reality TV, with more and more "villains" cast.
Take Channel 10's I'm A Celebrity...Get Me Out Of Here. Pitched as a family-friendly show, it pits well-known Aussie personalities together to try and survive in the jungle. The winner of the series has prize money donated to the charity of their choice.
Over the three seasons, the show has passed without much controversy – we watched Freddie Flintoff win season one and Brendan Fevola season two, and last year saw Casey Donovan crowned the first female winner. We've seen big personalities such as Shane Warne, Tom Arnold and Natalie Bassingthwaighte eat all manner of disgusting things, have close encounters with dangerous animals, and face their fears.
However, the show is competing closely with Married At First Sight in a ratings war, and has upped the drama by introducing Anthony Mundine as the "camp leader". In his promo for the show Mundine talks about how he wishes life was like it was in the 1940s: "I should have been born in the '40s or '50s. Their traits and their beliefs when the men were the men, and the women were the women, not the men trying to be the women and the women trying to be the men."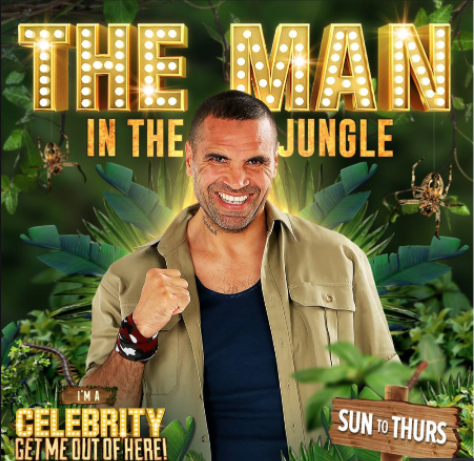 In an interview ahead of his arrival in the jungle, Mundine told the Sydney Morning Herald that homosexuals were "confusing to society".

"I was always taught that two genders together is natural, it's what's meant to be. Male and male, or female and female, is just confusing to society. I always tell my gay friend, 'You've got to find a lady … God will judge you, not me'."
It's no secret that Mundine's outdated views have been creating headlines for years – he's been known in Australia for well over a decade for his controversial ways, and for boasting that he is "The Man".
With the show pitched to families and airing four nights a week during primetime, it's not only uncomfortable viewing for children and adults, it's outrageous that Channel 10 deemed it OK to give Mundine a platform under the pretense of lighthearted entertainment.
Australia has long had a love affair with reality TV – shows such as My Kitchen Rules and MasterChef have remained ratings favourites for numerous years, and the success of The Bachelor and The Bachelorette has seen the new series Bachelor In Paradise commissioned for this year. Not only are ratings strong, there has been incredible engagement on social media platforms.
Since the announcement about Mundine entering the jungle, people have taken to Twitter to implore others not to give I'm A Celeb the time of day, with one writing: "I was really looking forward to this season … but I just can't support anything that involves the consistently gross Anthony Mundine."
Likewise for Married At First Sight, the backlash over selecting self-confessed "manly man" Dean was swift. "Casting Dean seems massively irresponsible," one viewer said. "Channel Nine will get ratings, clicks, and engagement, but at what cost?"
As the new season premiered this week, people were once again quick to call out MAFS for its casting choices and blurred lines around consent and coercion. With the camera zooming in on a kiss between Dean and his new bride Tracey, one person tweeted on the account for Married At First Sight, "Aaaand there's the chemistry!", much to the disgust of viewers who saw the kiss as "forceful" and "going hard without consent".
The bride, Tracey, even said in the episode: "He was coming in for the kiss whether I wanted to or not." Yet, somehow, the network still deemed this uncomfortable footage OK to air — because "boys will be boys", right?

Our TV channels continuing to showcase "boys culture" for the sake of "entertainment" is simply not good enough in 2018, and it is dangerous. With the premiere of family-friendly My Kitchen Rules winning the ratings war over Married At First Sight and I'm A Celeb on Monday night, it might be that Aussie audiences are cottoning on and making it clear they want to see good TV – not be forced-fed controversy.