Goddamn There Was Some DRAMA On "Bachelor In Paradise" Tonight
Someone should give me a rose for sitting through all of this.
Hello! Did you get lost? You're here because you want to ignore most of the writing and just read some images with Comic Sans text.
Anyway, let's pick up where we left off last night. Megan had just entered paradise on Fuckboi Jake's arm.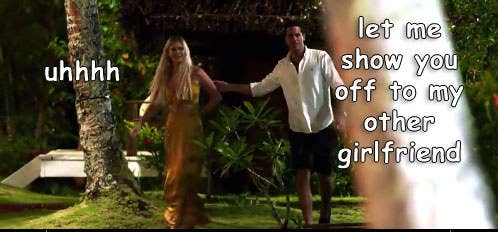 Flo catches some foundation on Jake's shirt. "It's just from a hug, babe," Jake says, pretending like he didn't have his tongue down Megan's throat five minutes ago.
Jarrod wears a fedora while talking about the fact he's into two beautiful women, Keira and Ali.
Leah has taken Mack's penis and has tied it into a dainty little bow to wear around her neck.
Megan and Jake have a flirt, while Flo cyclones around the island wondering if Jake will give her a rose.
Jarrod and Ali go on a date and show us some woeful dancing.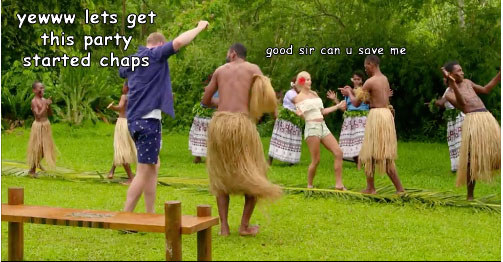 A producer asks Ali if there's a spark with Jarrod, and she makes these faces:

Megan and Flo exchange stories about what Fuckboi Jake has said to them both. Upon hearing Jake described his date with Flo as a "friendship date", Flo goes and throws a glass of champagne on him.
Intermission: My beautiful parents, who we do not see enough of.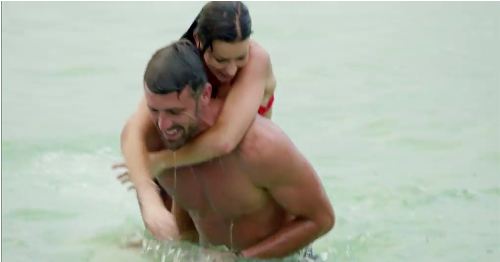 Osher announces a rose ceremony, and it turns out three of the guys want to give their roses and nudes to Ali.
Flo apologises to Jake about her "not so classy" behaviour even though if anyone deserves a drink upended on them, it's Jake.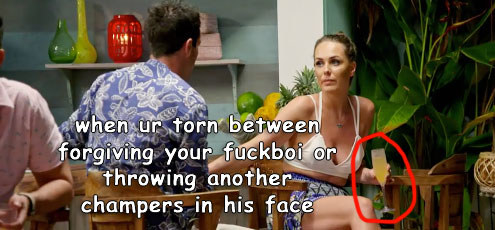 Michael, Jarrod, and Mack squawk around Ali like a pack of annoying seagulls fighting over the last chip.
Jarrod basically tells Keira that Ali is getting his rose, pot plant, and eternal affection until the day he dies, and Keira is incredibly upset.
If you think someone crying over Jarrod is dramatic, well my friends, do I have news for you. The rose ceremony was a goddamn MESS.
Jarrod is low-key fuming, and steps up to give his rose to Keira. Tbh, I feel for Keira in this moment, because she knows she is the second choice and that SUCKS.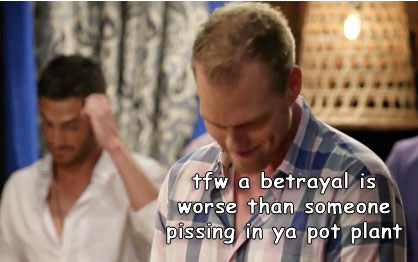 Blake steps up and gives his rose to "Lenora". As we all know, there is no Lenora. Laurina is fucking PISSED.
As Uncle Sam gives his rose to Tara, Jake reckons he's about to cry and through his sweaty Fuckboi eyes, keeps begging Michael to give his rose to Flo.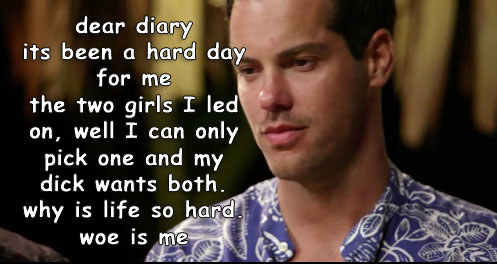 The last choice of the night, Jake has to face every fuckboi's worst nightmare... he has to finally make a choice, and unfortunately he can't make his dick point in a certain direction this time.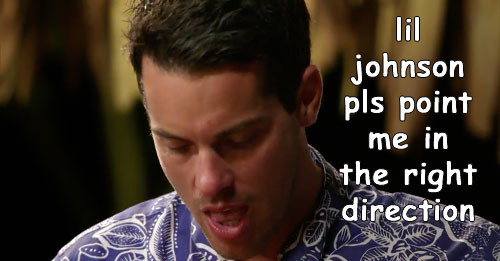 Flo. Oh, beautiful Flo. Another victim to a fuckboi. May you RIP.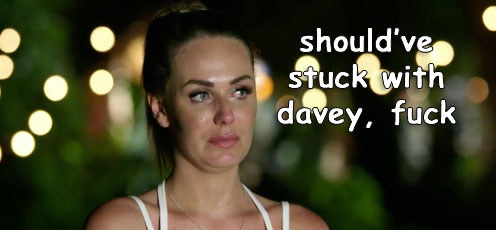 Next week: I think Tara and Uncle Sam probably make out and I'm probably going to spew.