Missed The Bachelor or want to relive it through shitty memes? Well, you've come to the right place!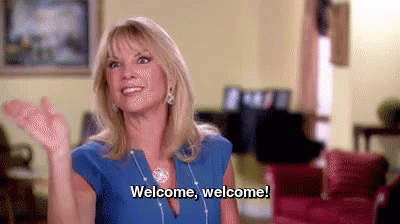 We opened with Matty thinking about the future as he boils the kettle.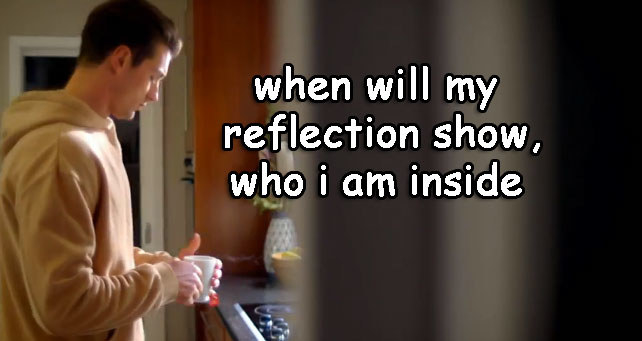 Hometown visit #1: Tara took Matty to Movie World, and then to meet the fam.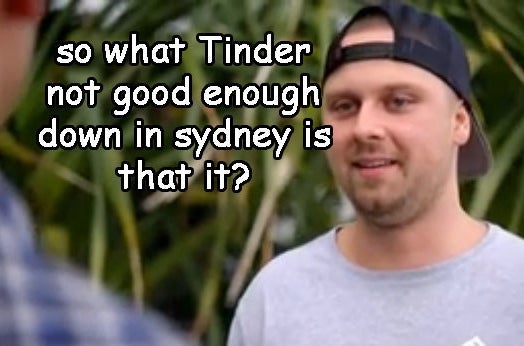 With Movie World booked out for just the two of them, we watched Matty and Tara gallivant around on rides like little kids. Honestly, it was just a beautiful montage of them holding hands, running, and screaming on rollercoasters.
Over milkshakes (who doesn't want that straight after a rollercoaster?!), Tara told Matty that he's the second guy to come meet her family and to watch out for her younger brother Troy.
Matty brought his own six-pack of SuperDry to the party and was greeted enthusiastically by Tara's nieces and nephews... which had more to do with Tara arriving home, than the SuperDry. I think. As Tara hugged and kissed the kids, Matty started ovulating on the spot.
As Matty told Tara's family the story of how they first met, the show was edited to make it seem like Troy interrupted the story to drag Matty outside with the other men. Fittingly, Troy and co. grilled him about Tara, while they flipped meat on the BBQ. Matty told them that he wished he could tell them that Tara was his number one choice, but he "just doesn't know yet", to which Troy called him a liar.
Now, guys, I know this SOUNDS dramatic, but it really wasn't. Like, popcorn was not falling out of my mouth in shock. Maybe because I saw it on 567 ad breaks before the show started.
During dinner, Tara's sister Belinda took Matty away to question his motives. What's with this show and people dragging others off for a chat when they're just trying to enjoy a tasty sausage? Goddamn. The two had a nice chat about the future which ended with Belinda calling Matty "brother", and everyone was happy. The show ended there.
Ha, gotcha, no it didn't! As they said goodbye, Tara told Matty she can see herself falling in love with him, and was clearly upset to see him leave. Oh God, my heart. I hope Matty's getting mentally prepared to be Australia's most hated man when he breaks our Queen Tara's heart next week.
Probability ranking: 4/5
Hometown visit #2: Florence takes Matty to fake Holland and he was genuinely surprised her family wasn't there?!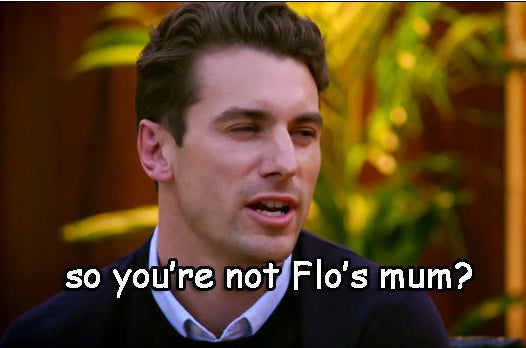 Florence took Matty to Windmill Garden in Melbourne for their date. Matty was super shocked to find out he was going to be meeting two of Florence's friends, and none of her family. Matty, you silly idiot, you're not in Holland, no matter how many windmills are around! But did he really think her family was going to be flown over when we all know she won't make the top two? Not to mention Channel 10's serious budget cuts. C'mon now.
One of Flo's friends Marley decided to put Matty on the spot by asking him why he went on a manufactured show about falling in love. Marley doesn't believe one can "plan" to fall in love... which makes total sense actually, now that I think about it.
Matty said he was worried that even though Flo loves Australian life now, she may want to go back home to her family one day. And we all know Matty's not going anywhere. The dude wouldn't even move to Melbourne.
The date ended with Marley saying Flo is "glowing" and I can't wait to read the Woman's Day headlines tomorrow about Flo and Matty's unexpected lovechild. Flo and Matty kissed goodbye, but he didn't TOUCH HER FACE, which is definitely his "I'm not that into you" move. Uh-oh.
Probability ranking: 1/5
Hometown visit #3: Matty was finally reunited with Phil.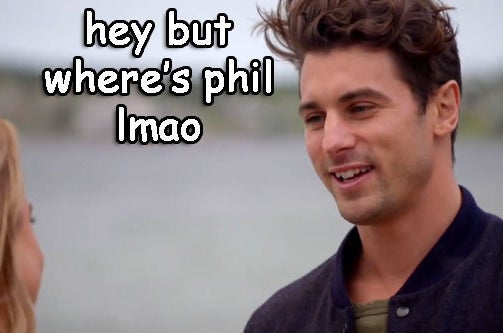 Oh yeah, and he met up with Elise too, sans her Extra chewing gum.
"I'm really excited to meet everyone," he said to Elise, as they stood on a windy beach. Matty's eyes desperately searched for Phil, as though he was hiding somewhere on the horizon. Finally Elise put Matty out of his misery and told him that yes, Phil would be waiting for them at home, and Matty's eyes lit up like it was Christmas.
After a happy reunion with Phil, Matty decided to help Elise's mother out in the kitchen. "Do you need my muscles to mash those potatoes?" he asked, and she reluctantly handed them over. As it turned out she didn't trust his mashing skills or him as a person. However it didn't take long for Matty to work the old Bachelor charm on Marie and by the end she was complimenting him AND his potato skills.
Honestly, there's not much to say here: Elise's family is nice, picture-perfect, look as though they'd never raise their voices at each other, and would be the kind of people who always yelled out a chipper "Good morning!" to their neighbours.
Probability ranking: 3/5
Hometown visit #4: Laura decided it was time for Matty to meet the WHOLE family.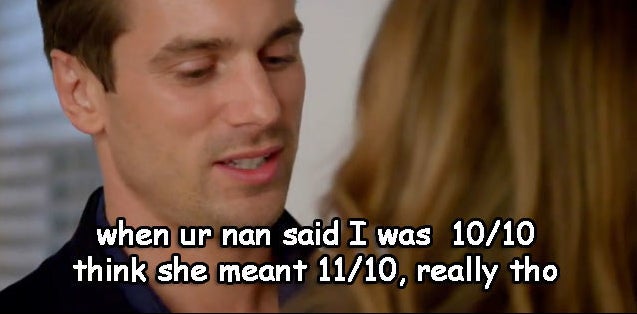 Including her three-legged rescue dog, Buster.
Matty's voiceover told us it was so FUNNY that he and Laura had lived minutes from each other this WHOLE time and NEVER MET!!! Which we all believe!! Absolute strangers!! Definitely never ended up at Casablanca in Double Bay at the same time, EVER. Never saw each other around Bondi! Never!
Laura and Matty discussed the logistics of the family visit during a picnic, then upped and left, leaving ALL the food behind. It was really stressful to watch. Obviously a producer cleaned it up after, but my God. Don't show me that kind of upsetting footage ever again.
Laura's adorable grandma gave Matty a thumbs up and 10/10, saying he was a lot better than "the others that have been brought through that door". Someone give this lady a role on Gogglebox.
Laura's sister gave Matty a grilling, and he told her he didn't know yet if Laura was the one. In response Laura's sister gave him a glowering look, reminiscent of the look his sister gave Georgia Love last year when she said she wasn't ready for babies.
We end the date with a hint of doubt, carefully planted to make us think Laura isn't going to win this thing. "You know I want this," Laura said to Matty, which was basically her way of declaring love. "Are you 100% certain?", Matty repeated constantly like a robot on heat. "Don't do this if you can't say those words back," Laura warned him. Matty then left and wandered down an empty street on the boulevard of broken dreams. Also known as Kings Cross, I guess.
Probability ranking: 4.5/5
The rose ceremony: Matty doused water on one ladies burning flame of love.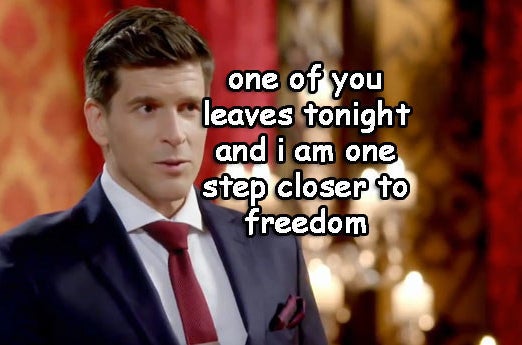 First up, the ladies all loitered around different areas of the mansion, with their voiceovers telling us they were scared and nervous.
Osher walked in to do the rose maths for them looking rather chipper as the end is nigh after all.
Elise received the first rose, and Tara nabbed the second. By now it was obvious what was happening: Matty left Laura second-last, to scare her into thinking she was going. This means next week, she'll find it easier to say she's fallen in love with him, because she's scared shitless of losing him. An age-old trick! I tried this on my boyfriend once, and he asked why I was conducting a rose ceremony with just him and no one else. I didn't really know how to respond.
So that's it folks. We said goodbye to our gloriously honest Dutch queen Flo, who handled it all like the champion she truly is.
Next week: OMG GUYS IT'S THE FINAL NEXT WEEK, START STOCKING UP ON CHEAP WINE NOW!!!!!