Barron Trump
First lady Melania Trump said Wednesday that said Barron, 14, exhibited no symptoms during his infection and has since tested negative.
People are advising Trump (or, rather, his son Barron) to microwave the ball for potential bugs.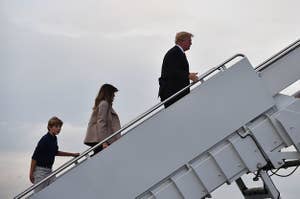 The head of St. Andrew's Episcopal School in Maryland also said President Trump's proposal to arm teachers would be "dangerous and antithetical to our profession as educators."
Katie Rich tweeted on Friday that Trump's son Barron would be the "country's first homeschool shooter." She has been suspended indefinitely.
El pequeño y menor heredero de Trump. Nota: este post fue actualizado para cumplir nuestros estándares editoriales.