Taco Bell holds a v special place in our hearts. Like...a VERY special place.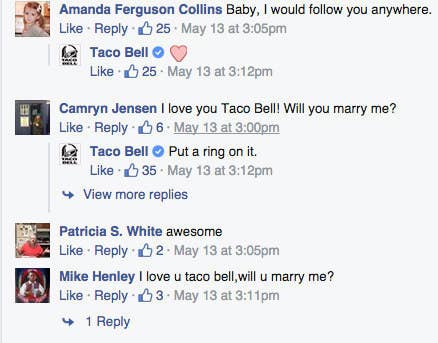 But Taco Bell as we know it did not come into this world fully formed, Athena-esque, in all its current splendor. Here are some of the product releases that defined its evolution and satisfied our most exquisite yearnings.
When they first opened in 1962, they already had one of our favorite sauces (Taco Bell isn't really Taco Bell without it):
As we entered the '90s, Taco Bell got a makeover. No more browns and reds, just the purples and pinks that are still making it look fresh AF today.
The '90s also meant Gorditas. Warm, pillowy, soft-shelled Gorditas.
Next, the Chalupa emerged on the scene in 1999. If the world ended with Y2K, at least we could all say we'd had the Chalupa.
A year later, the Crunchwrap Supreme erupted into our lives. This item didn't discriminate — it had EVERYTHING in it.
But how were we supposed to eat all of this amazingness in one day? 2006 had the answer: Fourthmeal.
Nothing would ever be the same again after 2012, the year of the Doritos Locos Taco.
The 2013 shipping fantasy between Cinnabon and Taco Bell brought us Cinnabon Delights.
2013 had a second truly historic release: the Grilled Stuft Nacho. It melted into our hands and our hearts:
Just in case lunch, dinner, and Fourthmeal weren't enough for you, 2014 was the year your prayers were answered: TACO. BELL. BREAKFAST.
Inspiring road trips, moves, and delighting all who are near them, the first Taco Bell Cantinas opened in 2015 — Taco Bells that serve alcohol. Good.
And did we mention that delivery started becoming available late last year too? Because IT DID.
We are so ready for whatever is next.