Can we take a second to talk about how looking for a job IS a job?
Or at least they were — until Interactive Resumes, an innovative feature from Tableau, came along and made life easier. Don't you just ~love~ a plot twist?! Interactive Resumes allows employers to actually engage with your resume instead of just skimming it. Here's what one looks like: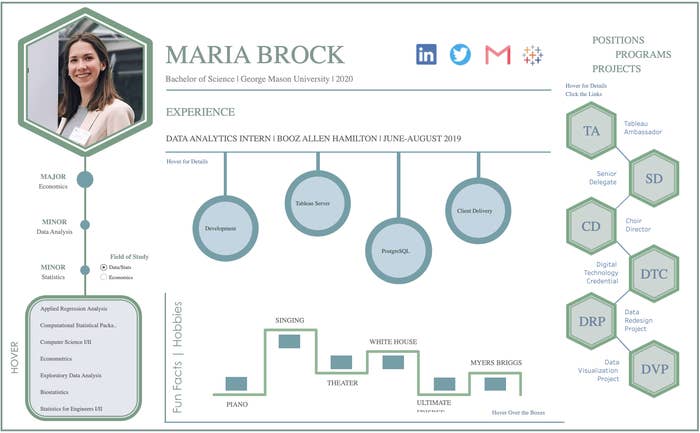 And here's what an employer can see, and do, when they receive your resume. On Michelle's, for example, we can hover over the icons under Research Interests to learn more about Michelle's work and/or passion in Arts & Culture, Crime, and Music.
She's also made very clean lines to highlight her work history and experience with programming tools and software.
Similarly, on Ann's Interactive Resume, an employer can just hover over the different dots in her Speaking & Community Participation section to get more information on what each engagement actually entailed.
On Pratik's, this circle icon tells us how long he's been working...
...And then we can scroll down to see his skill level in various areas.
As you can see, Interactive Resumes is the actual coolest and a definite glow-up from the black-and-white docs of yesteryear. Also, students at accredited academic institutions can get free Tableau licenses for a year through the Tableau for Students Program!
All in all, it's gonna be a yes for us!