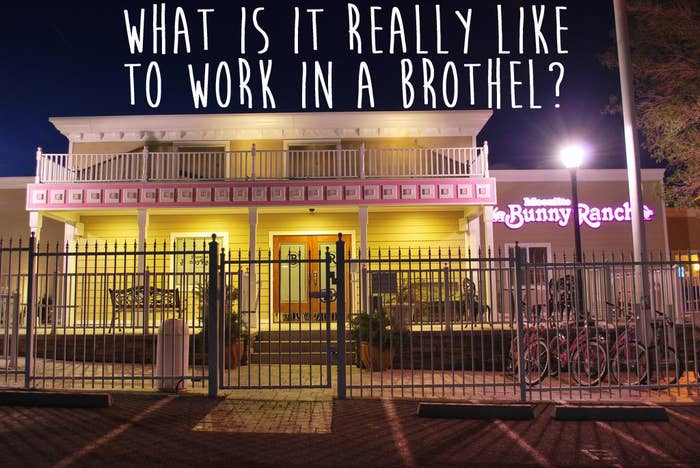 It's 9 a.m. in Nevada and 23-year-old sex worker Ava Adora has just woken up. She doesn't need to be at work until 12 p.m., so she grabs a Starbucks coffee and heads to the gym. Once she's finished working out, which she does three times a week, Adora heads back to the Moonlite BunnyRanch, the Nevada brothel in which she works and lives.
Clients can book time with a sex worker at the BunnyRanch in two ways. They can call ahead with a request for a specific girl and pay a deposit before arriving. "That would guarantee that the girl they want is available for them at the time they want her", explains Adora. Alternatively, they can show up, ring the doorbell and choose a girl from a line up.
Dennis Hof, the 67-year-old owner of the Moonlite BunnyRanch and six other brothels in Nevada, explains the concept of a lineup to me. "We have someone at the door who checks the people we let in", he says. "As soon as the door person has checked that the client is a clean, nice guy who's not drunk off his butt, they open the door.
"Inside, he'll find 25 to 40 girls lined up in front of him. They all have big hair and makeup on. They introduce themselves. The guys can either talk to the girls in their bedrooms or go to the bar and hang out for a while first".
For 24 hours a day, seven days a week, the Moonlite BunnyRanch has a minimum of 30 sex workers on shift. Hof employs 550 working girls across his seven branches, and ensures that 150 are working at all times. Hof's employees can choose one of two working patterns. Either they work at the brothel solidly for a few weeks at a time before flying home, or they live in-house and work a set number of days per week. Whether they visit or live in the Moonlite BunnyRanch, they are designated individual bedrooms. "Every girl has a beautiful bathroom, a nice bed, and a plasma television", Hof boasts. "We try to give the girls all the creature comforts we can so that they can enjoy their stay here. The more fun they have, the longer they want to stay and the better it is for our business".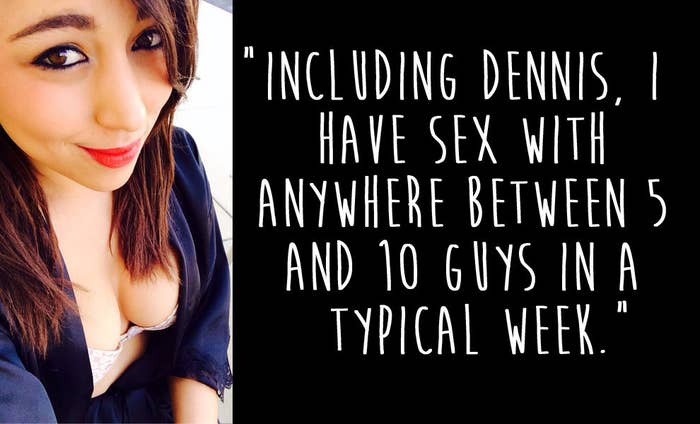 Adora, who grew up in San Diego, is half Scottish and half Portuguese. At 5-foot-2, and weighing just 50 kilograms, she's petite and looks significantly younger than her 23 years. She speaks confidently, and doesn't get embarrassed when I ask her personal questions about her sex life. Occasionally, my questions make her giggle but as soon as she composes herself, she answers all of them very calmly.
Adora lives in-house and works a five-day week. Her weekday shifts last 12 hours, and her weekend shifts are two hours longer. Typically, she works from 12 p.m.–12 a.m. every weeknight. Sometimes, Adora finds herself on shift without a client. "You want to spend that time on the website's message board", she tells me. "You should always be emailing and texting potential clients, chatting to them and building up your base. That's how you get regulars to come and keep seeing you".
Hof places huge importance on his employees promoting their personal brands and encourages them to speak to the media as often as possible. Although most of my conversation with Ava is very genuine, some of the things she says (for example, "the best part of my job is giving blow jobs" and "does sex count as exercise?") sound like pull quotes from a lads' mag feature. When it comes to putting herself out there, she clearly knows what she's doing.
Adora graduated with two Bachelors of Art in sociology and anthropology, with a minor in operations management, in May 2013. In the nine months following her graduation, she worked as an adoptions coordinator at an animal centre in San Diego, a job that involved determining whether or not people are suitable pet owners. But she wasn't earning enough money to support herself. "I went to college for four years at a time when the student loan debt crisis is out of control", she tells me. "All of my paycheck was going towards my rent or paying off my student loan. My parents were buying my groceries. It was ridiculous".
She needed a higher-paying job.
She says she remembered watching Brooke Taylor, a former BunnyRanch employee, discuss sex work on a talk show with Tyra Banks. "I was in high school when I saw that show", Adora says. "I thought Brooke gave a great impression. She busted the myth in my head about what a typical working girl was by making me realise that they can be educated and smart, that not all sex workers are drug addicts.
"I must have kept it in the back of my mind for years, without even realising it".
And so, Adora applied for a job at the Moonlite BunnyRanch through its website. Although the competition is tough, the process is very simple.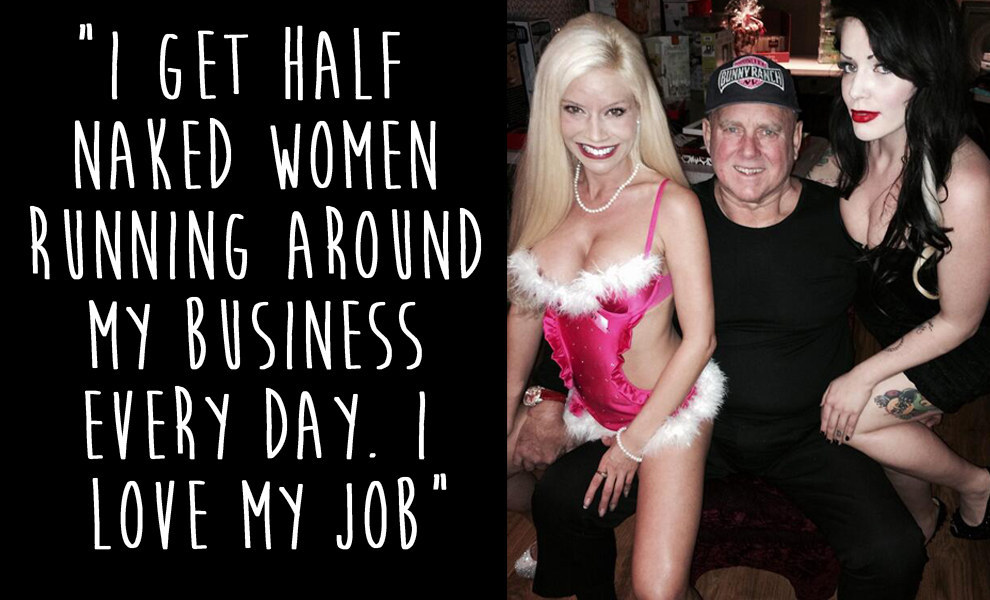 "We get a 1,000 girls a month who apply for work", Hof explains. Each of those girls receives a response letter, asking them to submit recent photographs. "I don't want to see their prom pictures; I want to see their cell phone pictures. I want to know what these girls actually look like. And it's not because we're hiring girls based on age or beauty or body; it's because we need to keep a proper mix.
"An 18-year-old will come along with a perfect body and looks and we know she'll make a lot of money. But we also need the 40-year-old girls. If a man is 65 years old and is married to a 65-year-old woman, a 40-year-old girl is very young for him. We need that".
The oldest sex worker employed by Hof is 49. The youngest is 18. "She just turned 18 yesterday", Hof tells me. "The little girl started on her birthday".
After girls have submitted photographs to Hof, they are required to undergo background checks. "In our country, we can't hire girls with an arrest record that has any connection to drugs", he explains. "And girls with a felony arrest can't work five years from their date of conviction.
"Then we start talking to them about the reality of things. Where do they live? Are they married? How many kids do they have? Who's going to watch these kids? Are they really going to be able to be gone for four weeks at a time? Is this just a fantasy they're playing out in their head? Are they OK with having sex for money?
"The reality of it eliminates some of them. They can't do it".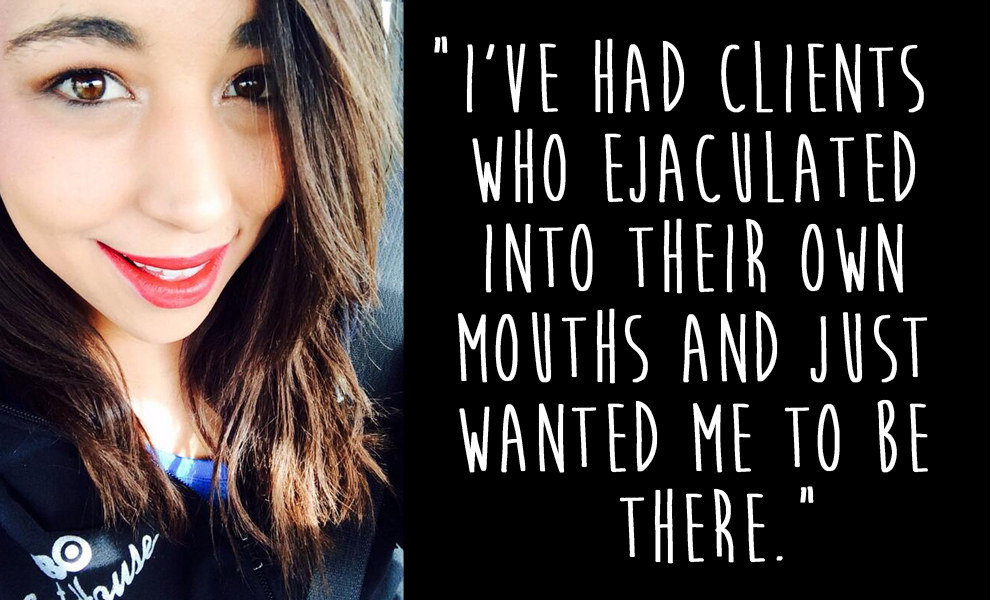 Adora, however, decided she could do it. "Before coming here in February, I'd never escorted or danced or done anything like this", she tells me. "I come from a very strict Catholic-Portuguese background, so I didn't want my parents to find out about this job in some crazy way.
"They were surprisingly supportive. They were fine as soon as I explained what this job entailed and how safe and clean everything is here. I mean, it's theoretically safer than going to a bar and picking up some guy you don't know. As soon as my parents realised that I was motivated and dedicated to doing this on my own, they were 100% supportive".
Adora's former college friends, however, have been slightly more judgmental. She tells me that the people from her high school and college finding out what she does for a living was difficult for her. "Obviously everybody's reactions are not going to be entirely positive all of the time", she says. "But their negativity doesn't affect my day-to-day life".
Adora and her colleagues are required to take sexually transmitted infection checks on a weekly basis, and they use condoms for oral, vaginal, and anal sex. "Everybody has sex", Adora says, "and I'm doing it much more safely than I ever have before. I'm so happy and well taken care of. We've never had a case of HIV break out here ever. This is a perfect working model".
Although Adora loves her job right now, she's not interested in establishing a career as a sex worker. "I don't think I could do this job at 50", she says. "My plan is to clear out my debts, clear my name, and then move on and do something where I can be my own boss in a less stressful work environment". Adora says she would like to work in real estate. "I could manage some properties", she tells me.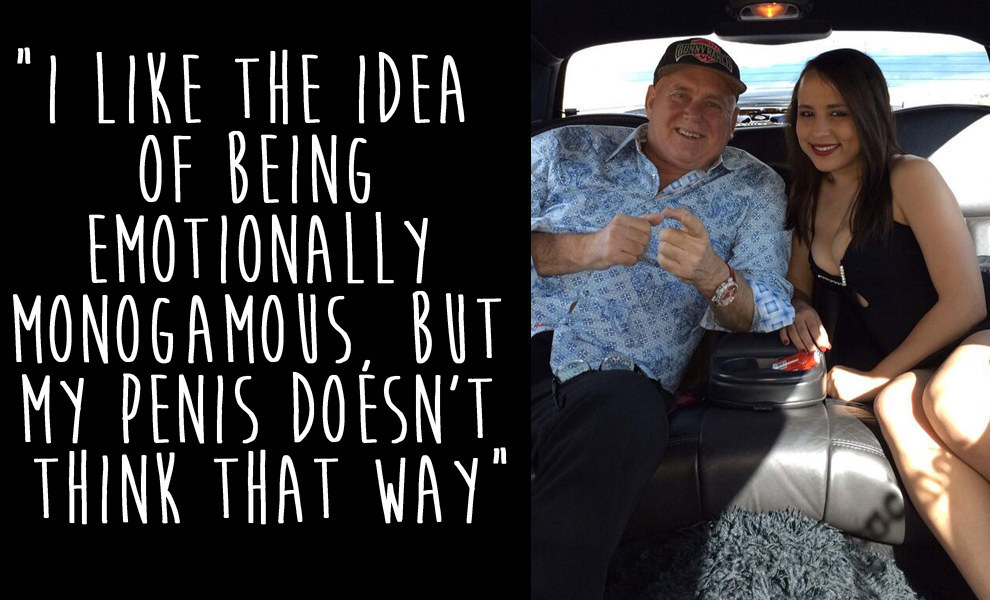 In a typical week, Adora sleeps with between 5 and 10 paying clients. She doesn't think it would be possible for her to have a boyfriend outside of the Moonlite BunnyRanch. "I've seen other girls with boyfriends here and I commend them. I imagine it's very stressful".
Despite their 44-year age difference, Adora is having regular sex with Hof, whom she occasionally kisses during our interview. Although they don't often speak directly to each other in my presence, he sometimes mutters things that make her giggle. Yet, despite being almost three times her age, and at least twice her size, they seem happy together. Hof claims to have slept with over 4,000 women, including every girl he has ever employed. In conversation, he refers to Adora as his girlfriend, because "she's the girl I'm having the most sex with".
In total, Adora estimates she has had sex with 30 men, and she has never had sex with more than four men in a single day. Ava refuses to have anal sex with clients ("It's a lot of work"), but will do anything else. "I've had guys with very weird food fetishes where they wanted to be treated like they were a lobster or a turkey being cooked for Thanksgiving dinner", she tells me. "That was bizarre. I've also had guys who ejaculated into their own mouths and just wanted me to be there".
Sex workers at the BunnyRanch receive guidelines for how much they should be charging, but it is up to each individual girl to decide how much their services are worth. "Some girls charge a few hundred dollars, some charge a few thousand, some have charged a few million", explains Hof. It is estimated that Hof himself has a net worth of $20 million.
There is a menu of sexual activity on the Moonlite BunnyRanch's website, which I run through with Adora. Although Adora won't tell me how much she charges for any of the activities listed on the menu, she tells me that she likes to "work with all budgets". She says, "I like to make everyone who sees me feel like they're worth a million bucks, regardless of whether it's a $10,000 party or a $400,000 party".
The parties she refers to are listed on the menu. The Bachelor Party, for example, is for people who are just about to get married. "A guy and his friends come in here before getting the wedding", Ava explains. "They have a wild party with as many girls as they like. We get drunk and dance on the pole. It's like a pre-wedding celebration".
Other items on the menu include: Full French ("sucking dick"); Neopolitan ("sex with a blonde, a brunette, and a redhead"); and "Asian Wet Rooms" ("going into a special room with a massage table, for a full body massage with lube and other slippery stuff"). The most expensive item on the menu is the Girlfriend Experience. "That can go on for months", Ava tells me. "Some clients come in and want to feel an emotional and mental connection with somebody. They want to feel like you're the girlfriend they never had. There's kissing and cuddling and sharing secrets as well as sex". The most anyone has ever paid for the Girlfriend Experience at the Moonlite BunnyRanch was $2.4 million. The client hired the sex worker for three months.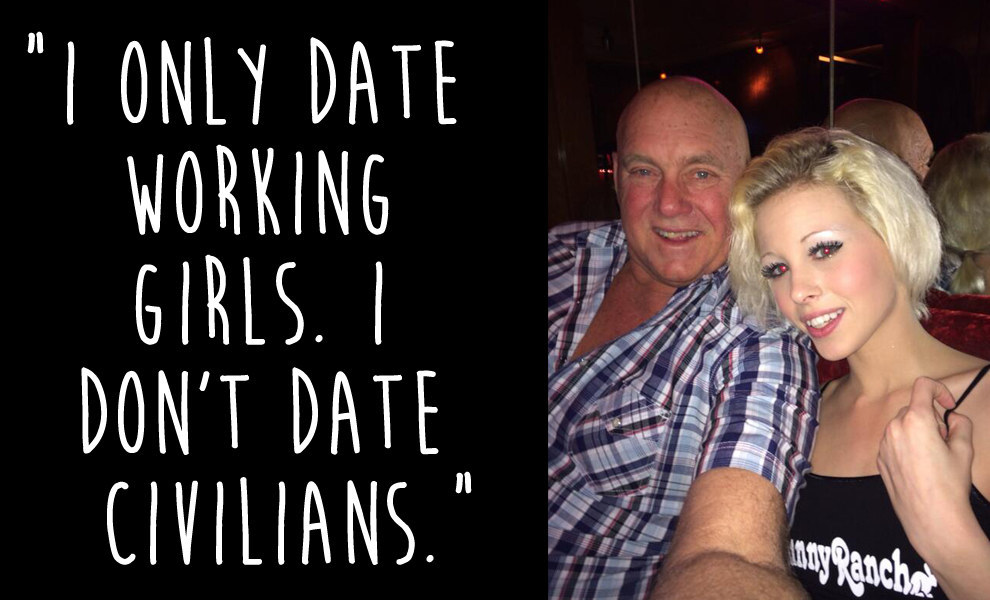 Among the more unusual services listed on The BunnyRanch's website is Ladies Who Lactate. Hof speculates that this is popular because "guys who are married and have children want to relive that experience".
The menu also advertises a military discount. "Every girl sets her own prices, but everyone I know offers a discount to active members of the military or veterans", Ava tells me. "I'll usually do between 15–20%".
Also on the menu is something called Love at the Y ("going down on a girl"). Historically, women have been banned from brothels, for fear of attracting suspicious wives. But although Hof estimates that two-thirds of his clients are married men, he doesn't think banning women is necessarily a good thing for business. "When I bought the BunnyRanch, the first thing I did was took down the sign that said 'MEN ONLY'. I wanted women as clients. Now, about 8% of our business comes from women or couples".
Hof doesn't think that monogamy comes naturally to men — the uncomfortable implication being that it does to women. "I like the idea of being emotionally monogamous, but my penis doesn't think that way", he tells me. "You can tell me you have a faithful boyfriend. Yeah right. Your boyfriend is my best customer. Stop your nonsense. That's how the world grows. That's how it keeps going. If men ever lost their desire to be with other women, then the world would just stop. It wouldn't grow. That's my philosophy".
A 2001 New Yorker profile on the Moonlite BunnyRanch described Hof as a man who likes to think of himself as a "father figure — albeit a 'Who's your daddy?' kind of father figure". And indeed, throughout our interview, Ava refers to him as "Daddy". He also refers to women who aren't sex workers as civilians.
"I don't date civilians", he boasts. "In the age group that I want to sleep with, which is 18- to 25-year-olds, 1 in 4 has a disease. I don't want to risk that. Being the celebrity I am, I get offered sex every day of my life. I will not sleep with civilian girls".
When I question whether his decision not to sleep with "civilians" is really due to health reasons, Hof opens up about his sexual practices. "I want someone who knows what they're doing", he tells me. "You'd be surprised at the number of girls who lack knowledge; who've never had threesomes, oral sex, anal sex: things I consider very basic. I think if we had a true study of girls who give blow jobs, the percentage would be a lot less than you'd expect.
"From 1 to 100, if 100 is the kinkiest, freakiest guy, I'm probably a 90. I've had sex with four sisters".
Hof hasn't always had such a liberal attitude towards sex. When he first moved to Nevada in 1975, he worked in real estate and was in a monogamous relationship. "When I found out the girl I was dating was a working girl, I was horrified", he tells me. "I was disgusted. I couldn't imagine another man having sex with her. I quit seeing her for a couple of months".
But when he bumped into her a few months later, he started seeing her again. "She had amazing sexual skills, as most working girls do", he says. "I was hooked. Sex got me. And it was a great thing because it's how I got into this industry. She showed me how things could be. And now I get half-naked women running around my business every day. I love my job".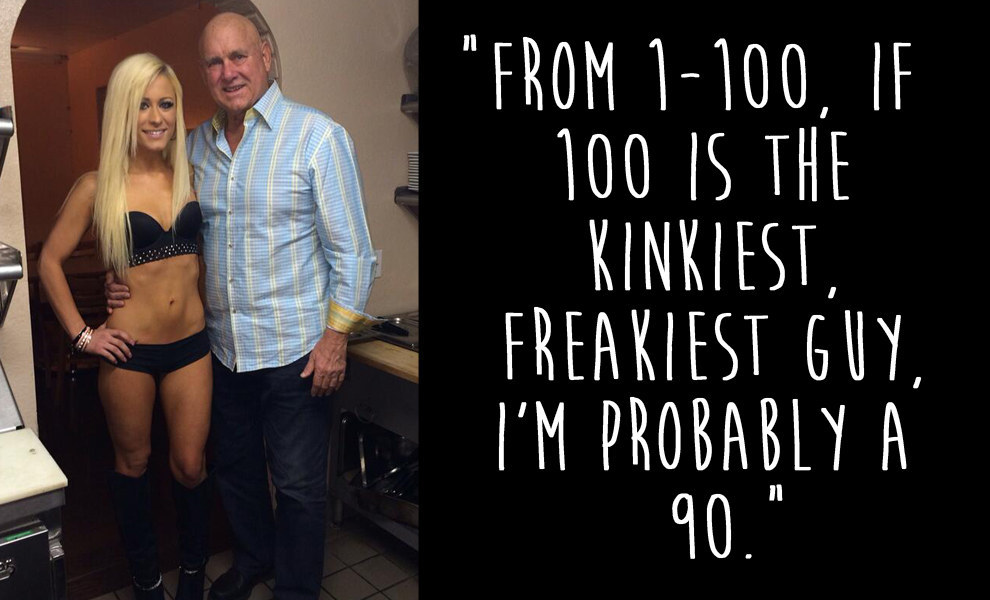 Since the middle of the 19th century, Nevada has been the only U.S. state to allow legal sex work, in the form of regulated brothels. Of its 16 counties and one independent city, eight of Nevada's counties contain active brothels. Sex work is illegal in Clark County (which contains Las Vegas), Washow County, Carson City, Douglas County, and Lincoln County. Hof tells me that these counties have elected to deem it illegal because their populations are too big. Of the Nevada counties that do not contain brothels despite sex work being legal, Hof says, "it's because they have gaming, which is a family business".
Although brothels are illegal in Las Vegas, Hof tells me that there are 3,000 sex workers there. "We estimate that there are 300 girls between 11 and 16 years old being trafficked at all times. It's a huge financial burden to our society". Trafficking, says Hof, is a problematic feature of the current illegal sex industry — not of sex work.
In the U.K., where exchanging sexual services for money is legal but running a brothel is a criminal offense, 56 minors were flagged up as potential victims of sex trafficking in 2013, according to the National Crime Agency. This was a 155% rise on 2012. Additionally, almost half a million people in the U.K. are diagnosed with an STI every year.
Hof speaks matter-of-factly about the problems with banning an in-demand good, citing the failings of Prohibition in the '20s as an example for the practicalities of legalising sex work. "During Prohibition, the people who made the big money were the criminals", he explains. "But once they decided that liquor was OK, providing it was licensed, controlled, and heavily taxed, our country worked very well. The liquor industry now puts $6 billion in taxes to the federal constitution".
Although Hof can't resist speaking crudely about commercial sex ("If you're not in love, the sex can still be pretty darn good") the question he poses about whether we should relax the laws on sex work in the U.K. is important. We encourage men to donate sperm and women to become surrogate mothers. Is being paid for sex really any more intimate?
"You've got an enormous problem in the U.K.", he says. "When you don't have legalisation, it's in the hands of the criminals".