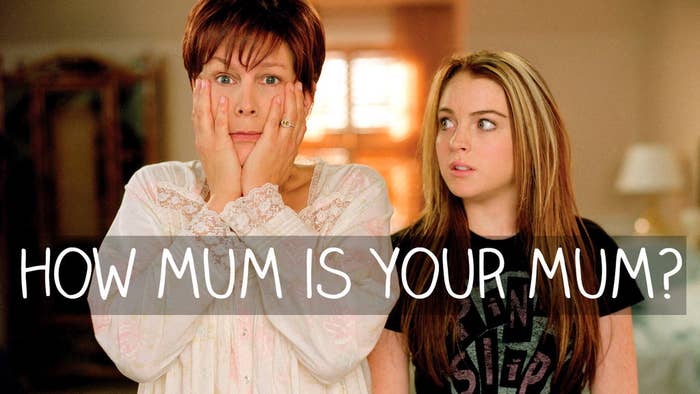 Tick off everything your mum has done:

Said "I am not a taxi service".

Said "only boring people get bored".

Said "morning, sunshine!" when you are hungover.

Said "GOOD AFTERNOON!" when you get up after 9am.

Said "I thought you might have died" if you're not in touch for two days.

Said "this is your mother" when she calls you as if it's not completely obvious.

Finished all texts, "Love Mum xxx".

Liked everything you do on Facebook.

Thought LOL meant "lots of love".

Had one TV chef who they fancy.

Said "ooh, he's nice" about a chat show guest.

Worried that a female celebrity is "too thin".

Asked after people you went to school with, even though you no longer speak.

Referred to people she approves of as "a lovely girl/boy".

Deleted texts off her phone when she doesn't need them anymore.

Complained about her fingers being too big to text.

Sent you Daily Mail horror stories about the danger of drinking.

Posted you articles she's ripped out of a weekend supplement.

Described something as "the done thing".

Called you to tell you the village gossip.

Called you to tell you the hairdresser's gossip.

Slowed down the process of opening presents by keeping a list of all the people who need thank you cards.

Called lipstick "lippie".

Called chocolates "choccies".

Called biscuits "biccies".

Listed every ingredient in a dish you're eating while you're eating it .

Described women she doesn't like as "very primal".

Described women wearing make up as "very glamorous".

Given you food to take home when you visit.

Told you exactly what TV show she's missing to be on the phone to you.

Had a crush on an inappropriately young, gay, X Factor contestant and been shocked to learn he's gay.

Carried tissues in her handbag.

Done water aerobics on holiday.

Started clearing up your dinner while you were still eating it.

Asked you if you're taking your vitamins.

Written a Christmas round robin letter with loads of exclamation marks!

Had a Christmas card writing ~system~.

Sent you the same text twice if you didn't reply to the first one.

Had a box of "spare paper" for writing to-do lists.

Had a wrapping paper drawer.

Not understood your rent.

Over indulged in a hotel breakfast buffet.

Fancied their gym instructor.

Been pleased that the bullies from your school aren't doing well now.

Stayed angry at someone you fell out with in year 5, even though you're over it now.

Had a long conversation with a woman in Tesco, and then replied "no idea" when you asked her who it was.

Called pudding "naughty".

Called a Lush bath bomb a "treat".

Said "oh don't get me anything" when it's her birthday when she actually did want something.

Text you to check you're going to regular doctor/dentist/opticians appointments.

Got upset when you didn't call, even though she never calls, as if it never occurs to her that it could work the other way round.

Pointed out holes in your clothing and insisted on mending them there and then.

Asked after your ex who she got on really well with.

Called you by your full name when you are in trouble.

Got angry if you go to the cinema on a sunny day.

Said "You won't feel the benefit if you put your coat on now".

Had a friend called Susan, Alison, or Julie.

Called all of her friend's husbands Peter because she has a theory that all men of her age are called Peter.

Listed your siblings name, your dad's name, and your cat's name before getting your name right.

Told you an item of clothing you own is "quite fun".

Owned a large number of items from Debenhams.

Described shoes as "sensible".

Had a signature birthday cake that she always makes.

Had one friend who she is nice to even though she secretly hates her.

Had a Tupperware system in place.

Had one word she can't say without whispering, like "lesbian".

Bought a Gu chocolate pot as a "Friday night treat".

Bought you the same advent calendar every year.

Read Chat magazine at the doctors.

Told you off for wearing unironed clothes.

Put sensible M&S underwear in your Christmas stocking.

Thought that because you didn't like a certain food when you were 5 you still don't now.

Deep conditioned her hair.

Done an impression of the M&S advert.

Flirted with a "dishy" male teacher at parents' evening.

Had opinions on whether or not Jamie's 30 Minute Meals take 30 minutes to make.

Said "oooh you like him" about some celebrity you literally don't like.

Dropped hints whenever your cousins get engaged or have babies.

Harboured hopes that you'll end up marrying Tom, a "lovely boy" you were friends with for a bit in year 8.

Snuck into your room to make your bed because you didn't do it neatly enough.

Put Post Its in your school lunch box.

Put name labels on your stuff when you went to university.

Spent hours talking on the phone to someone she doesn't like.

Put her phone on loudspeaker but used it as a normal phone.

Said "you'll ruin your dinner if you eat that".

Had one haircut for the last 20 years.

Said she doesn't watch much TV, even though she clearly does.

Been unable to concentrate with any kind of music on.

Watched TV while reading the newspaper and then when she can't follow the plot, said that it's too complicated.

Mispronounced a celebrity's name.

Asked if you've had a wee before you leave the house.

Attempted to give you everything she owns whenever you go home.