3.
This ***SACRED*** interaction happened on just another work commute:
4.
This daughter politely told her dad he fucked up her hair:
5.
This girl surprised her prom date by walking on her own for the first time in ten months(!!!!!!!!!!!!!!):
6.
This BIG SWEET MAMA celebrated her first birthday:
7.
This grandpa was too sick to see his granddaughter off to prom, so she brought prom to him:
8.
This photo reenactment was taken and ~blessed~ our Twitter feeds:
9.
As did this matching Hawaiian shirts glow-up:
10.
A wittle baby fox cub was saved from a cat attack:
11.
A little boy ran "as fast as he could":
12.
This kitten put the late McDreamy and McSteamy to shame:
13.
Marvin became a mom:
14.
These BABY GOATS had a PAJAMA PARTY(!!!!!!!!):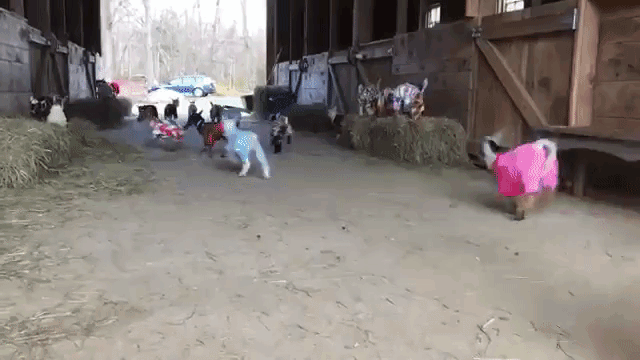 15.
This wrinkly boye got tucked in:
16.
This birb ate a birb-sized pancake:
17.
A three-year-old tried to treat her family to dinner on her Barbie credit card:
18.
And lastly, a cat used a Squatty Potty like a desk: