1.
First off, kids' hands are always ~mysteriously sticky~ and covered in slobber, and I'm sorry, but it's gross!!!!!!!
2.
They have absolutely no respect for alone time. At all.
3.
Having to sleep in the presence of a creepy-crawly — aka a toddler — is your *LITERAL* nightmare!!!!!!!!!
4.
As is THIS.
5.
Also, kids aren't so great at grasping concepts. Like, come on, guys.
6.
And they can't read a room and always have to make everything about them!!!
7.
You're honestly surprised so many places don't allow dogs but DO allow kids.
8.
You really mean it when you say you don't want to hold someone's baby. Like, really.
9.
Our priorities are just...different.
10.
"Fuck them kids" has basically become your mantra for living your best life. 💁
11.
You refuse to believe you were ever a *shudders* child yourself.
12.
You want "Children are the best birth control" printed on a motivational poster.
13.
Children = varmint. No offense!!!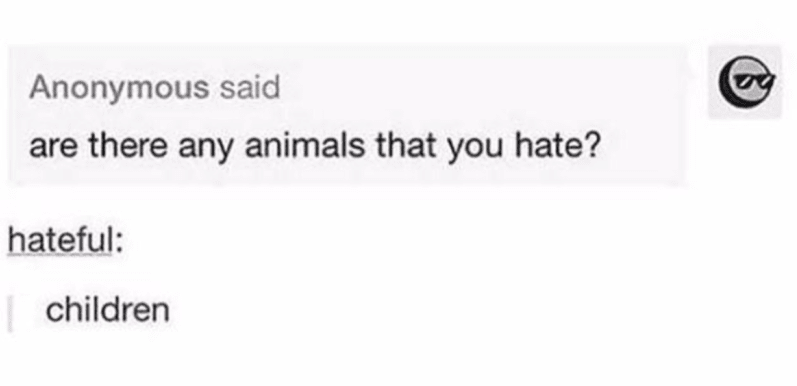 14.
And lastly, instead of telling people you don't want kids, you should just start saying this.