If You Didn't Know Dog Promposals Were A Thing, You Do Now
It's a "yes" from me, dawg.
1.
"This may be a little ~far-fetched~, but will you go to prom with a good boy?" ...UM YES!!!!!!!!!!!!!!
2.
Where did this young man find all these GUIDE DOGS IN TRAINING?!?!?!?!?!
3.
ZOMG he frickin' took her to an ANIMAL SHELTER and promposed with RESCUE PUPPIES. I AM NOT FINE.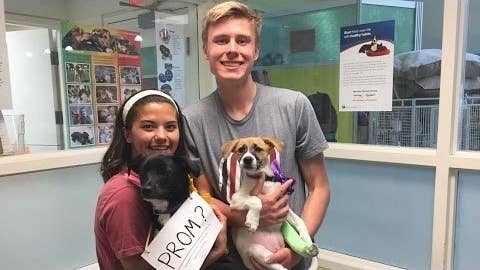 5.
I can literally hear the owner saying "Giiiiiiiiiiiiive..."
6.
I. Am. SQUEALING!!!!!!
7.
OMG DOUG FROM UP!!!!!!!!!!!!
8.
I'm... crying in my office?!
15.
GET IT?! "Double dog dare" and there are TWO dogs!!! #cyootandclever
16.
That dog looks like a ray of sunshine, only it has four legs and I'm mildly allergic to it!!!!!!!!! ADORBS!