The other day, our very own Saeed Jones, cohost of BuzzFeed News' AM to DM, poet, and now memoir author, sparked a Twitter conversation about creatives facing failure and rejection:
He added the hashtag #ShareYourRejections, and pretty soon artists, writers, and YouTubers from all over were sharing their stories: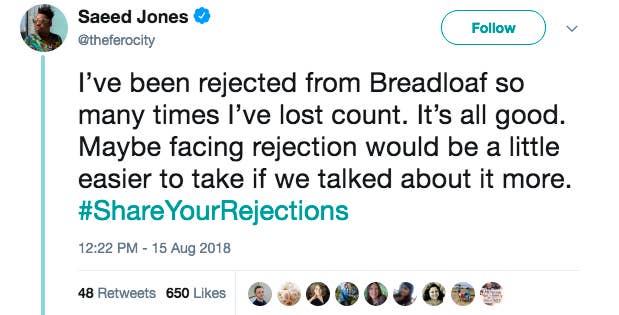 Like Lauren Morelli, one of the writers on Orange is the New Black:
She even shared some advice on how she channeled the most painful rejection into perseverance:
Meredith Blake from The Parent Trap weighed in too:
Author Karen M. McManus tweeted about receiving a query rejection even AFTER her book made it on the New York Times-bestseller list:
This writer PLASTERED HER REJECTION LETTERS ON HER COFFEE TABLE and quite honestly it's going SMACK-DAB in the middle of my mood board!!!!!!!!!!!!!!!!!!!!!!!!!!
Several people were rejected by prestigious writing programs, but managed to ~THRIVE~ despite it all:
And some of their "fuck you" moments were so, so, SOOOOOOOOOY satisfying!!!!!!!!!!!!!!!!
Overall, they reminded us that: 1) Everything is subjective...
...2) It only takes one believer...
...and 3) Rejection is just a part of life, and it happens to LITERALLY everyone.
So shrug it off and KEEP 👏 ON 👏 CREATING 👏 STUFF 👏 THAT 👏 MAKES 👏 YOU 👏 HAPPY. 👏