2.
Flaking on plans last-minute.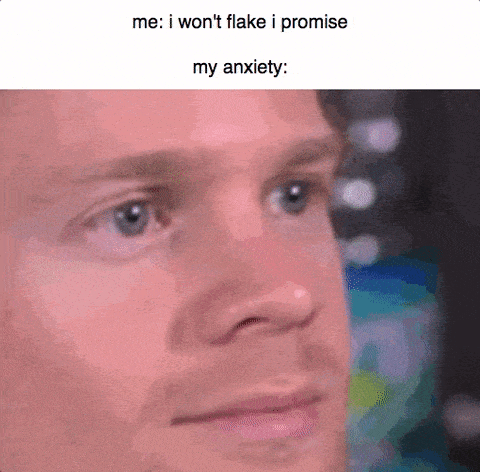 3.
Loving coffee, but hating that it makes you even MORE anxious!!!!!!
4.
Getting to third base. 😏
5.
Texting people "r u mad at me lol."
6.
Hurting your own feelings.
7.
Being ~ANXIOUSLY~ early to everything.

8.
Not wanting to do anything ever, and only doing things out of fear of being forgotten!!!!!!!!!!
9.
Seeing someone special. 💖
10.
Jumping to conclusions because why the hell not!!!!!!!!
11.
AGGRESSIVE SARCASM!!!!!!!
12.
Overthinking EVERY possibility. 💁
13.
Self-diagnosing various life-threatening diseases!!!
15.
Getting ~dragged~ by your therapist!!!!!!
16.
Wanting to solve everybody's problems but your own. :///
17.
Not responding to texts because it's quite honestly too much stress!!!!!
18.
Having at least one anti-anxiety app on your phone.
19.
Remembering NEW random things to worry about!!!
20.
And FINALLY, not even being sure what you're worried about, but trust me, you are WORRIED.
If some of the things in this list were familiar, you might want to look into ways to take care of yourself. SO, here are some quick resources:
Maybe you want to learn more about starting therapy, since pretty much everyone can benefit from talking to a professional.
You can learn more about anxiety disorders here.
Here are little ways to be less anxious in general and here are some self-care tips.
And if you need to talk to someone immediately, the US National Suicide Prevention Lifeline is 1-800-273-8255. A list of international suicide hotlines can be found here.