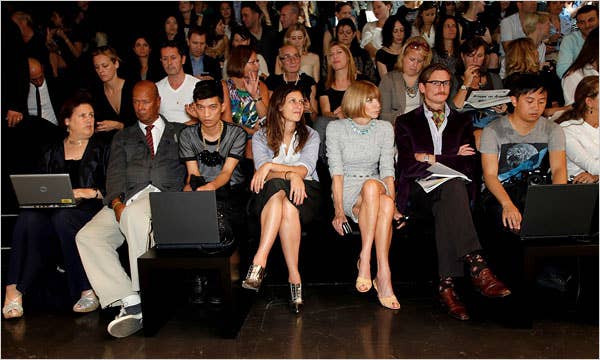 Designers, editors and everyone at the top of the fashion food chain like Oscar de la Renta and Fern Mallis have been complaining about the current chaotic state of fashion week and apparently they aren't the only ones who think it's time to change things. And, according to The Cut, change is on the horizon.
Catherine Bennett, senior vice president and managing director for IMG, recently announced that Mercedes-Benz Fashion Week in NYC will be taking a step back to it's more exclusive roots. IMG plans to cut it's media guest list by 20% which mostly includes bloggers. Bennett stated, "What used to be a platform for established designers to debut their collections to select media and buyers has developed into a cluttered, often cost-prohibitive and exhausting period for our industry to effectively do business."
IMG also plans to restructure the Lincoln Center event spaces by adding a few more venues, lowering the price on existing spaces and creating a bigger backstage area for press. They will also continue to provide access to online media for those who can't attend.
This announcement should really come as no surprise as every season someone bemoans what fashion week has become and prays that the good ol' days will return. But, is this exclusivity good for fashion? True, editors who worked hard for their place can now return to the front row, but will this effect fashion's accessibility? And, what about the bloggers who actually create thoughtful content, is it fair for them to be lumped into the 20%?
Nowadays every editor worth their weight can take an Instagram photo and create viral content with an app, so maybe bloggers aren't needed. But, it should also be considered that maybe the circus won't stop just because they're gone. Street style has taken over social media and fashion editors are basically celebrities. There will always be someone waiting outside the tents to snap a picture. Not to mention, that you don't need an invite to stand outside in your Sunday best and pose for photographers. Undoubtedly, this new change won't keep all bloggers from the front row and it probably won't keep fashion week from being the circus that it is.