Tofu Scramble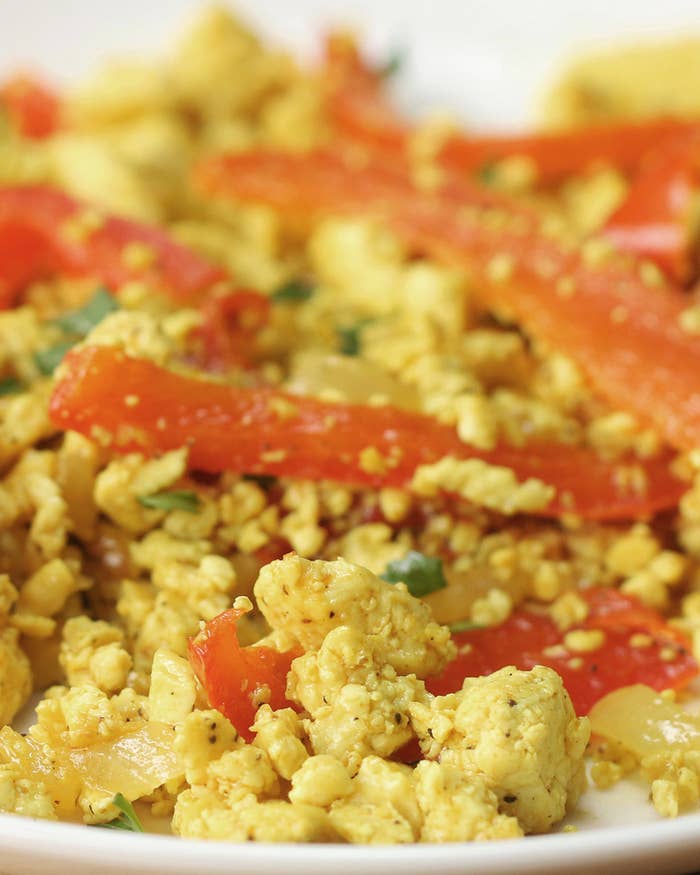 INGREDIENTS
Servings: 4
16 ounces tofu
1 bell pepper
½ onion
2 teaspoons oil
½ teaspoon salt
½ teaspoon black pepper
½ teaspoon onion powder
½ teaspoon garlic powder
¼ teaspoon turmeric powder
1 tablespoon lemon juice
PREPARATION
1. Drain tofu from container, wrap it in a paper towel, and place it on a plate. Rest another plate on top of the tofu and microwave for 3-5 minutes.
2. Unwrap the tofu and cut into cubes.
3. Place the tofu in a bowl, and mash with a fork.
4. Cut the top off a bell pepper and remove all the seeds and thinly slice.
5. Chop the onion.
6. Heat oil in a pan over medium heat. Add the onions and peppers, and cook until softened.
7. Add in the tofu and cook on medium heat until most of the water has evaporated.
8. Add the salt, pepper, onion powder, garlic powder, and cumin, and mix well, until all the seasonings are evenly distributed.
9. Add the lemon juice to the tofu and mix until evenly combined.
10. Remove the tofu from the heat. Serve and enjoy!
Inspired By: The Spruce