I could hear the plane before I could see it, the engine growling loudly. And then the scarlet biplane came into view, a dark figure suspended between the parallel wings becoming more distinct as it flew toward the Lake Erie shoreline where thousands of spectators were waiting for the next air show act.

That figure was Carol Pilon, one of the world's last remaining wingwalkers, and she appeared to be floating, the finger-width flying wires supporting her invisible to the audience from that distance. Her longtime pilot, Marcus Paine, accelerated into a loop, drawing a large cursive O in the sky with smoke; only centrifugal force and Pilon's own strength kept her from falling as the plane flew upside down and then righted itself barely a hundred feet above the waterfront showbox. Then the 1940 Boeing Stearman turned away from the shore, providing the audience with a silhouette of the biplane, Pilon suspended like a spider over her carefully spun web.
Paine gained altitude and turned back toward the crowd before pulling back the throttle, stopping the propeller blades and the 150 mile-per-hour blast that could blow Pilon off the wing. The 2,000-pound Stearman glided gracefully as a seabird while Pilon moved off the wires and wove herself between the struts toward the cockpit, balancing on the narrow wooden spar that makes up the spine of the wing and the only beam strong enough to hold her weight. This was the moment when the audience realized that she, truly, was walking on the wing, hundreds of feet in the air. If the pilot didn't fly level, if a bird were to hit her, there would be little she could do, no matter her years of experience and thousands of hours of training.
Pilon climbed up, past the cockpit and onto the top wing where a slender pole was affixed. From the shore the audience could barely make out the moment she strapped her safety belt onto the brace with a heavy carabineer. She gave a wave to the crowd and signaled to Paine. The plane had been losing altitude while she transitioned, and the engine started up again with a roar.
The next sequence with Pilon "on the top rack," as she calls it, involved Paine directing the Stearman through a series of aerobatic maneuvers: a loop, barrel roll, figure eight. Pilon's job is to project beauty and grace from the wing and also to not die spectacularly. She waved to the audience as the pair flew low and then she transitioned to more intricate balances: the Mercury Man with arms outstretched and one foot raised, and the Human Flag, where she hangs her body off the brace. And then Paine flew off, Pilon's dark figure contrasted against the white of the clouds, the pale blue of the sky, a woman on top of the world.
Later Pilon would tell me that every moment of her act is designed to maximize the audience's experience. The backlit airplane, Pilon's Lady of Victory pose — all deliberate scenes meant to come together in an expertly choreographed act. And that is the beauty of wingwalking: an art form almost as old as flight itself. Yet in the tiny world of the air show industry, where this nostalgic spectacle must compete with increasingly powerful jet engines, pyrotechnics, giant military bombers, and whatever is on your phone at any given moment, it is easy to understand why Pilon is one of the last wingwalkers in the world, and perhaps the only one actively mentoring young women who have felt the same draw. The only way to truly experience this is to see one of the 10 to 20 times a season when Pilon will take off while balanced on the wing of her plane, for crowds that might range from a few thousand to, occasionally, more than a million. Her performance fee barely breaks even with her costs for airplane maintenance, fuel, and more.
"People see warplanes and they think war. I have a warplane but I can make it sing."

I had come to this Dunkirk-Lake Shore air show as the third generation of my family to learn to fly. This would be the first air show hosted by my family's airport in decades, and I wanted to see how the industry had evolved since I moved away as a young adult from my hometown and my family's connection to aviation. I remembered the thrill of watching Walt and Sandi Pierce, one of the best-known wingwalking acts in history, practice one summer over the runways a stone's throw from my childhood home.
And then I heard that Carol Pilon was different: She walked the wing of her own plane and hired and trained her own pilots — the first wingwalker to do so. And that another goal of hers is to help other women around the world start their own wingwalking operations so they're not be beholden to someone else's airplane or vision of their act. She's always seeking new ways to reach audiences by telling a story with her performances, and not merely tempting death.
"The world doesn't know about wingwalking," she said. "People see warplanes and they think war. I have a warplane but I can make it sing."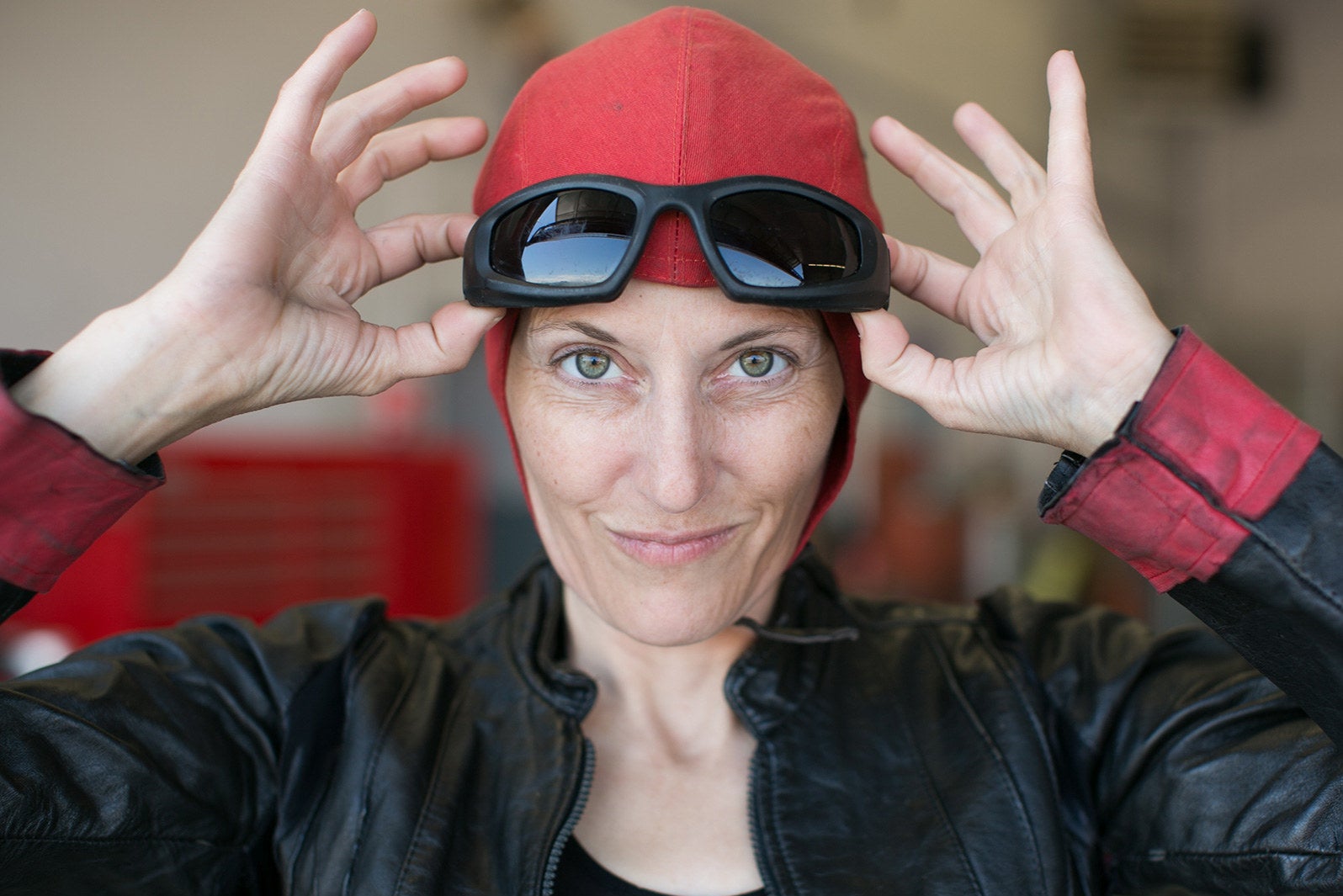 Three days later I found Pilon in the hangar that I could only think of as my grandfather's shop; it smelled the same as it did 25 years ago, when my cousins and I rode our bikes to visit our grandparents on summer days such as this, the airport our playground. Instead, Carol Pilon's 1940 Boeing Stearman — a behemoth of a machine standing 10 feet high, with a wingspan of over 30 feet took up much of the workshop, near where my Papa's homebuilt airplanes had sat in various stages of completion for all of my childhood. Only her biplane was in the process of being taken apart and tuned up with the help of plane mechanic Ryan Montague, who had driven up from North Carolina to help. Pilon regularly takes her plane apart and trailers it from show to show, a mode of transportation that was more economical than flying it. Then she generally recruits volunteers to help her put it back to together at each destination. In Dunkirk, more than halfway through her season, she thought it needed a fresh set of eyes to ensure that this procedure was being done safely and hadn't taken a toll on the plane.

Pilon stopped hammering a thick bolt when I approached. She is thin and strong, and a large bruise blossomed from her bicep, a consequence of turbulence during her routine a few days before. "That's nothing," she said. Her focus switched back to the plane and there was the sound of metal against metal, the smells of airplane grease and fiberglass from more than a half century of airplanes built in this shop. In a minute the tail released and Montague cradled it in his arms before setting it to the side.
Pilon has been wingwalking for 17 years, and she is among the few who sought out the sport — as opposed to coming from an aviation background, or through a relationship to a pilot. Pilon resists giving her age, but begrudgingly allows that biographical details suggest she is in her 40s. She grew up in rural Canada and had been casually taking flight lessons when she saw a commercial on TV for an air show in Ottawa. Wingwalking, she said, "just came and picked me up, right by my backbone. I had no education about flying, about aircraft. But that stuff just sang to my soul."
She immediately began contacting wingwalking teams. "I hounded them, I stalked them," she said, eventually taking her first walk in 2001. That same year she contacted air show veteran Jimmy Franklin, owner of the air show acts collective Franklin Flying Circus. "I said, 'Hey, I want to do this, let me try.' And I ended up marrying him."
Until she mentored others to do the same, for more than a decade she was the only wingwalker in the world who walked her own plane and ran her own aerobatic business, named Third Strike — a macabre play on words to conjure up "bird strike," a wingwalker's most dreaded hazard. Yet while Pilon walked on her husband's plane in the early years of her career, she has come to realize that this working relationship wasn't ideal.
"The advantage is that being part of a couple, you have that extra trust," Pilon said as she removed a tail wing. "You trust them a little too much. If he's my husband he might be more concerned about making the show happen, even as my pilot he doesn't want to die. Likewise I did the same to him." Ultimately she and Jimmy Franklin divorced, in part because she was not comfortable with the routine they were doing. Franklin died in a midair collision with longtime friend and collaborator Bobby Younkin during an air show in 2005 while performing his act "Masters of Disaster," which included jet-propelled trucks and pyrotechnics. "I tried very hard to convince him to abandon it," Pilon said. "And I'm glad that I did. Because that routine we were doing eventually killed him."
After leaving Franklin's Flying Circus, she set out on her own. "I went to the bank with the biggest pack-of-lies business plan that you ever saw," she said with a laugh, and with that loan bought her Stearman — by happenstance the same plane that she first wingwalked years earlier. While Pilon had a few pilots she worked with, she had been working with Marcus Paine for more than six years and he had been her primary flying partner for much of the last three, in part because of the chemistry they developed when filming television projects, such as the Discovery series Airshow in 2015.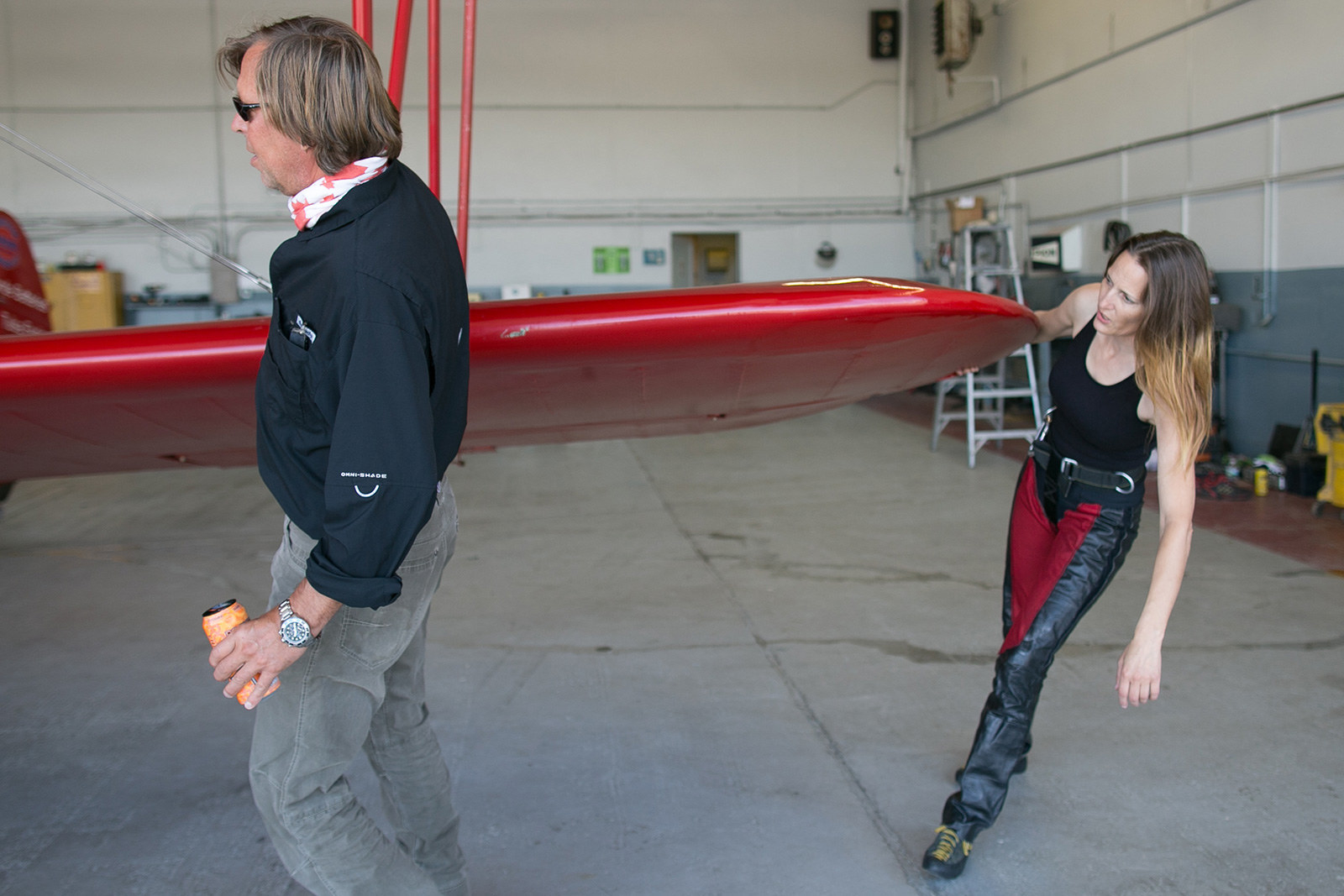 The challenge of being a wingwalking pilot is that you are constantly dealing with shifting weight on your wings. No longer is it just you and your airplane — you also need to know where your wingwalker is at all times, anticipating movements and easing transitions. Debbie Gary wrote in Air & Space magazine in 2008 about the challenges of her first flight as a wingwalking pilot with Pilon on her wings: "That person, lightweight and streamlined in a leotard while standing next to you, is in the air transformed to a sack of concrete on a see-saw."

A pilot must also anticipate the physical stress on the wingwalker's body when subjected to such wind force. For both pilots and wingwalkers, steep climbs and falls are often measured in G-force, or the force of gravity at Earth's surface. Moving at excessive speeds — a biplane needs to be traveling at least 140 miles per hour to have the power to make a loop — stresses the body to the point where if a performer is dehydrated or sick, they might pass out, imperiling them in obvious ways. But a wingwalker, without the buffer of the plane's body, is much more susceptible to excessive Gs, and a wingwalking pilot must ensure that the Gs are kept positive — or that the force is keeping them secured on the plane. Which is to say that a moment's distraction can affect the wingwalker in dire ways that wouldn't be deadly to a pilot.
"You can only take so many hits and then you have to close the door. You can't be dragging ghosts around with you."
But Pilon said the most challenging part is getting used to performing in hurricane-force winds: "I had never heard the sky scream at me before. And then you realize you think it's the engine. It's not, it's the wind!" Because of the physical toll on the body, she typically trains on the wing in 15-minute sessions. On the ground she practices moves and does strength training.
Pilon has performed a gunfight on the wing, performed as a pair (she admits that's especially tough on the pilot: "We're like a bunch of squirrels running all over the wings"), and was the first to wingwalk on a jet plane and in the winter — all "to pay the bills," she said. "I will do more and more expressive things, but I won't do more dangerous things. That's a pitfall for new performers. The fact is, tomorrow, if nobody wanted to see me wingwalk I would still take out my airplane and wingwalk over a swamp for a couple of frogs."
According to John Cudahy, president of the International Council of Air Shows, in a typical year there are around 350 air shows in the United States and Canada and about 325 people certified to fly aerobatics at these shows. And there are, on average, two to three air show deaths in a season that runs from early spring to late fall, a number that does not include occasional casualties of performers during practice or other flight-related reasons. By July 4, 2016, there had already been, by Pilon's count, close to a dozen deaths within the tight-knit air show community through accidents and illness, including the loss of one of the pilots with whom she regularly flew, William Gordon. In May 2016, the World War II fighter plane he was flying for a photo shoot went down in the Hudson River.
"You can only take so many hits and then you have to close the door," she said. "And this is not, by any stretch of the imagination, a healthy way to deal with all of it. But you can't be dragging ghosts around with you."
"It's like doing ballet on a mechanical bull."
Her current show focuses more upon the artistry than daredevil antics of the past, including a unique dual wingwalking act that she choreographed, in part, with a goal to modernize the art form. She designed and performed this act with one of her mentees, Kelly Garvin, at an air show in Los Angeles in spring of 2016. She explained that the modern approach to wingwalking is a performer in one or two locked-down positions with only a few transfers, where the audience gets a true sense of the walker's movement. Or, as she explained, "It's like doing ballet on a mechanical bull."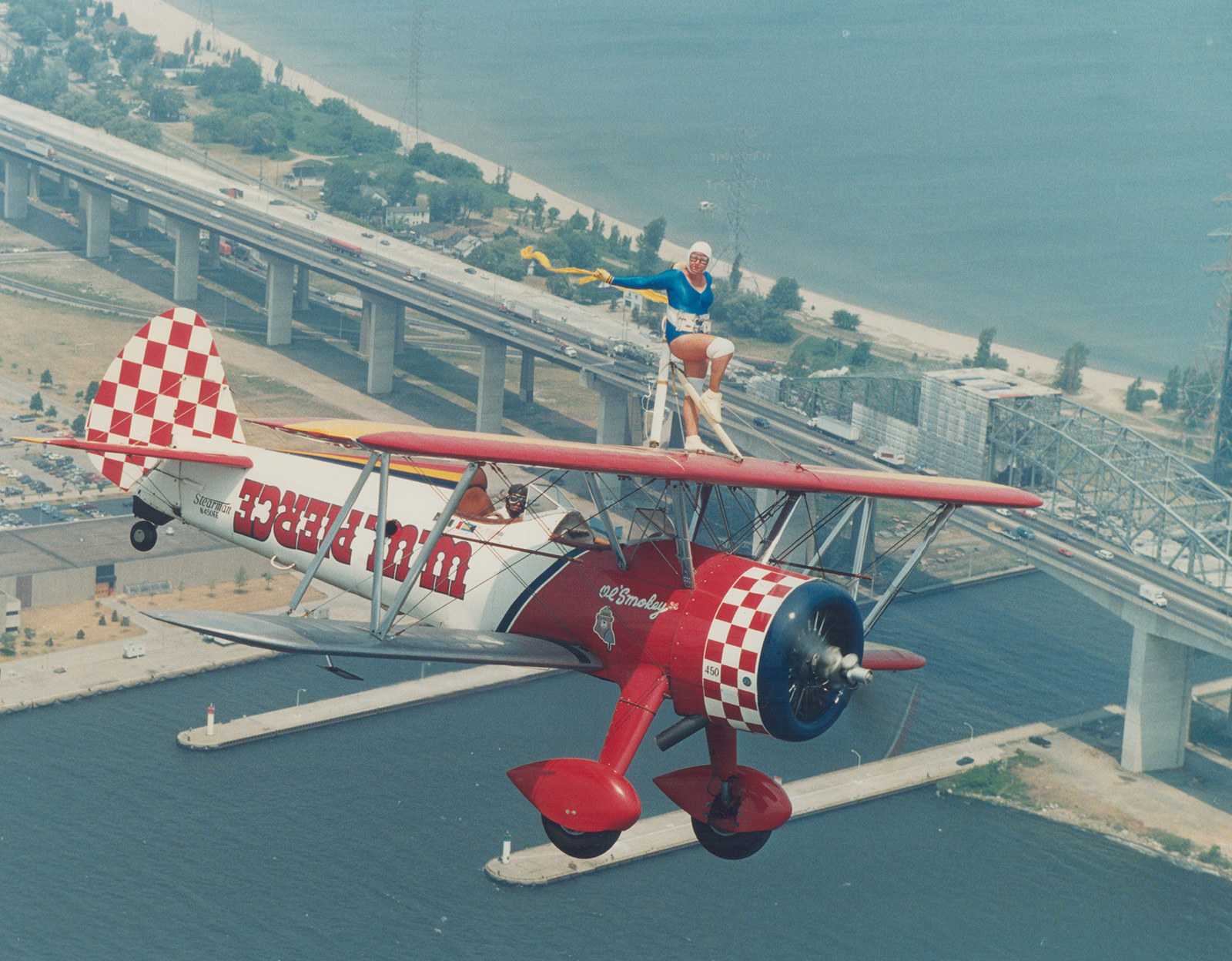 Air shows became popular in post–World War I America, when a surplus of biplanes like the Curtiss JN-4, called a "Jenny," made them cheap to buy for recently returning soldiers. Flying planes from one rural farm to the next became a source of income and entertainment. These pilots were known as "barnstormers," so named for where they frequently set up their beds for the night. Barnstormers, in often colorfully painted planes, would perform asking for a few pennies in exchange for a runway-side seat watching feats of acrobatics — quick loops like snap rolls and steep climbing turns called chandelles, swooping figure-eights and half-Cubans, where the plane inverts halfway through its loop.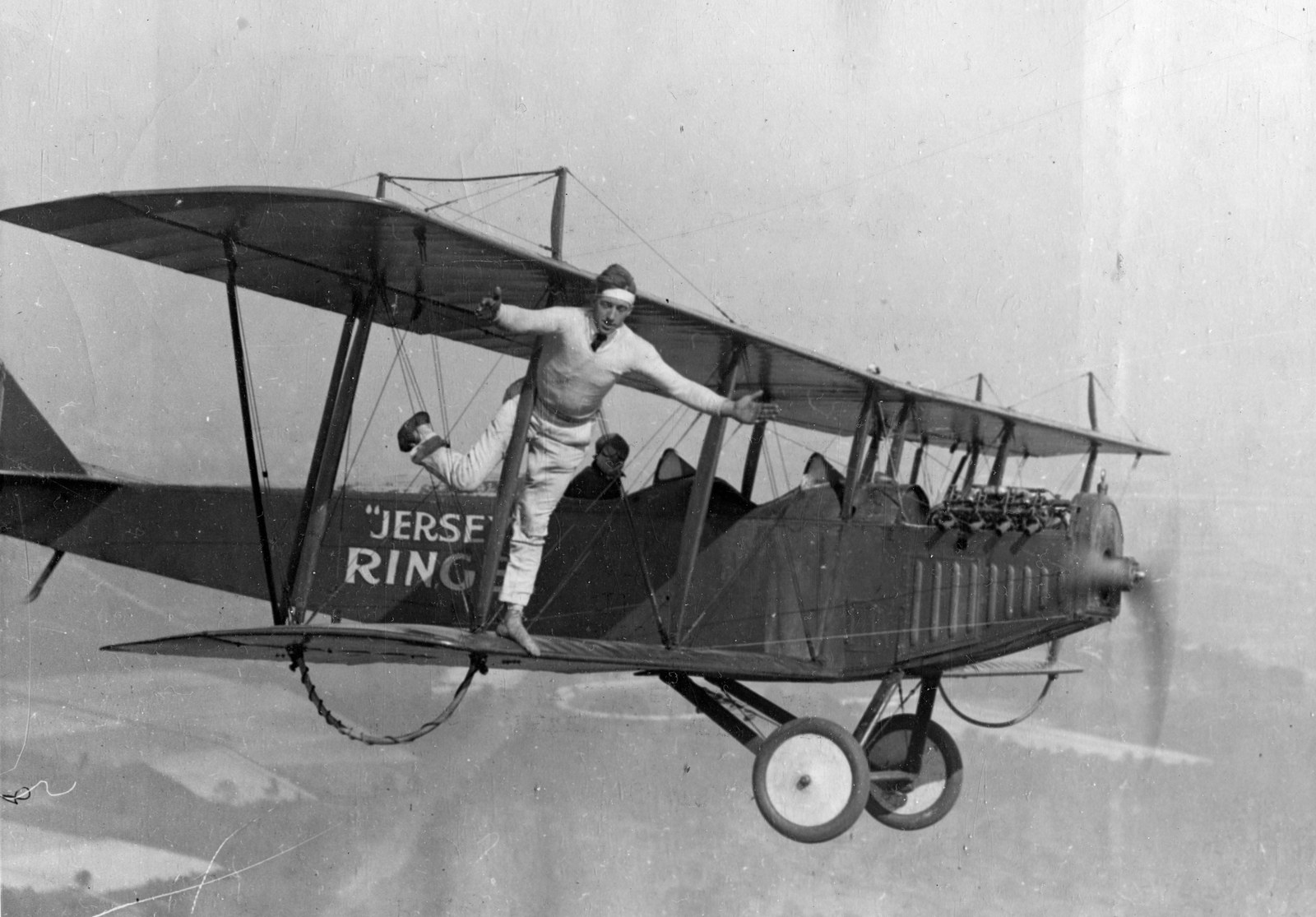 Wingwalking was allegedly started by World War I pilot Ormer Locklear, who would climb out onto a wing midflight to make a repair, and this daring "necessity" soon became sport. By the end of the 1920s, performers — including many women, who faced numerous barriers to becoming licensed pilots — were doing handstands and hanging from the wings midflight, and even doing aircraft-to-aircraft transfers. Charles Lindbergh performed as a wingwalker, working to earn money to support his flight career. Gruesome deaths were not unheard of, and perhaps even fueled the acts' popularity. And then, in 1928, the Air Commerce Act prohibited wingwalking and flying without a parachute and required that aerobatics be done so high above ground level that the audience wouldn't be able to see, effectively ending wingwalking and other barnstorming acts.
But then World War II minted thousands of new pilots. Further, the GI Bill would pay for flying lessons, something that my grandfather's business capitalized on. Yet it wasn't until President Eisenhower signed the Federal Aviation Act in 1958, superseding previous aviation oversight, that civil aviation was encouraged by the government. Soon thereafter the modern air show was revived.
The few women on the circuit are almost always the wingwalkers, walking the wing of the pilot's plane.
By then wingwalkers were mostly women, often young and dressed — by necessity — in tight outfits that wouldn't snag and were, for showmanship and visibility reasons, often brightly colored. Men have always been the pilots — the ones with technical skill, faceless, body-less but not voiceless — and the few women on the circuit are almost always the wingwalkers, walking the wing of the pilot's plane. And historically they had often, but not always, been the wife or sometimes daughter or even granddaughter of the pilot — his appendage, his figurehead in the air and on the ground. Despite its beauty and mystique, wingwalking had felt like a consolation prize.
Since the 1980s the number of teams working the air show circuit has dwindled. Today, according to Cudahy, there are only about five or six active wingwalkers in North America, and about the same number of active certified wingwalking pilots.
Pilon's act at the Dunkirk-Lake Shore Air Show had been preceded by aerobatics by a high-performance homebuilt plane and followed by a routine by a World War II fixed-wing aircraft. These acts are mostly built upon tension and release; the men push the capabilities of their aircraft, of physics, knowing the edge on which they can fly or fall or spin and recover. The audience feels the adrenaline rush with them, and then breathes a sigh of relief when the engine starts again after a stall; when the flat spin is pulled out of; when the pilot, miked into the announcer's feed, lets out a whoop telling the audience how much fun that last trick of eight consecutive barrel rolls was.

But with a wingwalking act, there is no give-and-take. For some, the entire performance is perceived as pushing the limits of physics and perhaps safety; the tension is present from when Pilon leaves the ground until she is safely inside the cockpit or until the plane lands. And as aviation has become more accessible, both virtually and in reality, and more powerful, wingwalking has resisted both. It is one of the only air show acts that has stayed fundamentally the same in the past century, and has remained among the only ones where we can see the person and not just the machine. Is what makes Pilon different from her few, and disappearing, colleagues her mindset as an artist, so opposed to the acts whose drive is measured in G-forces and spins? "It's never been about adrenaline to me," she said. "I am questioning perfection."
"It's never been about adrenaline to me. I am questioning perfection."
The Dunkirk-Lake Shore Air Show was held on July 2 and 3, and American flags were abundant — passed out along the boardwalk and unfurled by the first skydiving act midflight — and most acts had an air of patriotism, such as a former warplane's low-altitude roll that paused every 90 degrees in honor of the four branches of the armed forces. And no matter the time of year, air shows are, by and large, considered entertainment for Middle America, perhaps unsurprisingly considering that most performers are former or current military themselves.
My grandfather had come to the aviation industry similarly. While he had learned to fly before World War II, he was a flight trainer during the war and had built his flight school on students paying with the GI Bill in the years afterward. Aviation became part of the fabric of my family; my grandmother ran the front office, and my mother's two brothers — but not she — learned to fly when they were young. By the time my five cousins and I were born, the airport and flight school were thriving, and we had flown frequently growing up, often with our fathers, each of us soloing at the age of 16, the youngest allowed. By then we had spent much of our childhood riding our bikes up and down the runways, bothering our grandfather who was often in the midst of fixing or building airplanes when he wasn't flying them, or watching aerobatics practiced high above the ground. Though low-altitude aerobatics were inherently dangerous, I had been brought up to understand and respect the pilot's experience at harnessing the power of flight, and I trusted that they knew their own limitations and those of their aircraft. After all, they had gone through the FAA's rigorous aerobatics certification process and had hundreds, and often thousands, of hours of practice and performance behind them.
Yet while I had an understanding of the desire to fly a plane, what I didn't fully understand was the drive to stand on one as it was flying. When my three female cousins and I were learning to fly in the late 1980s and early 1990s, the percentage of female student pilots was around 6%, a number that remains unchanged today.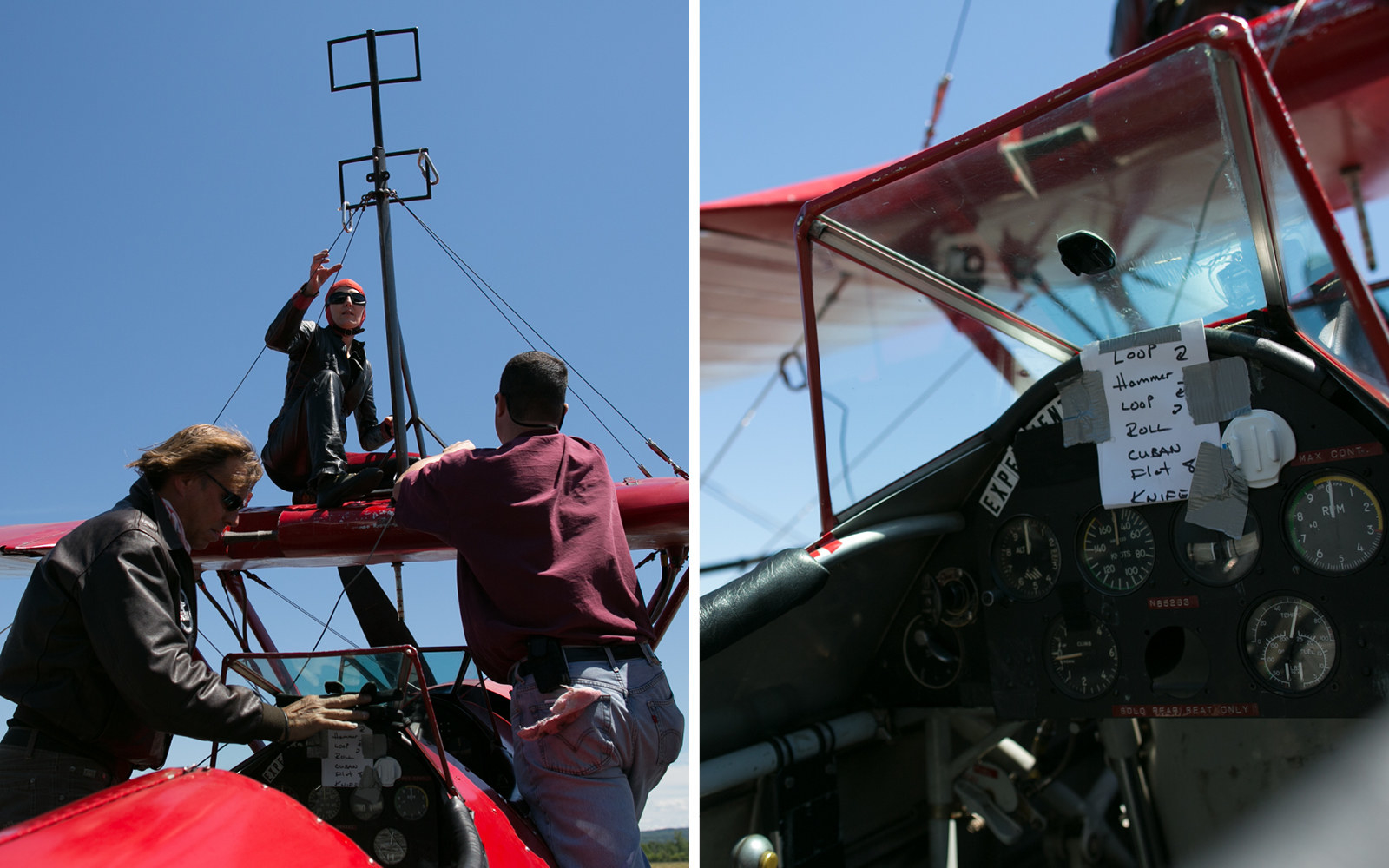 Six weeks later I met Pilon at Greenwood Lake, a small airport in rural New Jersey. Pilon's Stearman was sitting, wingless, in the sleepy airport's largest hangar. The woman I met in Dunkirk was tough — black jeans and motorcycle boots and earned swagger. But today she is dressed in yoga pants and an old air show T-shirt.

She was about to lead a ragtag team of four men, all squarely in or edging past middle age, who were standing around the rack where her wings were secured vertically. She turned back to explaining how they would help her attach them to a rolling levered arm that could then raise and lower the wings into place. Only one of the men — the oldest, who was likely at least 70 — noted having much aviation experience.
The plane had arrived packed into the back of trailer pulled by Pilon's powerful diesel pickup truck, which was parked at the mouth of the hangar. The black-sided, windowless trailer is the size that one might guess holds a race car, and the inside was meticulously clean. She is among the few on the air show circuit who have the expertise — she is an FAA-certified airframe technician — to break down and reassemble a Stearman.
"OK, gentlemen," Pilon said. "You need to figure out your angle of entry so I can connect this wing." One of the men responded by raising the wing to a ludicrous angle as a joke. "C'mon, guys, let's be serious," she said, her voice without humor, and for good reason. This was clearly a task that was going to take hours, and one that truly could mean life or death for her. She had done it countless times — usually with a random assortment of men who were likely lured by the novelty of helping a woman assemble her 75-year-old biplane. At one point when one helper let up on a wing he was holding in place too quickly, she exclaimed, "Did you do that on purpose?" There was a moment of stunned silence. "You need to listen to me. If that wasn't lined up, it could have punched a hole in my wing."
Later over dinner, Pilon laughed it off. It's always guys, she says, of her makeshift assembly crew. And the dynamic was usually like that. She trained and hired a female pilot, Melissa Andrzejewski — forming one of the few all-female wingwalking teams ever to perform — but the air show audience is vastly conservative-leaning, small-town, and military backers. "I can't move further," she said. "And it's very frustrating. Twenty-five years from now I'll be doing exactly the same thing."
The main audience for air shows is often more interested in military history and the power of machines than the artistry of wingwalking. Pilon said that it was her job at her family's grocery store near Ottawa that allows her to keep wingwalking. But Cudahy's vision of the future of air shows is a bit more rosy: He saw a consolidation of shows for a few years but declared the 2016 season stronger than it had been in a long time. And he values wingwalking as "a necessary part of an air show."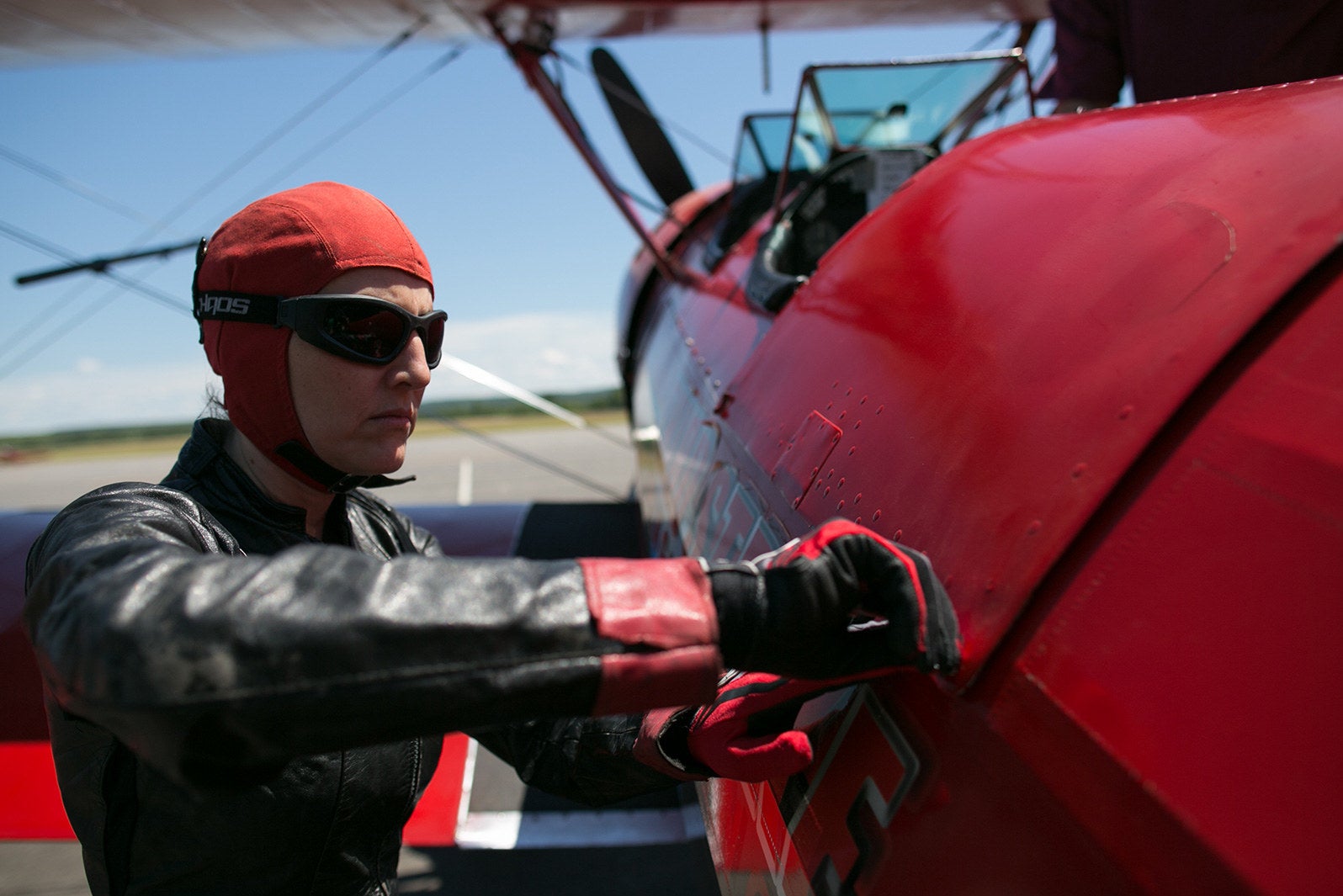 The next day I was on the tarmac as Pilon went through the safety precheck on her Stearman and then tucked her long hair into a leather flight hood. Paine walked out to join her, cutting the figure of the quintessential pilot — loose-fitting white linen shirt, tousled sandy hair, a confident strut — true to form as a well-respected performer who has taught flying for decades, flown in the military, and was known for his precision and artistry. Pilon climbed aboard the wing and Paine started the engine with a roar, and they taxied down the runway in front of the thousands of spectators. The first night of the Greenwood Lake Air Show is particularly spectacular because it is performed not long before sunset, and that night large storm clouds were far in the distance, creating smoky streaks and occasional lightning strikes across a blue sky that was turning to orange. Paine looped and Pilon posed. Her transitions between moves were beautifully backdropped by the setting sun, and in one of their final moves Paine flew away from the crowd, silhouetting a triumphant Pilon raising her arms from the top wing.

"There was never any doubt in my mind that I didn't understand the price I had to pay for this."
The crowd cheered as they landed nearby. After the plane was secured, the duo walked through the crowd as people surged. Pilon and Paine stood for photos, his arm around her shoulders, both giving a thumbs-up — a practiced pose, but one that was genuine. Here were two people who loved their jobs. In between photos I bid them both goodbye, and made plans to reconnect before their last show of the season over Labor Day weekend in Cleveland. A few weeks later I heard that one of the pilots who had flown at the Dunkirk-Lake Shore Air Show had died in a crash. Marcus Paine had been flying a Stearman in an Oregon air show and had hit the ground on a low loop. The plane had skidded on its belly then had caught fire.
I spoke to Pilon after Paine's death and she expressed her deep respect for his skill and her devastation at the loss of a dear friend. But she added, "There was never any doubt in my mind that I didn't understand the price I had to pay for this. I can't turn my back on the things they love and I love." She had already booked a show for the 2017 season and was considering creative ways to continue wingwalking in warmer climes during the winter months.
I then think back to when we had left the restaurant together the night before her last air show. She stopped me as the door to the kitchen swung open, and we both could see the sight of a waitress sitting slumped on a prep table, surrounded by dirty dishes, hours of tedious work still ahead. I have been that woman, and so has Pilon.
"Do you think she enjoys her life? Do you think she's happy?" she asked me, taking my arm. "I am having more fun in a week than most fucking assholes have in a lifetime. How much fun can you possibly have? I don't know; I haven't reached it yet." ●