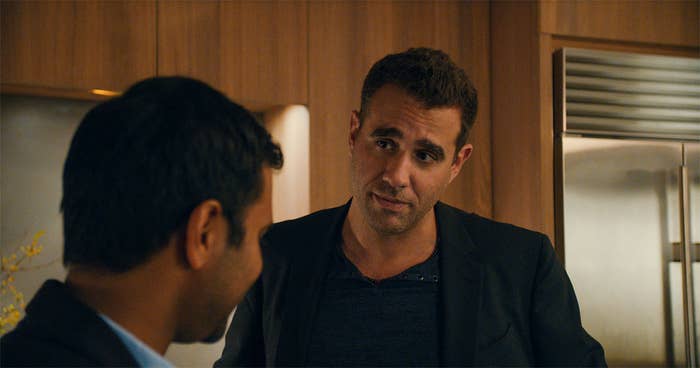 "Look at that al pastor. Have you ever gotten sexually charged from looking at a picture of al pastor? 'Cause I'm a rocket right now, goddamn," Jeff Pastore (Bobby Cannavale) babbles on to Dev Shah (Aziz Ansari) while showing him a photo of a massive display of meat he once sampled in Mexico. Although Dev looks unmoved, he nods politely and remarks to his excited boss, "I'm not erect, but it does look really good."

A macho Italian type with a penchant for swearing, "Chef Jeff" seems like a nice enough guy the first time he and Dev meet over dinner at a ritzy Italian joint in the West Village. Sure, he's a little aggressive, referring to everyone around him as a "son of a bitch," but he seems well-intentioned throughout most of Master of None Season 2, offering Dev dating advice and taking the time to listen to his ideas for a television show. Eventually, the two even team up for their very own food show, BFFs or Best Food Friends. But in the season finale, Dev discovers the ugly truth about his cohost: It turns out Chef Jeff is actually a serial sexual harasser, who's been getting away with inappropriate behavior for years.
Master of None co-creators Alan Yang and Aziz Ansari wrote the final episode, "Buona Notte," in 2016, taking inspiration from real events that occurred that year. In July 2016, Roger Ailes — the founder and former chief of Fox News — resigned from the network after being sued for sexual harassment; a similar scandal unfolds at Dev's TV network.
In "Buona Notte," Dev finds out Chef Jeff made a pass at Lisa (Ilfenesh Hadera), the makeup artist on their show, and repeatedly harassed her until she quietly asked to be reassigned to a different show. Although Dev initially notices and inquires about Lisa's absence, he never suspects his cohost is the reason for her sudden departure until a colleague, Benjamin (H. Jon Benjamin), tips him off about Chef Jeff's past misconduct.
"We wanted [Chef Jeff] to feel likable and just like this New York guy who was inspiring to [Dev] and really somebody he looked up to," Melina Matsoukas, who directed a previous episode featuring Cannavale's character, told BuzzFeed News. "So we actually worked against any kind of inappropriate conduct."
Lisa ultimately decides to take her story public, penning a blog post about Chef Jeff's inappropriate behavior, which prompts 14 other women to speak out against the food connoisseur.
The news breaks just moments before Dev and Chef Jeff are set to appear on Raven-Symoné's live daytime show to promote BFFs. When Raven interrogates an unprepared Dev about the accusations against Chef Jeff, he stumbles over his words and says all the wrong things. It's a funny scene about an unfunny, very real problem that Yang and Ansari decided to address simply because the issue "seemed so relevant" at the time, Yang said, though they did wonder whether harassment in the workplace would feel dated by the time Season 2 premiered.
"Sadly, the topicality of that specific plot move doesn't seem to be on the wane," Yang told BuzzFeed News, recalling the day news about the many sexual harassment allegations against Bill O'Reilly broke: "I texted Aziz like, 'Another Chef Jeff, man. It happened again.'" Although the veteran political commentator at Fox News has since been fired from the network, O'Reilly will reportedly receive a severance of up to $25 million.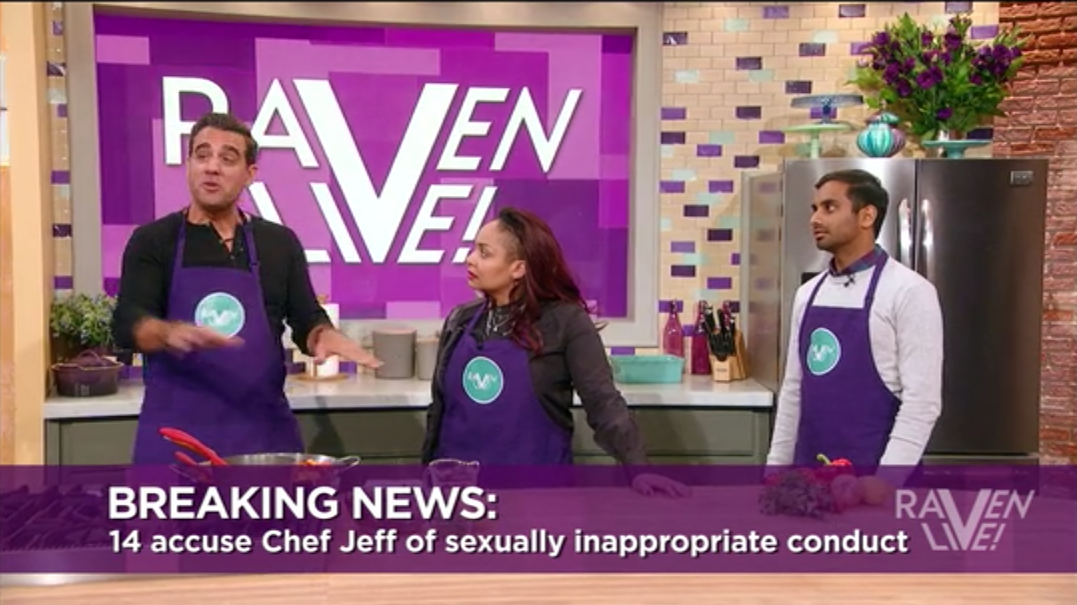 "It's terrible that Bill O'Reilly got a giant payout and that he's going to retire with tens of millions of dollars," Yang said. "But at the very least, his job got taken away from him, and the horrible stuff he'd been doing for decades finally came to an end."

Yang and Ansari hope their episode on the issue will encourage more people in the industry to speak out against those who abuse their authority. "The less acceptable it is for people in power to exert that power in despicable ways, the better off we are," Yang said. "And if the show raises any small amount of awareness, that's great."
Marcus Jones contributed reporting to this post.