Welcome to 2020, a train wreck of a year in which we have witnessed a pandemic, social unrest, bushfires, floods, locust swarms, murder hornets, the pentagon releasing videos of UFO sightings, untimely deaths of famous people, gas leaks, and a deadly explosion, among a thousand other terrible things. A lot has changed this year. However, the one thing that has remained constant is Bollywood's ignorance and its proficiency when it comes to not having a care in the world.
In what is perhaps the 404th instance of Bollywood not giving a fuck, the makers of the upcoming movie Khaali Peeli, starring Ananya Panday and Ishaan, released a song called "Beyonce Sharma Jayegi", on the 7th of September.
Twitter users rightly pointed out how the song was incredibly regressive and flagrantly racist as it juxtaposed the light skin of one of our actresses with that of a black woman.
If you think about it, it is the normalisation of words like 'gori', 'goriya', and 'gora' that largely accounts for this problem. In a paper titled 'Looking for Love in All the White Places', Sonora Jha and Mara Adelman discuss how, in India, the words 'lovely' and 'beautiful' are routinely synonymous with being light-coloured and fair. While the Hindi word 'gori' essentially alludes to a light-skinned woman, it also denotes that she is pretty. In this context, one can see that there is an annihilation of both beauty and femininity for darker-skinned women.
Think of the gazillion Bollywood songs we hum everyday that have the words 'gori' or 'gora' in them. Now try and recall songs that overtly eulogise lighter skin. The list is endless. For instance, the song "Hum Kaale Hai Toh" from the movie Gumnaam, is one in which Mehmood flaunts his good-heartedness as something that masks his dark skin. As if being dark was a terrible thing.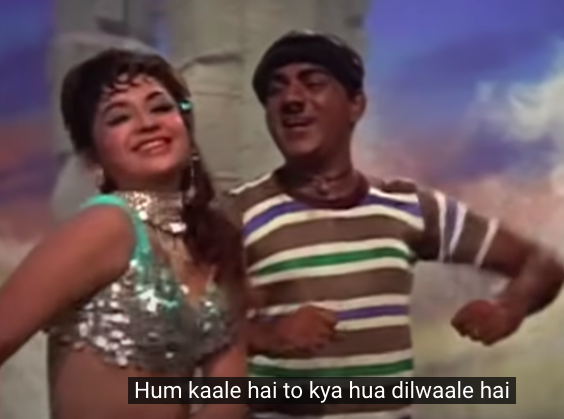 And then there was "Gore Rang Pe Na Itna" from 1974's Roti, in which Rajesh Khanna asks Mumtaz to not take too much pride in her fair skin because she could easily get tanned. Fair skin is a privilege, after all.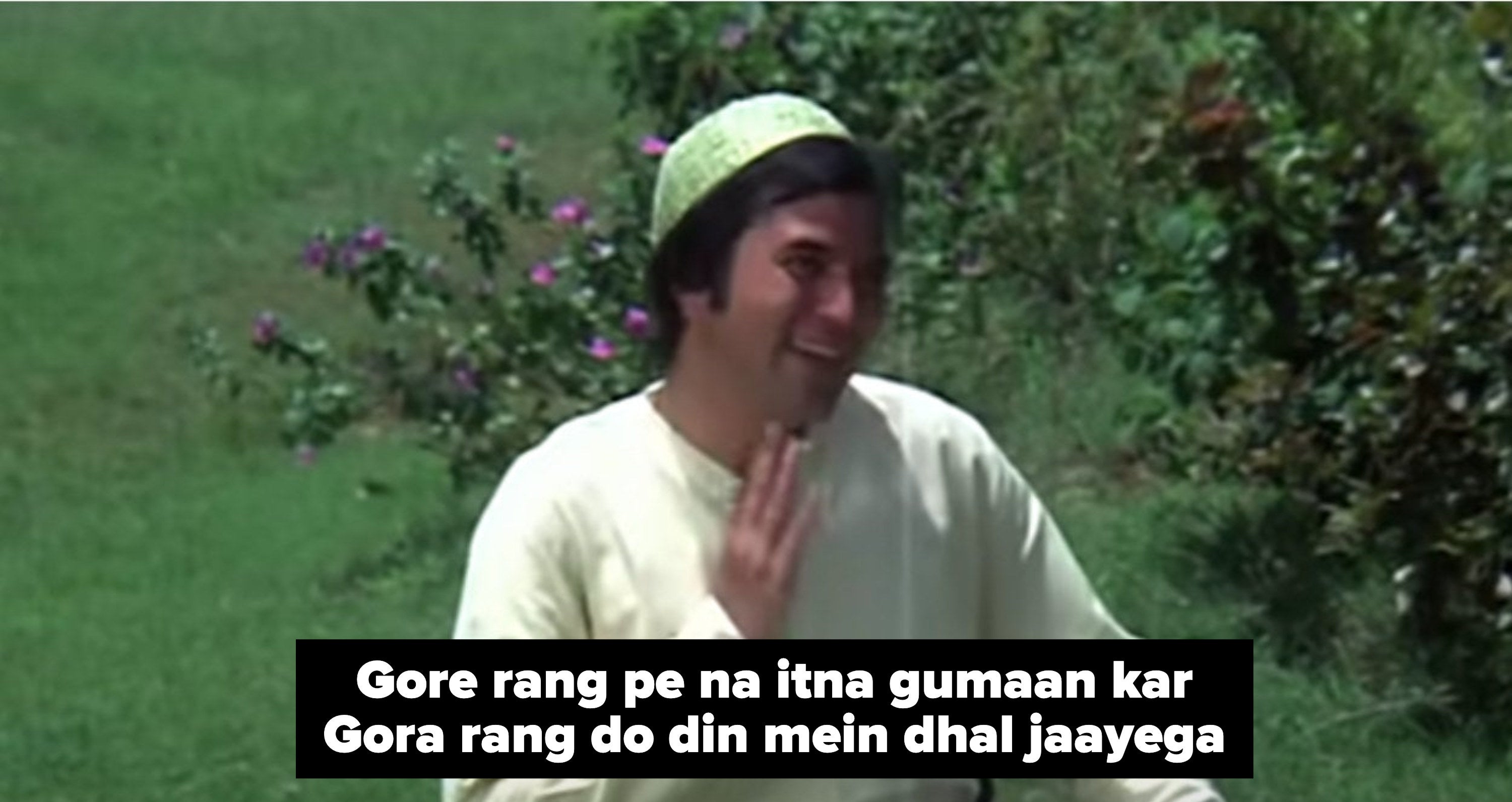 Or go back and listen to the song "Gore Gore Mukhde Pe" from 1994's Suhaag, in which Akshay Kumar praises Nagma's dazzling beauty using the black sunglasses adorning her white face, as an example.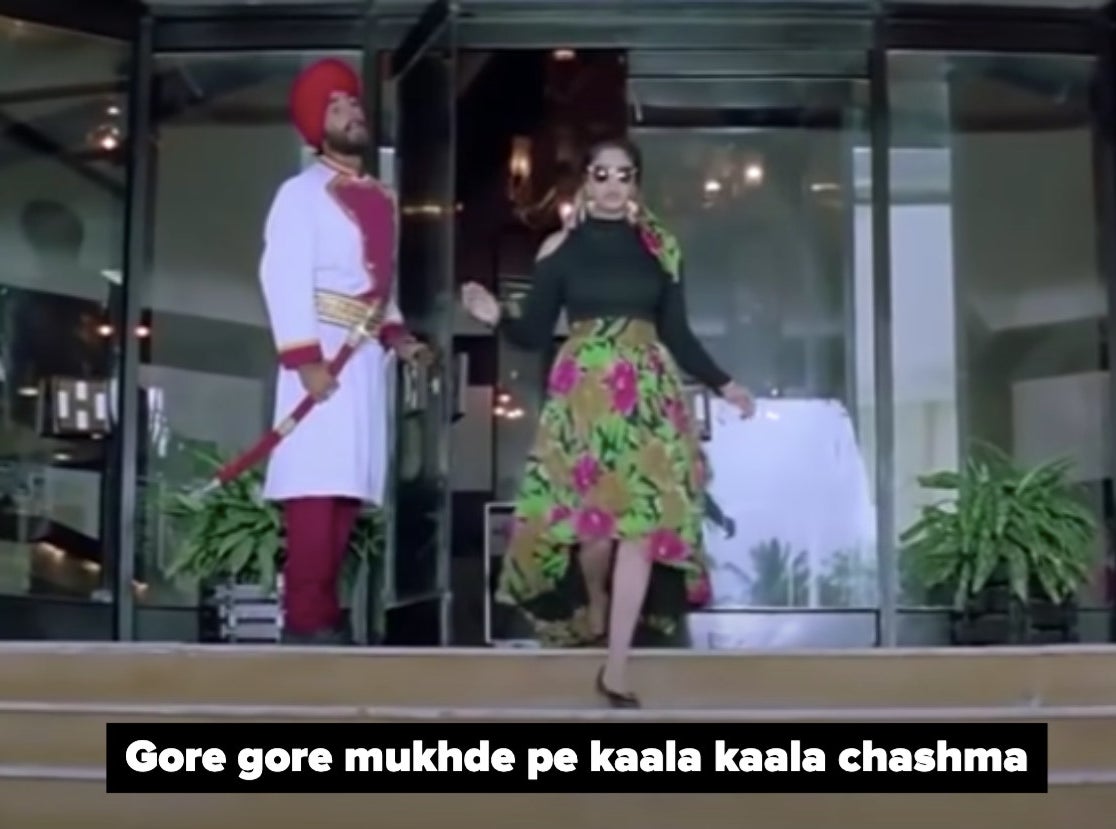 Our love for fair skin (and goggles) was still going strong in 2016, as evidenced by the movie Baar Baar Dekho, in which Sidharth Malhotra sang about how well a pair of black sunglasses suited Katrina Kaif's white face.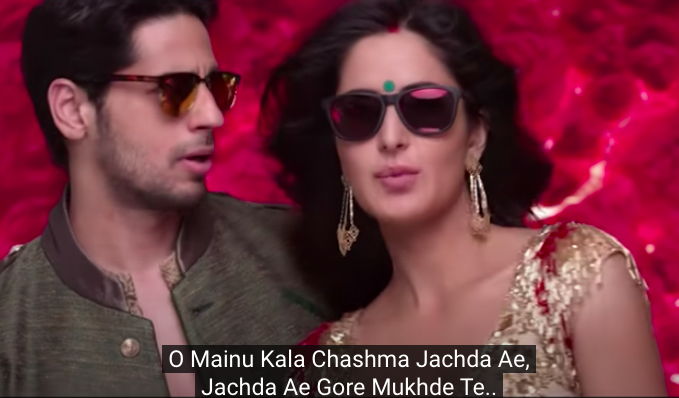 There really is no scarcity of examples: In "Yeh Kaali Kaali Aankhen", one of the biggest songs to have come out of Bollywood, when Shah Rukh Khan complains about how he hasn't been able to get a hold on himself ever since he saw Kajol's black eyes and white cheeks.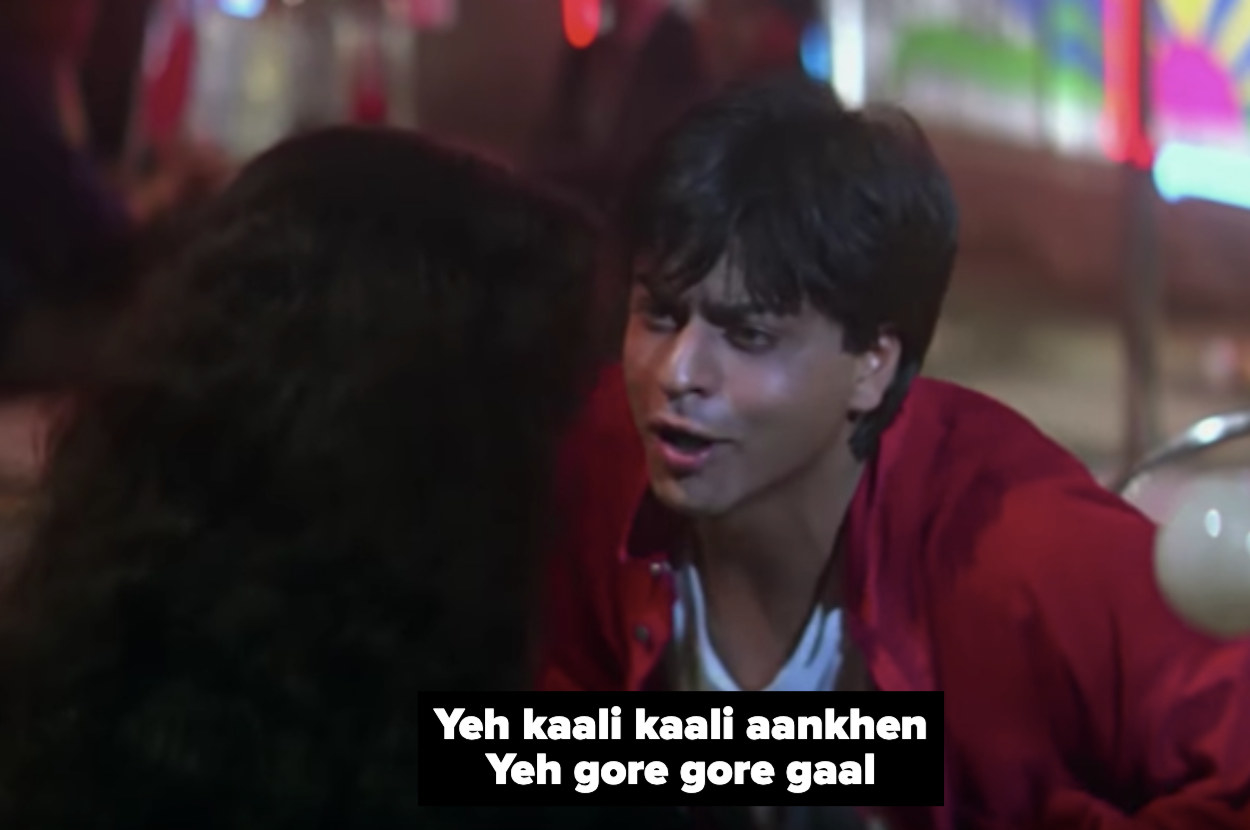 In 1994's Main Khiladi Tu Anari, when Akshay Kumar and Shilpa Shetty danced to the iconic "Chura Ke Dil Mera" while making us wonder if she stole his heart solely because she was fair.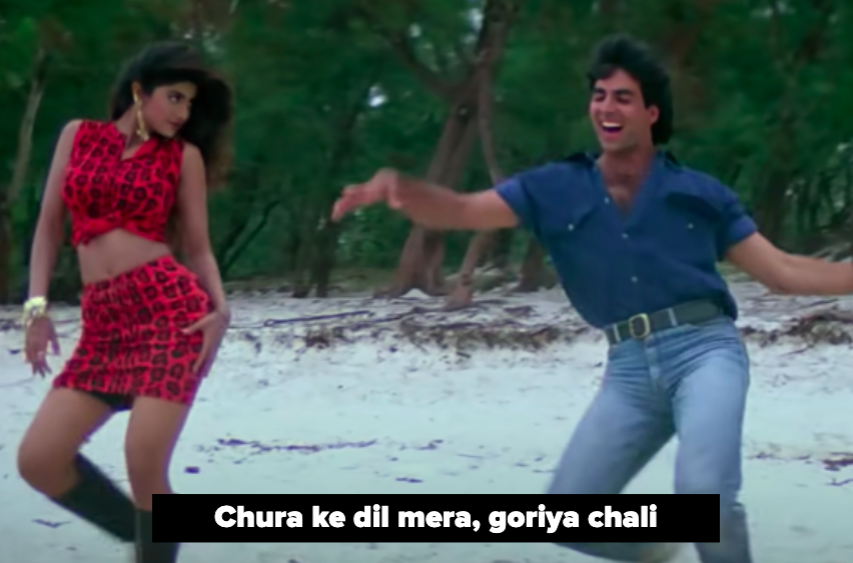 In 1990's Aaj Ka Arjun when Jaya Prada asked Amitabh Bachchan to buy her green bangles because, well, she had white wrists.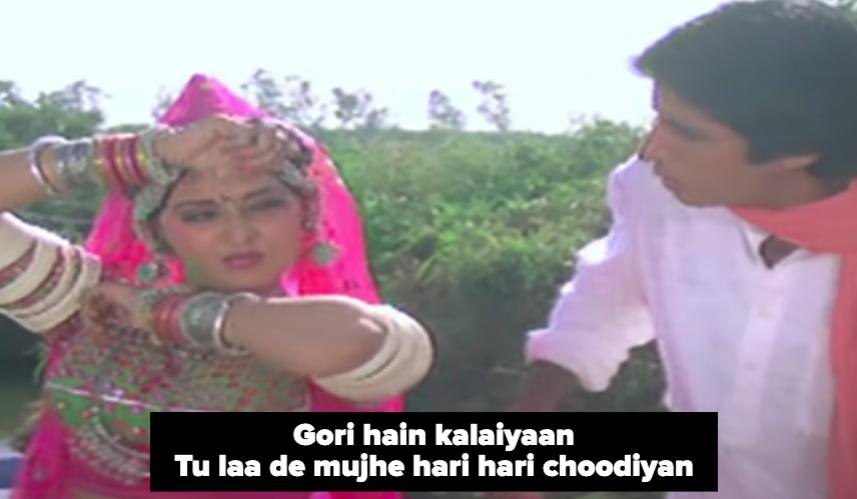 Bollywood's obsession with white wrists continued well into 2015 when in the film Roy, Jacqueline Fernandez requests her beau to take her shopping, followed by a romantic movie because...she has "Chittiyaan Kalaiyaan".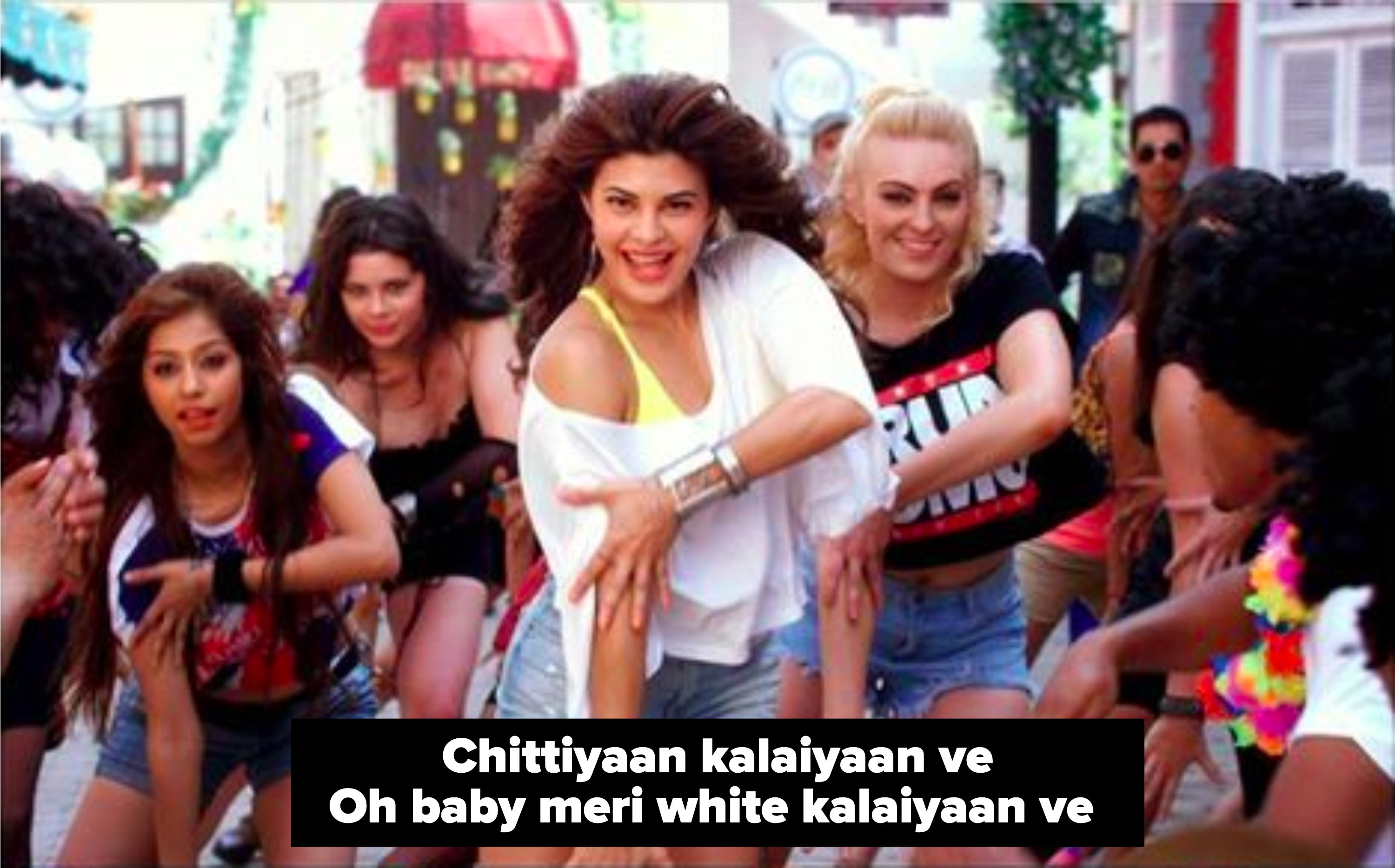 It is imperative to point out that, when it comes to racism and colourism in Bollywood, the line is not drawn at music. There are innumerable significant plot-lines from popular Hindi movies that are blatantly racist. For instance, in 2008's Fashion, Priyanka Chopra's Meghna Mathur attends a rave where she snorts cocaine and ends up having a one-night stand. When she wakes up the next morning, she is utterly shocked and disgusted at the fact that she slept with a black man.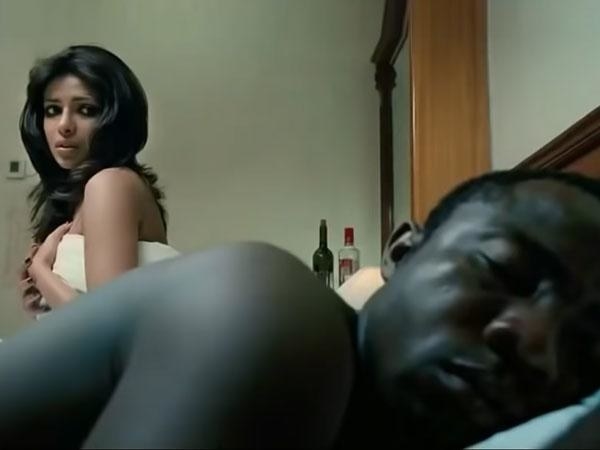 In the film Hadh Kardi Aapne, starring Govinda and Rani Mukerji, an Indian man is seen wearing blackface while portraying a husband who walks into a hotel room and finds his wife in bed with the male protagonist. The three then start arguing in what is supposed to be a made-up 'Hawaiian' language. While this was intended as a hysterical misunderstanding, it is impossible to ignore the racist connotations of the scene.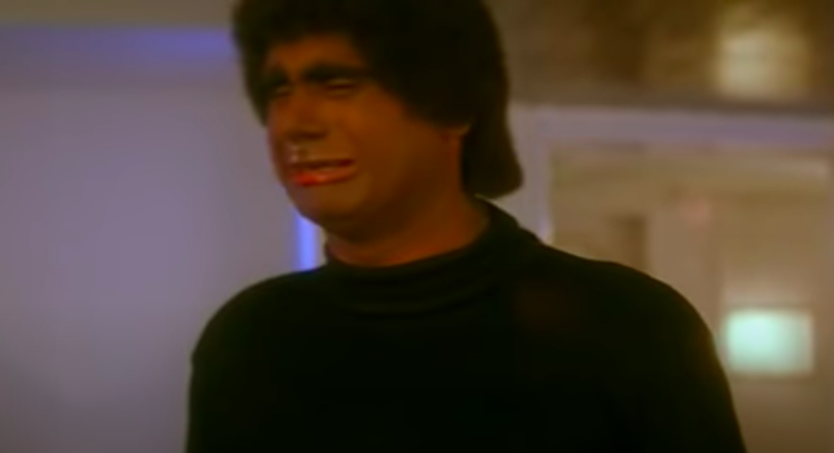 The cringefest isn't over yet: In 2010's Housefull, Boman Irani's character desperately wishes to see his grandson and receives a rude shock when the baby turns out to be black. Things only get worse when, in order to handle the situation, Akshay Kumar's Aarush performs an elaborate song and dance that illustrates the baby's African origins. This is weird and offensive in equal parts.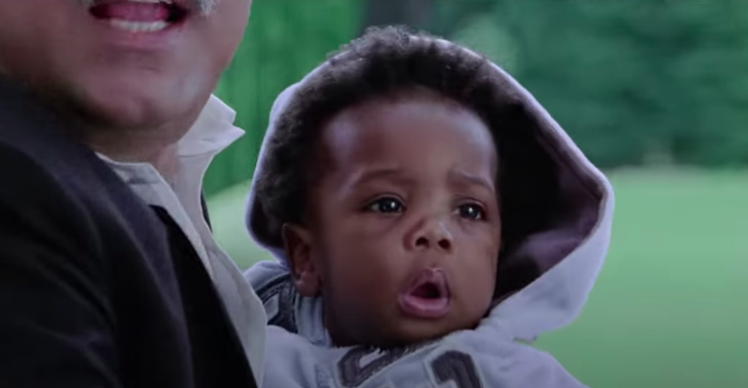 While we're at it, let's talk about the Indian film industry's obsession with white background dancers, especially women clad in colourful Indian attire and/or skimpy outfits. They are used as mere props that add an aesthetic value to the songs that they are a part of. Moreover, their skin is exoticised and they are often portrayed as 'easy'.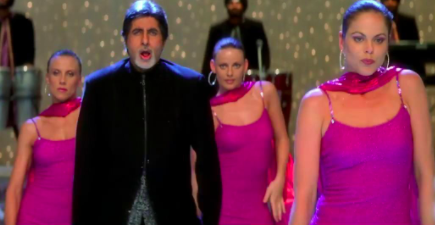 It's sad to see that our producers and directors still believe that the presence of white people in our movies brings a certain 'quality' to the same. However, one can't deny that audiences are equally responsible for this problem because we find this 'whiteness' so much more appealing.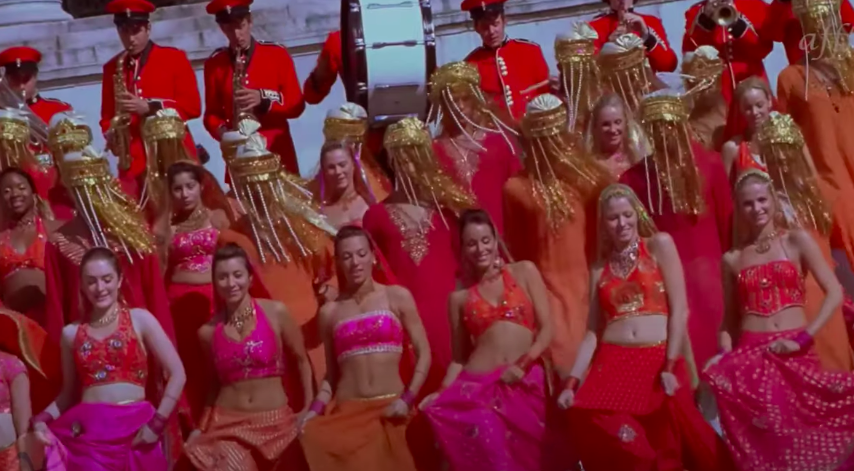 If Bollywood's rendezvous with racism and colourism was a cake, it would be an extremely decadent one because there would be so much icing on it. For example, we have big-budget movies with the word 'gori' in the title, because why not?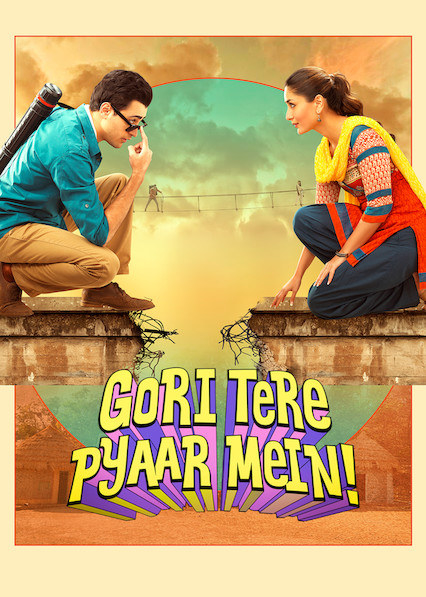 Circling back to our deeply entrenched colourist and racist tendencies, brownface is another problematic practice that seems to be beyond Bollywood's comprehension. There are untold instances of light-skinned actors having their skinned darkened with makeup to portray characters that come from poorer backgrounds.
India's prejudice against dark skin can be traced back to our caste system in which individuals from lower-castes were forced to work in the fields, as opposed to the wealthy upper castes, and therefore had darker skin. Just like blackface, brownface is very much NOT okay, yet, that didn't stop Ranveer Singh and Hrithik Roshan from darkening their faces for their roles in Gully Boy and Super 30, respectively.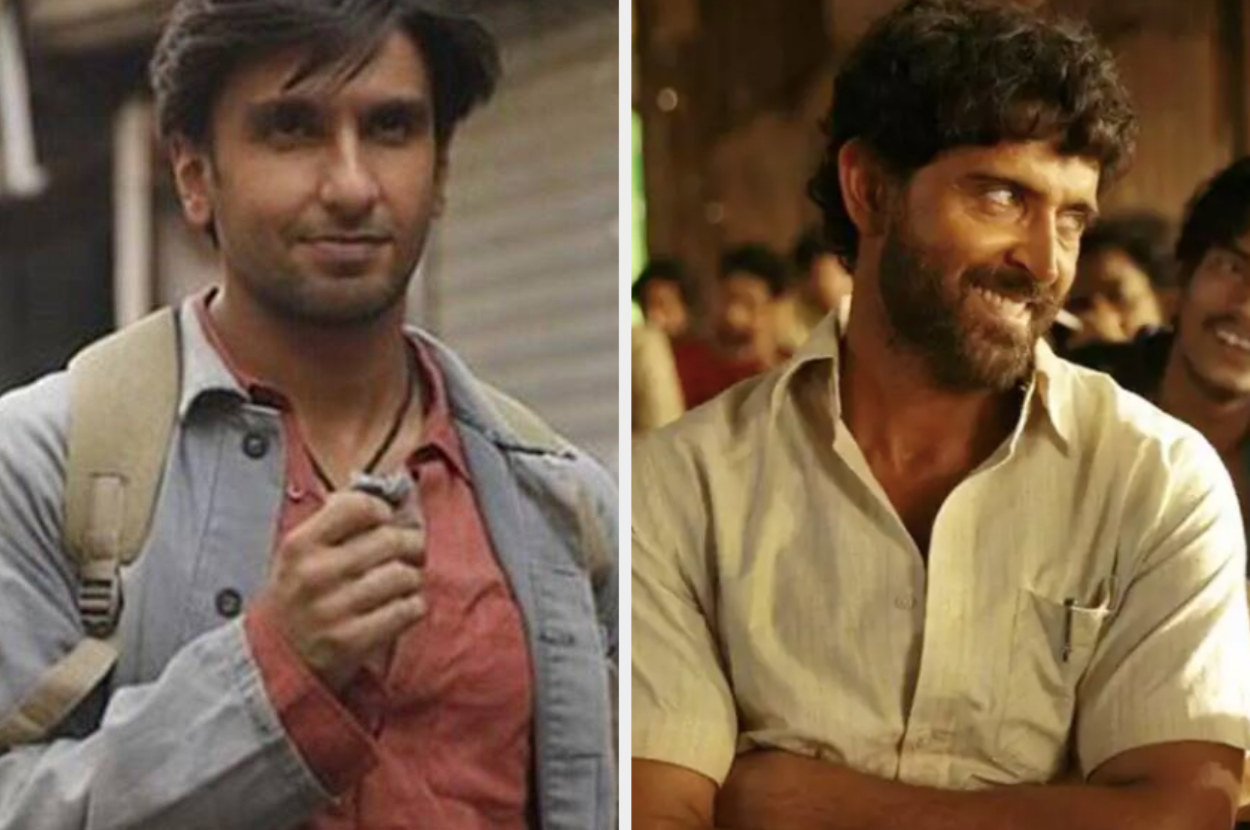 Now think about the many, MANY skin-lightening products that have been endorsed (and continue to be endorsed) by some of our most popular Bollywood stars. If this doesn't illustrate India's obsession with fair skin, our colourist attitudes, and our inherent anti-blackness, I don't know what does.
Our society values fair skin and the media conforms to and furthers these Eurocentric beauty standards set by our society. This is a vicious cycle to which consumers such as ourselves fall prey.
If you're still not convinced, remember the Bloomberg interview in which actor Nawazuddin Siddiqui revealed how he was rejected by a multitude of television producers and directors because of his dark complexion?
To sum up, the problem is systemic and there is no one person that can be blamed. Until the collective mindset is reformed, we will, unfortunately, continue to have more such 'goriyas' in the future.