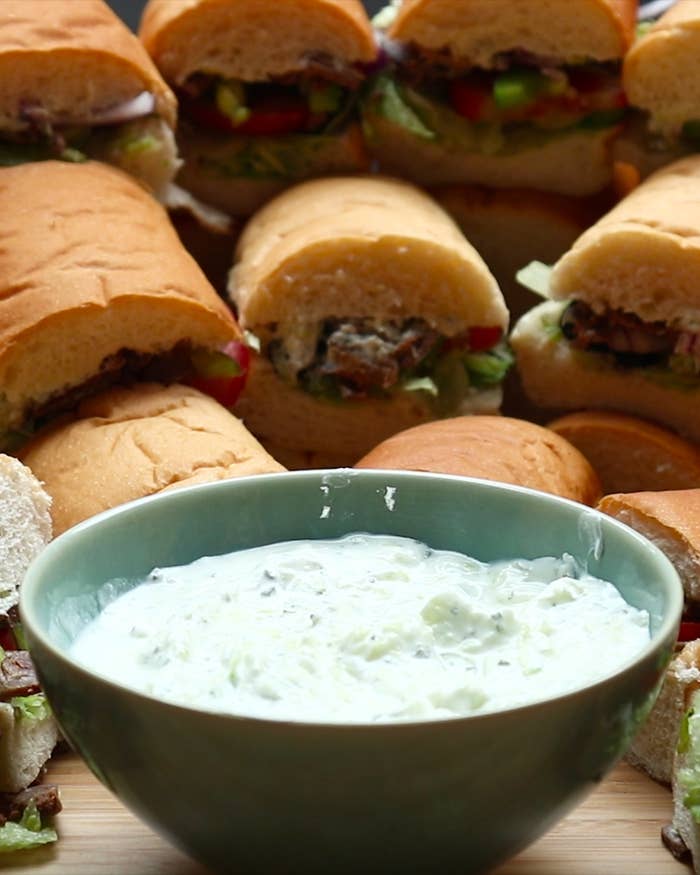 Servings 6

INGREDIENTS:
LAMB LEG
1 leg of lamb (1.5kg)
1 tablespoon paprika
1 head garlic
1 tablespoon dried parsley
TZATZIKI
2 cucumbers
8 cloves of garlic, finely minced
2 teaspoons dried parsley / fresh minced parsley
1 lemon, juiced
2 cups greek plain yoghurt
1 ½ teaspoon sugar
1 ½ teaspoon salt
SLIDERS
5 x white bread
Tomato, sliced
Onion, sliced
Black olive, sliced
Green capisum, sliced
PREPARATION:
1. Preheat oven to 160 degrees.
2. Place the lamb leg in a medium roaster.
3. Pierce a few holes in the lamb leg and bury garlic cloves within the meat.
4. In a small bowl, combine paprika and dried parsley. Rub spices all over the lamb leg.
Make sure the lamb leg is well-covered with the spices.
5. Put the lamb leg in a cooking bag, close with a string tie, pierce 3 or 4 holes in the top
of the bag. Place lamb on a medium roasting tray, put on the bottom rack of oven.
Cook the lamb leg for one hour and a half.
6. While the lamb leg is roasting in the oven, grate the cucumber in a medium size bowl
then sprinkle salt and let it sit about 10 to 15 minutes to draw out the liquid.
7. Place yogurt into a separate bowl. Add cucumber and its juice onto a sturdy, dry paper
or cloth towel and squeeze as much moisture as possible from the cucumber. Mix
cucumber into the yoghurt. Add garlic, lemon juice, sugar, salt, and parsley; mix
thoroughly.
8. Cover the Tzatziki sauce with plastic wrap and refrigerate until served.
9. Let the lamb rest properly before slicing it so it doesn't lose all the juice. Thinly slice
the lamb into small pieces.
10. Crosscut the foot-long sandwich bread in half. Layer with tomato, onion, green
capsicum, black olives, lamb slices, and top it with three teaspoons of tzatziki sauce.
Cut it into slider sized bites and it's ready to serve. Enjoy!