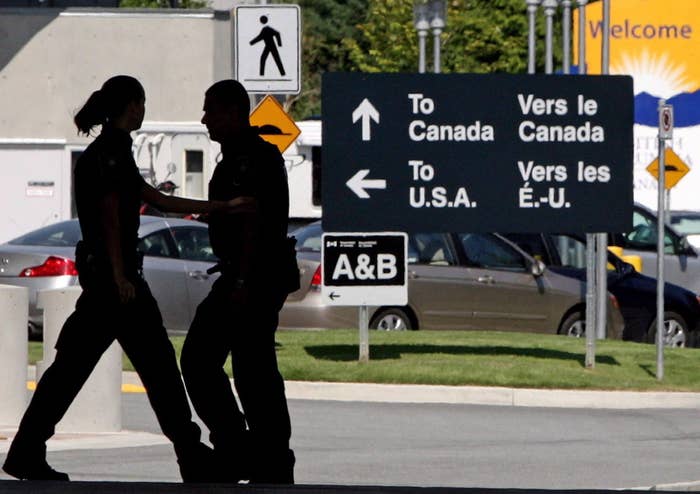 Canada Border Services Agency employees used drugs, associated with criminals, and abused their coworkers, but the organization is keeping many details about staff misconduct a secret.
BuzzFeed News obtained dozens of CBSA Professional Standards reports for substantiated misconduct incidents completed in 2016 and 2017. The records, released in response to an access to information request, describe a range of misconduct by on- and off-duty CBSA staff.
The service regulates travel across Canada's border. The agency, which employs roughly 14,000 staff, according to its website, is involved in everything from mail inspection to the screening of Syrian refugees.
The incidents described in the reports include:
A CBSA officer throwing a tantrum after learning a request he had made for a transfer had been rejected. The officer "became enraged and damaged his Primary Inspection Line (PIL) booth by punching and kicking holes in the wall." He "left his post," yelled, swore, and "was verbally abusive"and threatened his superintendent.
A CBSA officer being "knowingly in unlawful possession of a prohibited firearm that had not been lawfully imported into Canada."
A CBSA staffer who lost equipment used "to calibrate an x-ray machine." The equipment, stored in a briefcase, "was found by a member of the public on their front lawn."
A staff member who identified himself as a federal employee while performing comedy, including "racially prejudicial material that negatively stereo typed (sic) people of different ethnicities or cultures."
One report lists several offences committed by an IT analyst — off-duty drug use, criminal association, misuse of assets, and an inconclusive allegation of theft — but provides virtually no details on the case. Another describes a CBSA officer's "consumption of illegal drugs" and "Criminal Association."
The CBSA refused a request for a telephone interview for this story. Spokesperson Nicholas Dorion said in emails that a "subject matter expert" was not available "in a foreseeable future." Contacted by phone, Dorion refused to explain further, and hung up.
The CBSA had not responded to several written questions from BuzzFeed News as of noon on Friday.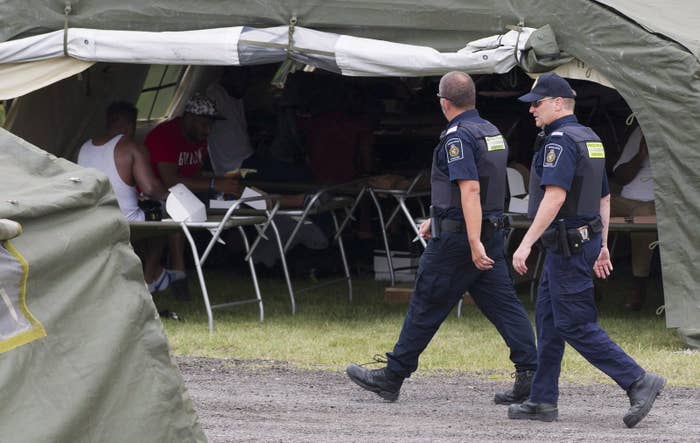 The CBSA says on its website that "disciplinary measures … are meant to be corrective in nature rather than punitive." Between 2014 and 2016, the CBSA terminated employees in 20 cases, according to the agency's website. The agency also reprimanded, demoted, and suspended staff.

The records obtained by BuzzFeed News reveal only a fraction of the misconduct by CBSA officials in 2016 and 2017. An analyst for the agency said via email that the records do not include "minor misconduct investigations" that did not prompt Professional Standards investigations and reports. The CBSA has not answered a question about how it determines if a matter will result in a formal report, like those released to BuzzFeed News.
The border agency deleted many details from the reports before their release, making it difficult to determine the exact circumstances of an official's misconduct.
One report describes an anonymous letter that referenced "inappropriate comments directed towards a number of female employees" by a CBSA superintendent.

One CBSA staffer damaged a hotel room, and reported to a training course, which involved "advanced operation of a motor vehicle," after consuming alcohol, according to a report. Another report mentions an employee who "acted inappropriately, in a sexual manner, while on duty." And another describes an officer who "made [a] scissoring comment and gesture, and ... harshly and disrespectfully criticized" a coworker.
Some argue that the CBSA, whose officers have the powers of detention and use of force, lacks adequate oversight. Mel Cappe, a University of Toronto professor, argued in a 2017 report for the federal government that it should create a new oversight body to "cover the policies and actions of officers of both the [Royal Canadian Mounted Police] and the CBSA."

Cappe noted that several review bodies, such as the Office of the Privacy Commissioner, can examine the CBSA, but that none of them "review officer conduct or deal with complaints of behaviour nor systemic issues." By comparison, the independent Civilian Review and Complaints Commission for the RCMP accepts public complaints about the police force and investigates member conduct.
The CBSA accepts complaints on its website.
Scott Bardsley, press secretary for Public Safety Minister Ralph Goodale, told BuzzFeed News the government is developing "legislation to create a review mechanism for CBSA officer conduct … and to handle complaints," but declined to provide details.
Bardsley also said the government has made moves to strengthen oversight of the country's security and intelligence agencies, but noted a "gap" in CBSA oversight.
The British Columbia Civil Liberties Association believes an oversight agency should be independent, with the ability to search the CBSA's premises, publish public reports, and proactively launch investigations.
The need for independent oversight agencies is clear, according to Josh Paterson, the group's executive director.
"Law enforcement sometimes protect law enforcement," he said.
Raoul Boulakia, a lawyer who handles immigration and refugee cases, believes there is a "thin blue line" culture within the CBSA, where poor treatment of the public can go unchecked.
"I think that the higher-ups have a tendency to always feel like they should always have the back of the frontline staff," Boulakia said.