The Obamas Were Caught On Camera Dancing At Beyoncé And Jay-Z's Concert And It's Everything
Name a more iconic duo.
In case you're wondering what Barack and Michelle Obama have been up to recently, I have some very, very good news for you: They've been dancing up a storm to Beyoncé and Jay-Z.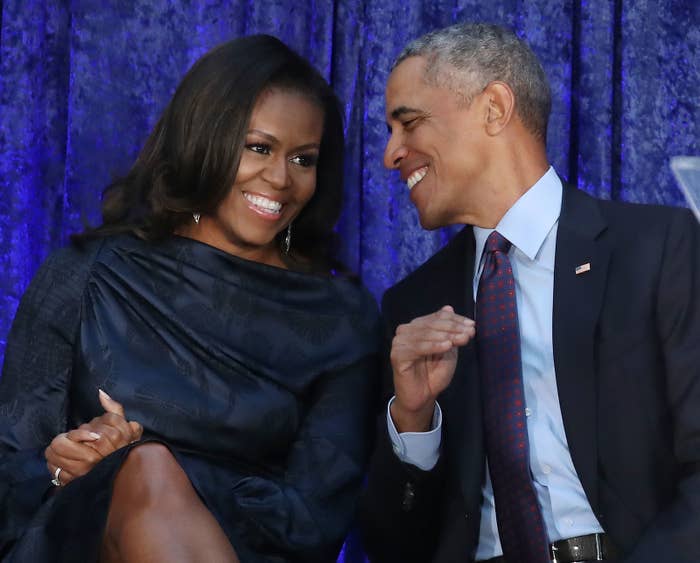 At least, that's what they were doing last night. The couple was spotted at Beyoncé and Jay-Z's On the Run II Tour in Washington, DC, on Friday, where multiple people snapped videos of them dancing. Stop whatever you're doing and WATCH:
Barack was living his best life. LOOK AT THIS MAN ENJOYING HIS RETIREMENT.
They're so good together! They're so hot together! I want to watch these videos forever and ever and ever.
Naturally, lots of people at the concert took to Twitter to share their excitement over seeing Barack and Michelle dancing like crazy.
Imagine breathing the same air as Barack, Michelle, Beyoncé, and Jay-Z ALL AT ONCE.
It took awhile for some concertgoers to even realize that the Obamas had crashed the party.
All in all, people were very excited to see the two out ~in the wild~. It's lovely to see them happy!!!
Fun fact: This isn't Michelle's first time seeing the show. Earlier this month, she attended On the Run II's Paris show, where she danced on the sidelines with Queen B's mom, Tina Knowles.
Name a more iconic duo. I'LL WAIT.