The Drag Queens From Taylor Swift's New Video Are Sharing Their Experiences On Set And It's Honestly Emotional
"I was treated like a treasure. I was celebrated."
The video features celebrities like Ellen DeGeneres, Katy Perry, the Queer Eye Fab Five, Laverne Cox, and Ryan Reynolds. But in my humble opinion, the BEST cameos were the incredible drag queens who showed up at the very end, dressed like today's biggest pop stars.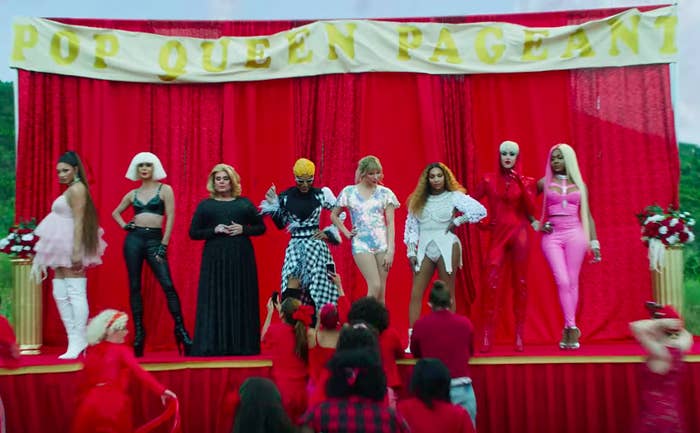 And if you're wondering what it was like for those ladies to spend the day with Taylor Swift, well, they're happy to tell you! Since the video's release, many of them have posted behind-the-scenes stories and pictures on social media.
So, without further ado, here's what the "You Need To Calm Down" queens had to say about workin' with Swift:
Trinity the Tuck, who played Lady Gaga in the video, described the production as "insanely huge and so fun," and called Taylor "the nicest, most humble and genuine person."
Delta Work (AKA Adele) said Taylor called her personally a few months ago to cast her, and her experience on set sounds pretty incredible: "I was treated like a treasure. I was celebrated. I was given any and everything at my disposal."
Riley Knoxx, the video's Beyoncé, posted this photo of herself and TSwift...
...and wrote a reflection of her day on set that MIGHT make you a lil' misty:
I want to say thank you to this beautiful soul not only for casting me in her video and hand-picking me, but also for taking the time to research and learn about my story! @taylorswift is the nicest person I have ever met in my entire life, not celebrity, but nicest person! I was so excited when I first learned that I would be in your video but even more excited when I made a new friend. Sitting talking with you for hours will be the most unforgettable experience of my life! The advice you gave me about dealing with being in the public eye and the fact that you took time to just sit in the dressing room pour us champagne and just lay back on the couch and have fun in the dressing room chatting about life! Thank you for making me a part of your beautiful art!
Trinity K. Bonet, who played Cardi B, called the gig "rewarding" and said, "You don't get many memories like this."
Jade Jolie, who had the distinction of portraying Swift herself in the video, said it was "the best day ever," adding: "[Taylor] treated all of us like queens & showed us so much love & kindness."
And A'keria Chanel Davenport, aka Nicki Minaj, had this to say: "The best part of it all was the behind the scenes, just talking and having good laughs with @taylorswift on a personal level! Mama is definitely that bitch."