You are probably aware that there is a pretty major movement going on in Hollywood at the moment, with SAG-AFTRA officially calling for a strike in mid-July.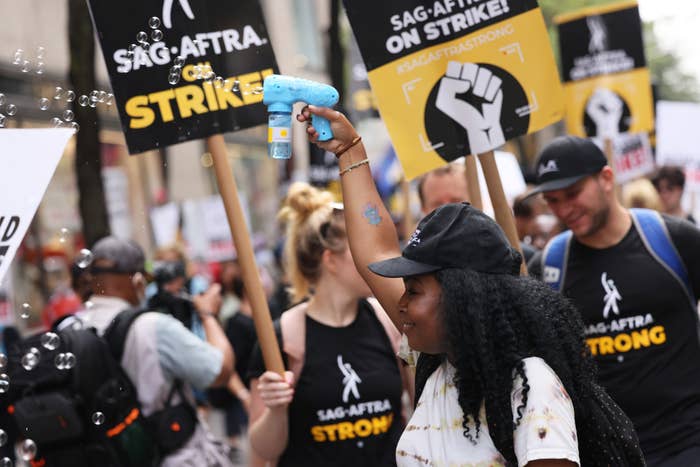 SAG-AFTRA is made up of the Screen Actors Guild and the American Federation of Television and Radio Artists and represents more than 160,000 media performers. It is the world's largest performer and broadcasters union, and the vast majority of celebrities are members.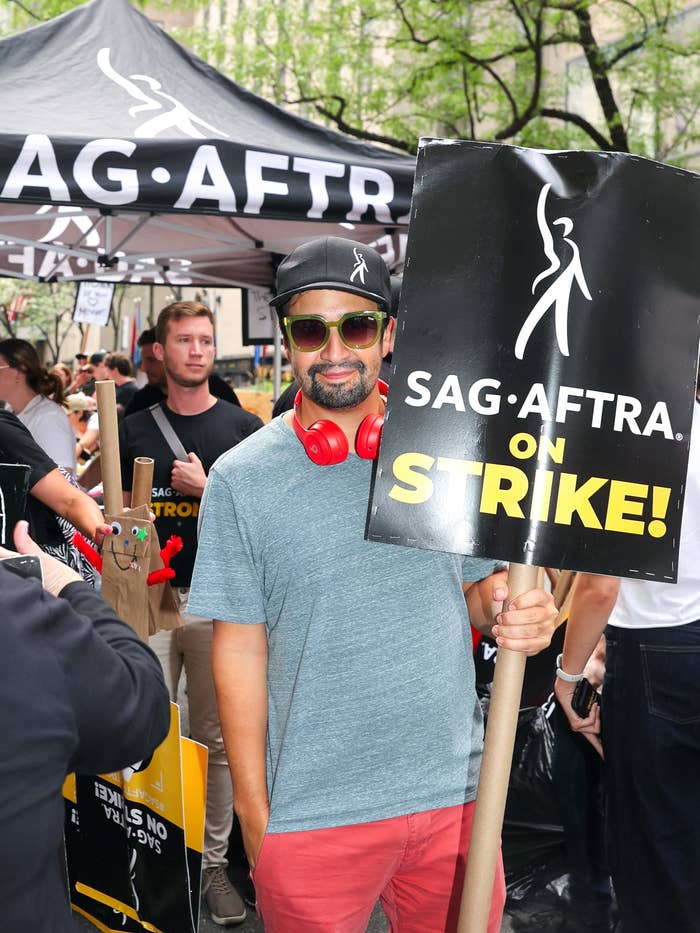 The acting strike started two months after the Writers Guild of America's strike began, with the WGA hoping that the addition of actors will increase the power of their negotiation team. 2023 marks the first time that actors and writers have been on strike together since 1960.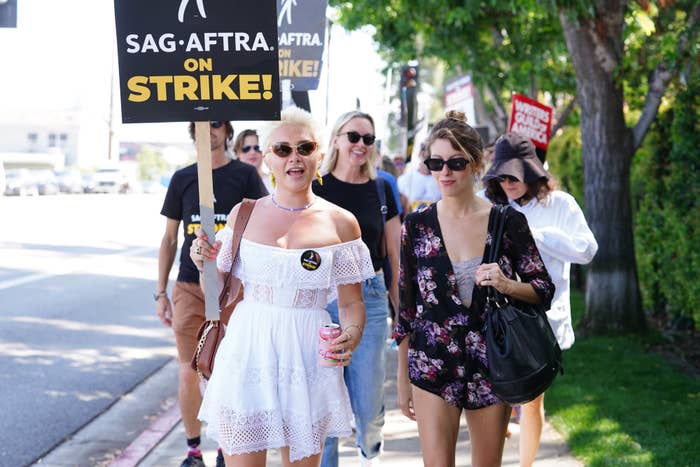 Both unions are bargaining with the Alliance of Motion Picture and Television Producers, which covers all major studios such as Disney, Netflix, and Warner Bros., for more financial protection amid the increasing use of AI and the lack of compensation in this new era of streaming.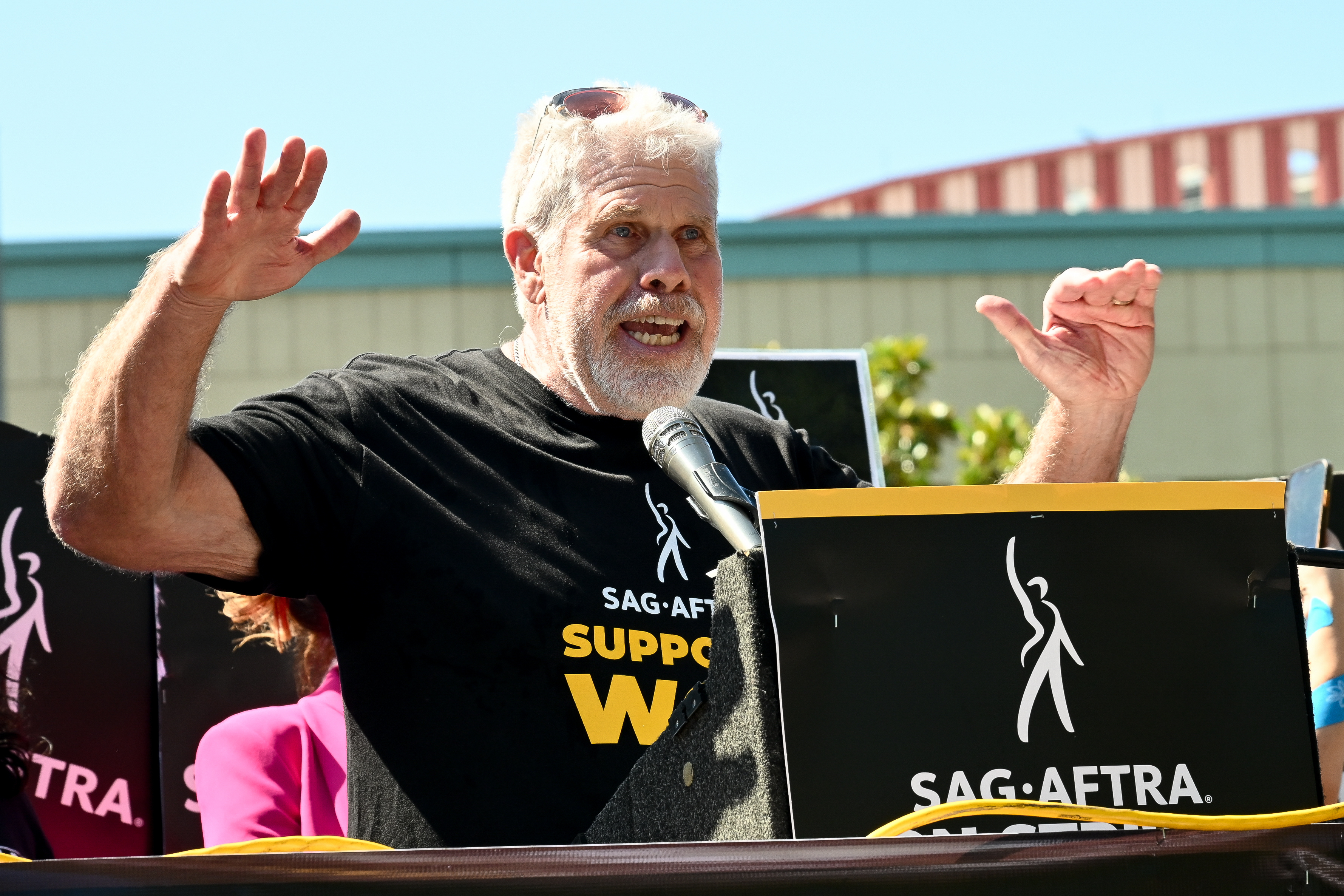 Speaking at the Oppenheimer premiere, which the cast abruptly left when the strike began, Matt Damon summarized: "If our leadership is saying that the deal isn't fair, we've got to hold strong until we get a deal that's fair for working actors. It's the difference between having healthcare and not for a lot of actors."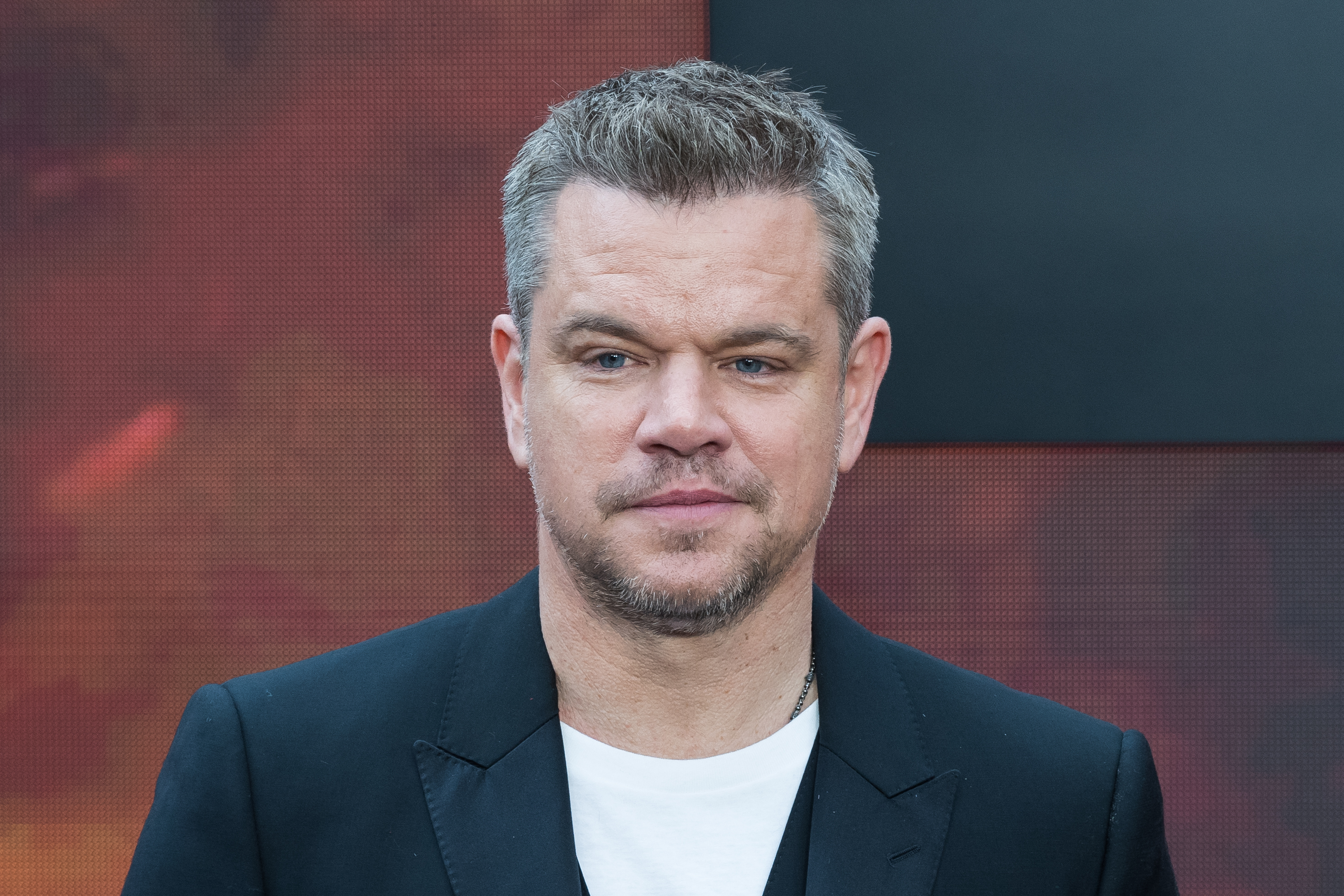 Other famous faces have also lent their support to the cause by showing up at picket lines, donating to foundations in support of the actors and writers who are financially impacted by this halt in production, and sharing their solidarity on social media.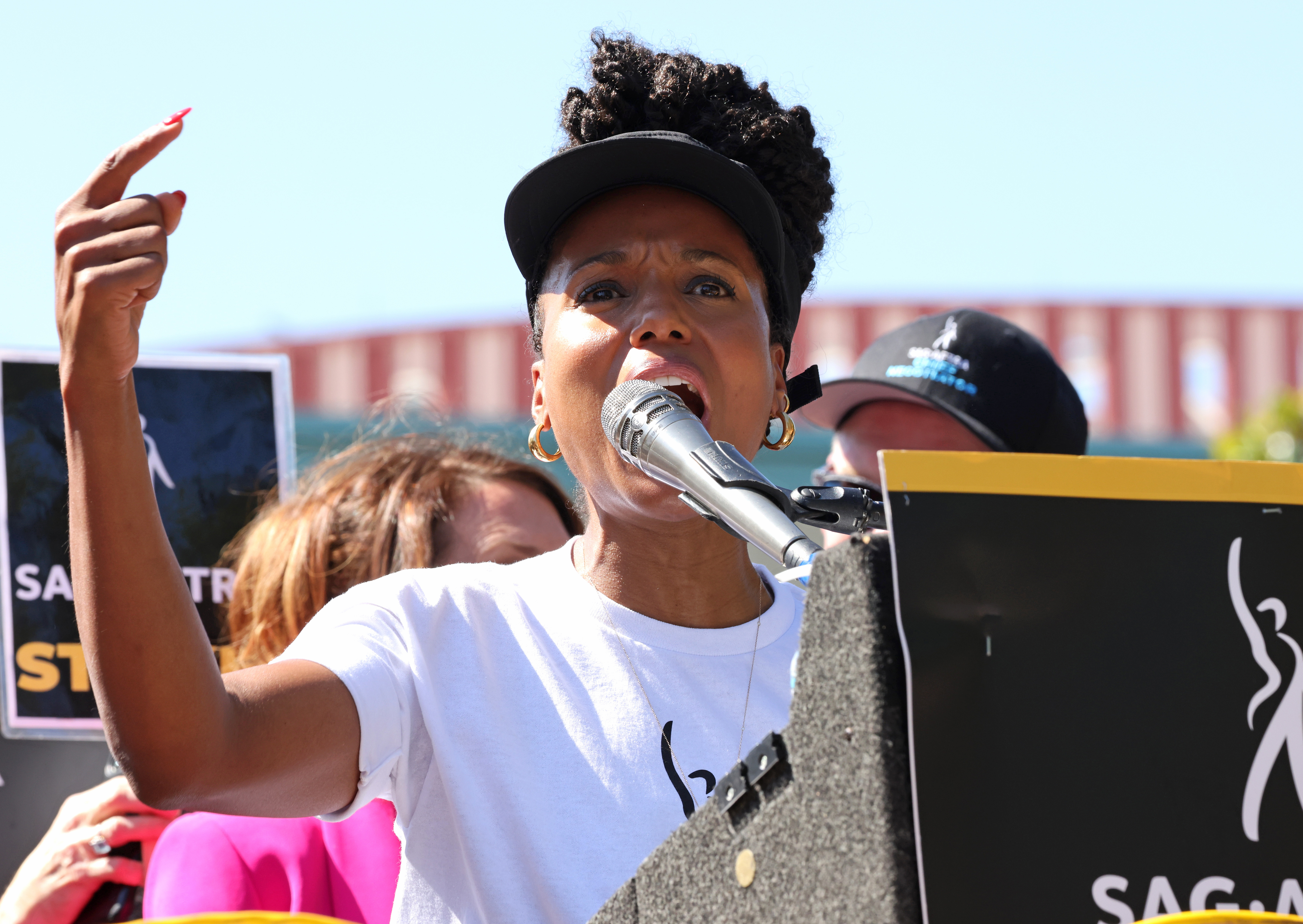 But even if they don't publicly acknowledge the movement, all members of the SAG-AFTRA union must abide by the strike rules or they could face disciplinary action.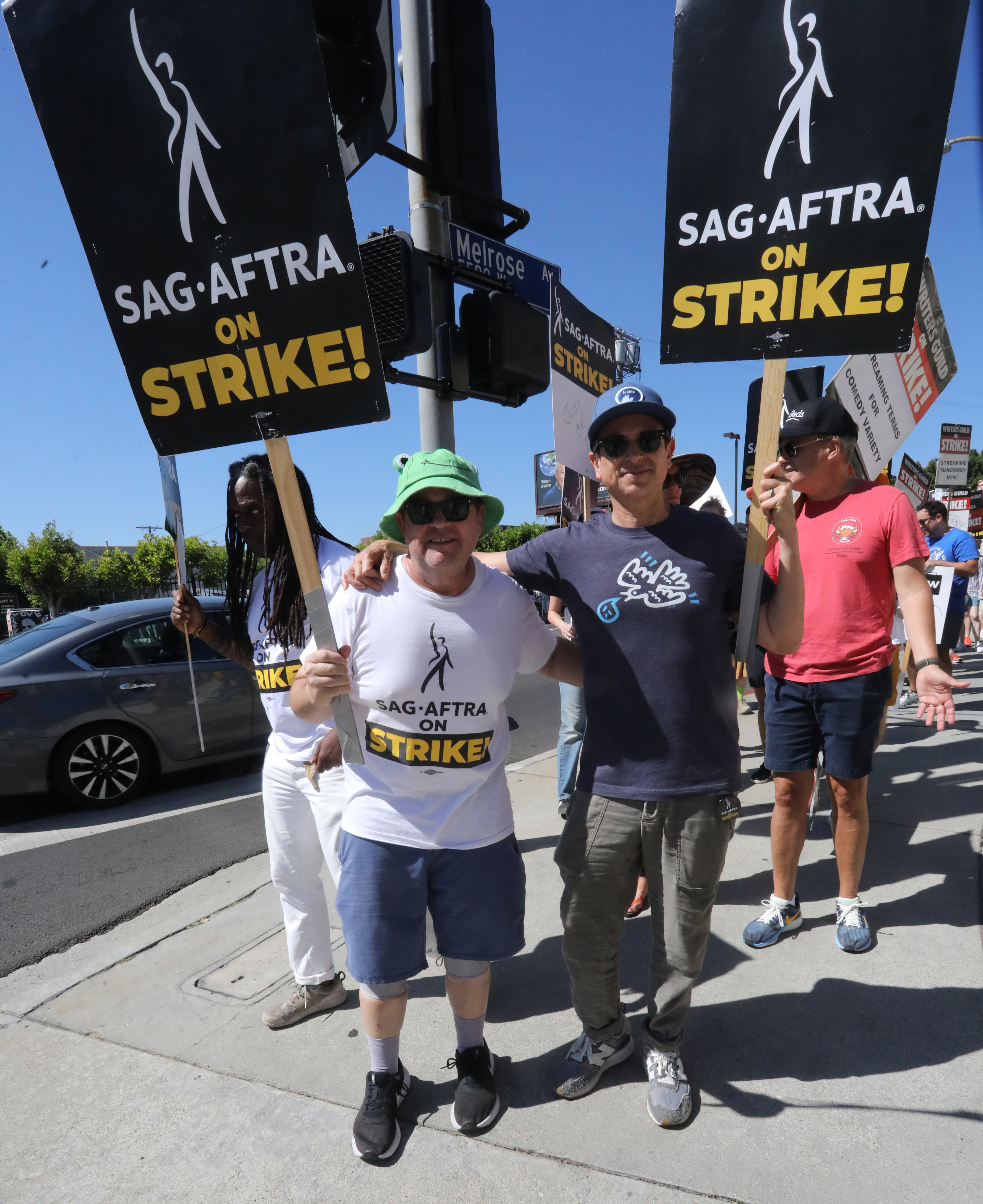 Under the rules, no member can "accept new work for promotion of struck companies or their content," they must also "refrain from posting on social media about any struck work," and can not "participate in conventions such as Comic-Con on behalf of or to promote" the companies that they are striking against.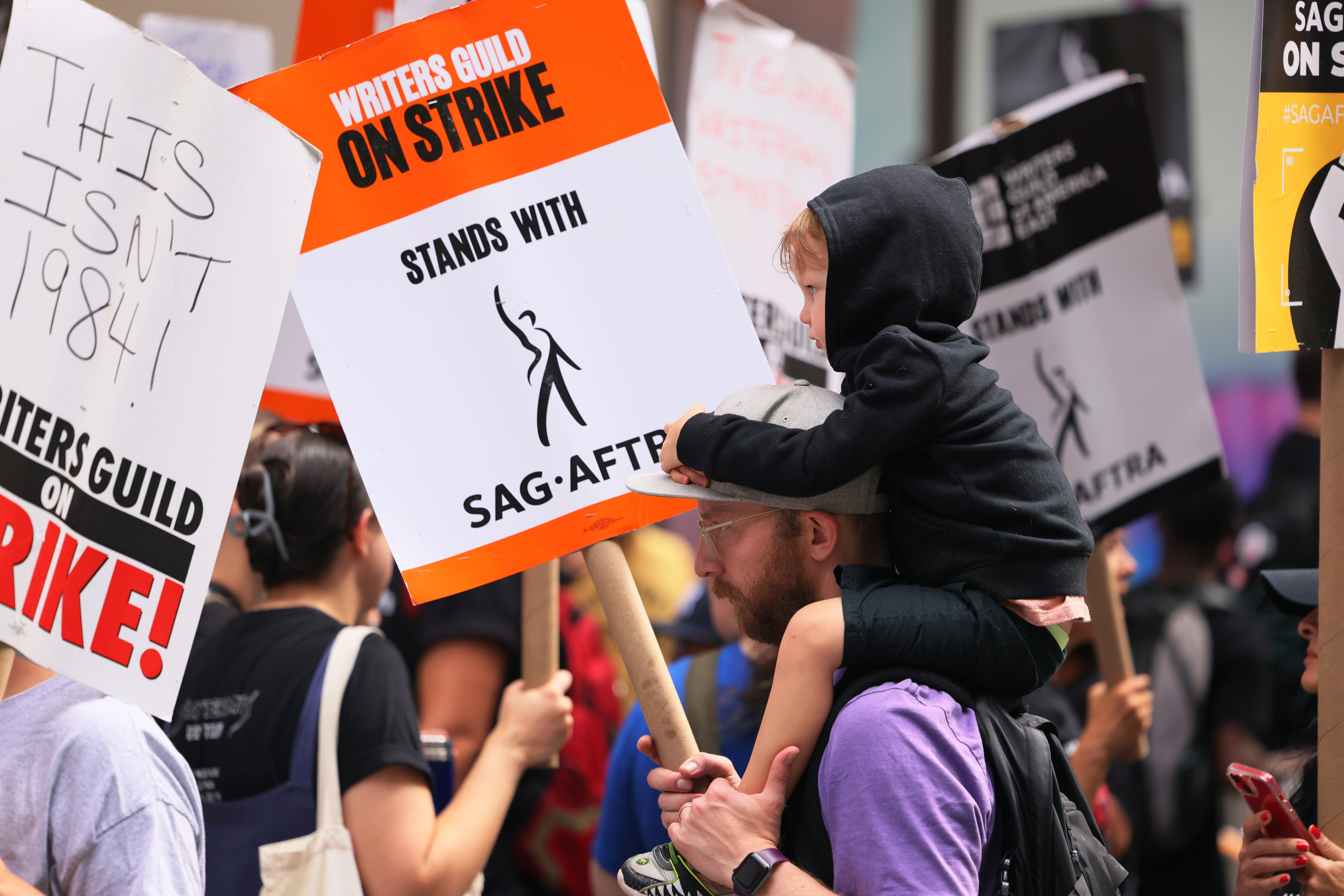 Disciplinary action could be anything from a reprimand to a fine, or even full expulsion from the union.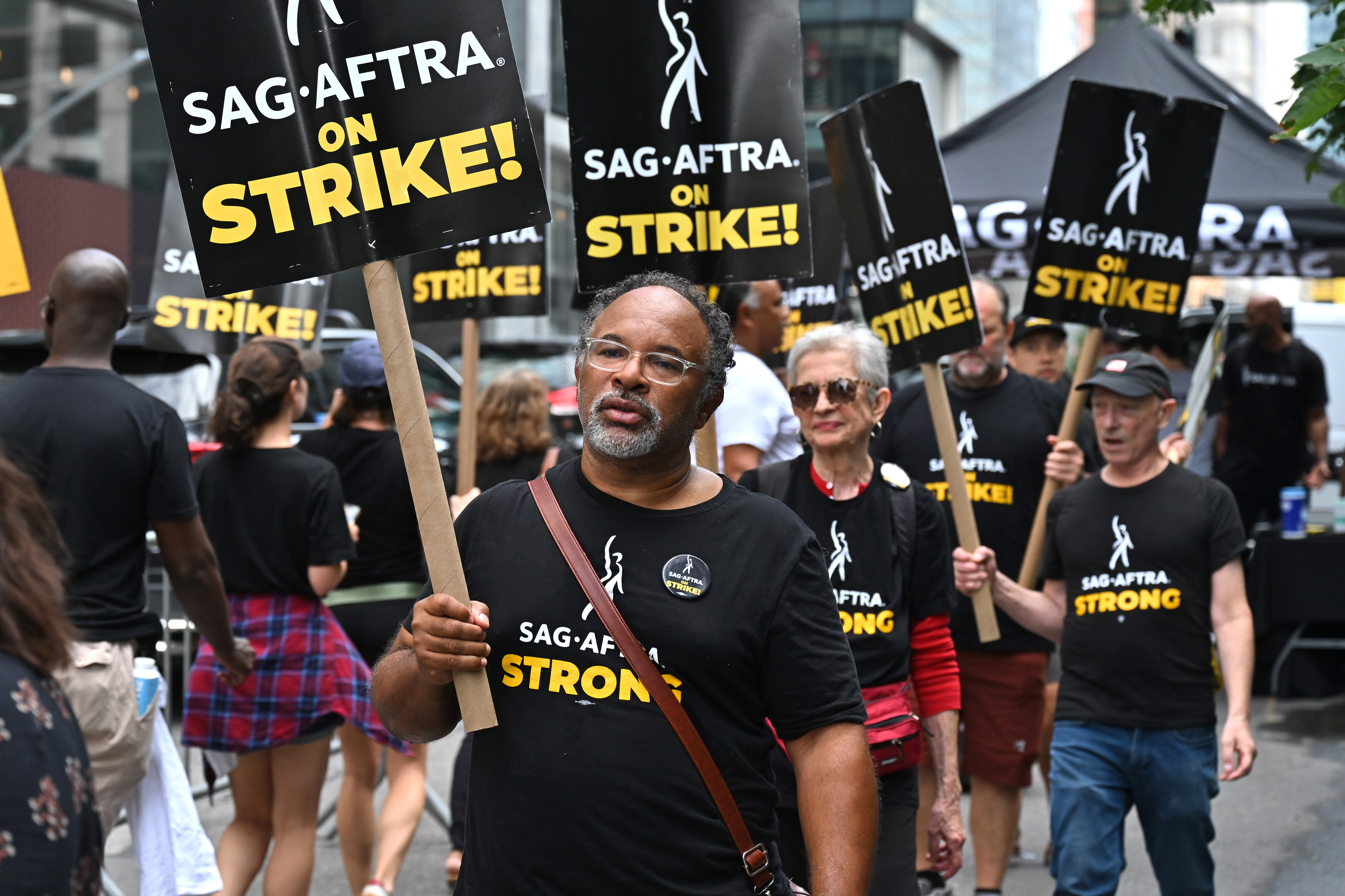 While any actor who is not yet a part of SAG-AFTRA is technically allowed to work for the struck companies without any immediate repercussions, they will be refused admission into SAG in the future.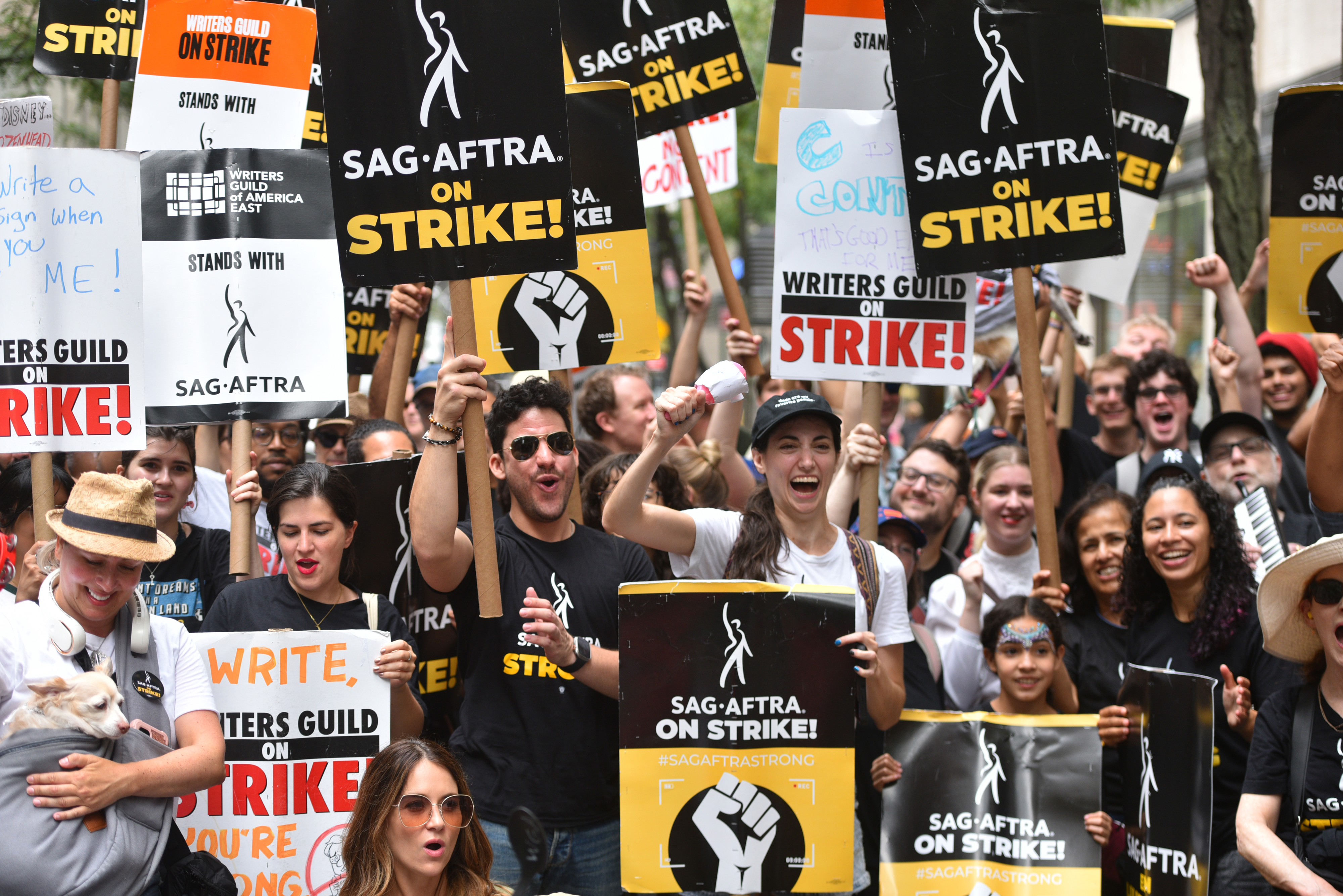 In fact, SAG went so far as to release a notice that stated: "Any nonmember seeking future membership in SAG-AFTRA who performs covered work or services for a struck company during the strike will not be admitted into membership in SAG-AFTRA."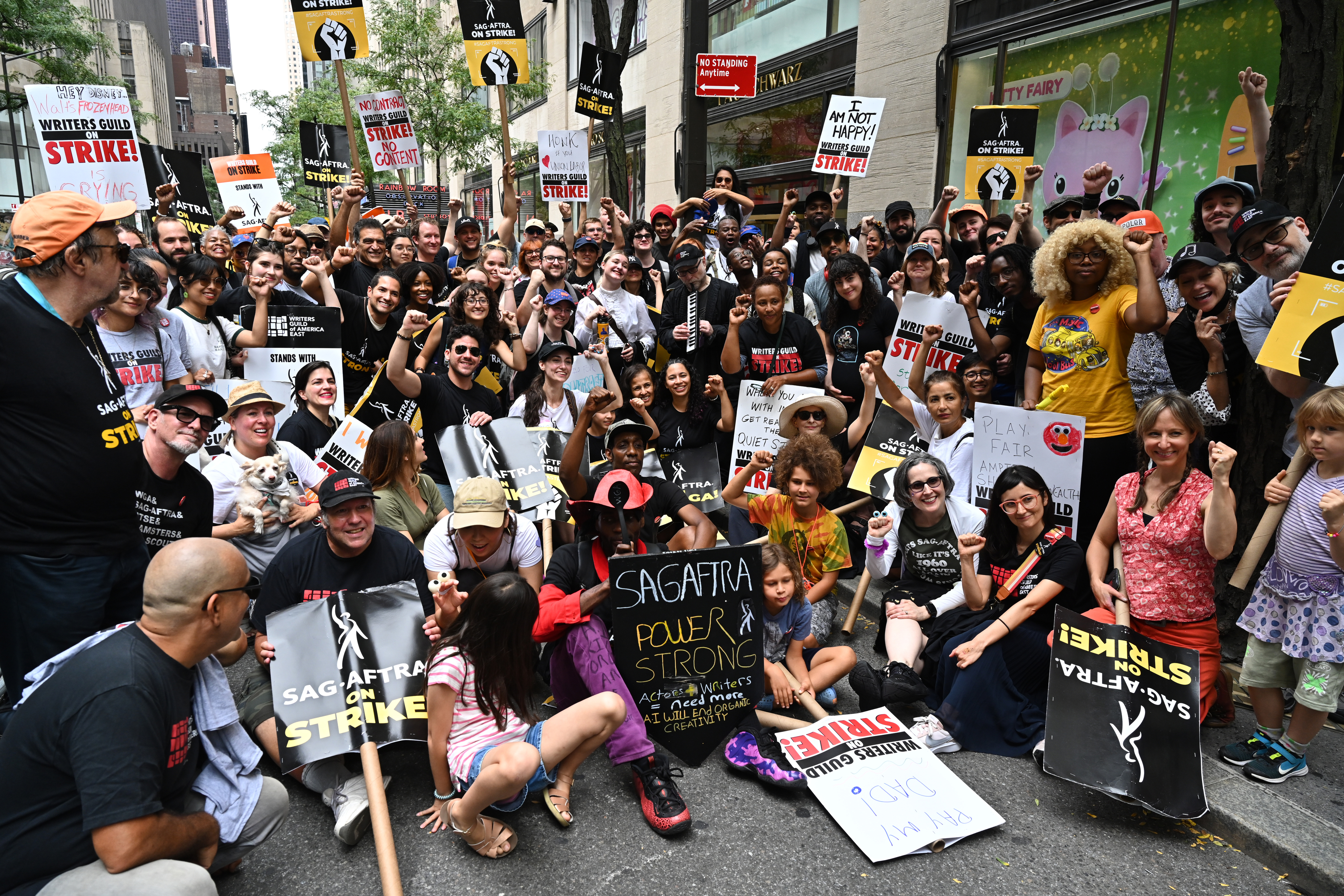 The strike rules have been largely abided by so far, and many celebrities have been vocal in their support for the union. Earlier this month, Selena Gomez utilized her position as the most followed woman on Instagram by sharing a concise breakdown of the strike to her Instagram story.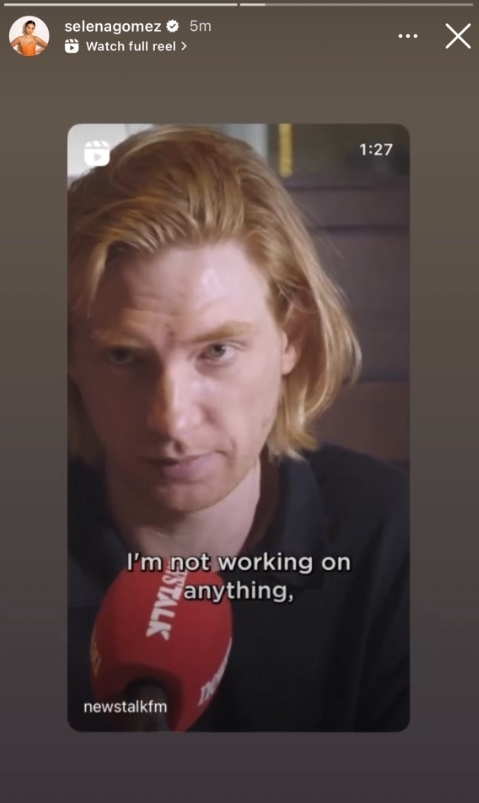 The star reposted NewsTalkFM's video of actor Domhnall Gleeson discussing the strike in an apparent show of solidarity. In the clip, Domhnall explains: "As I'm a member of SAG I'm not working on anything, or doing anything, or even talking about anything. Because the whole point of the movement is cutting off the supply line to the studios and the people who make content."
"The people who make, like, movies and TV for streamers, that's the work that's being struck," he adds.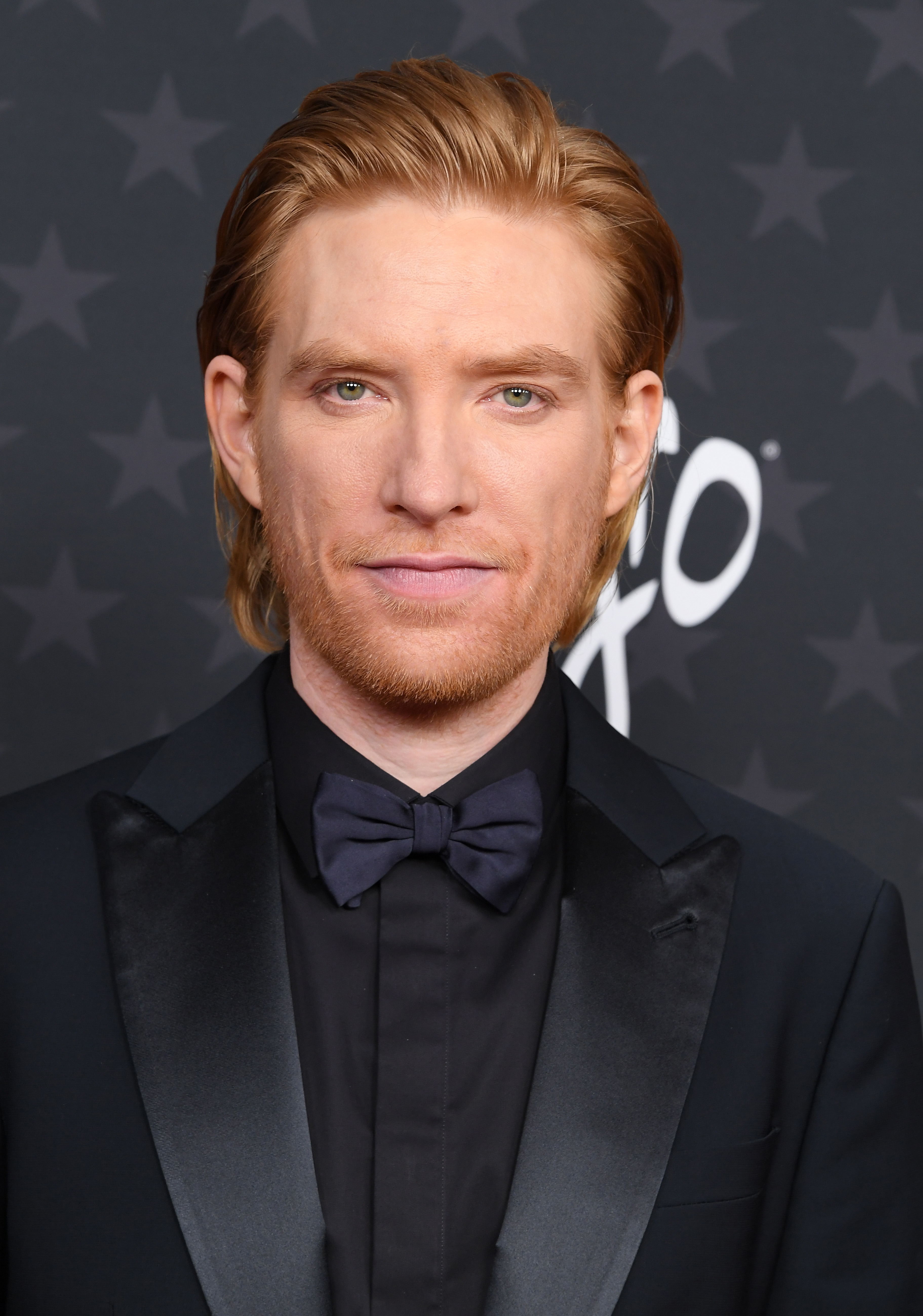 But just one week later, Selena has sparked confusion after she broke SAG-AFTRA's strike rules by posting about her Hulu series Only Murders In The Building.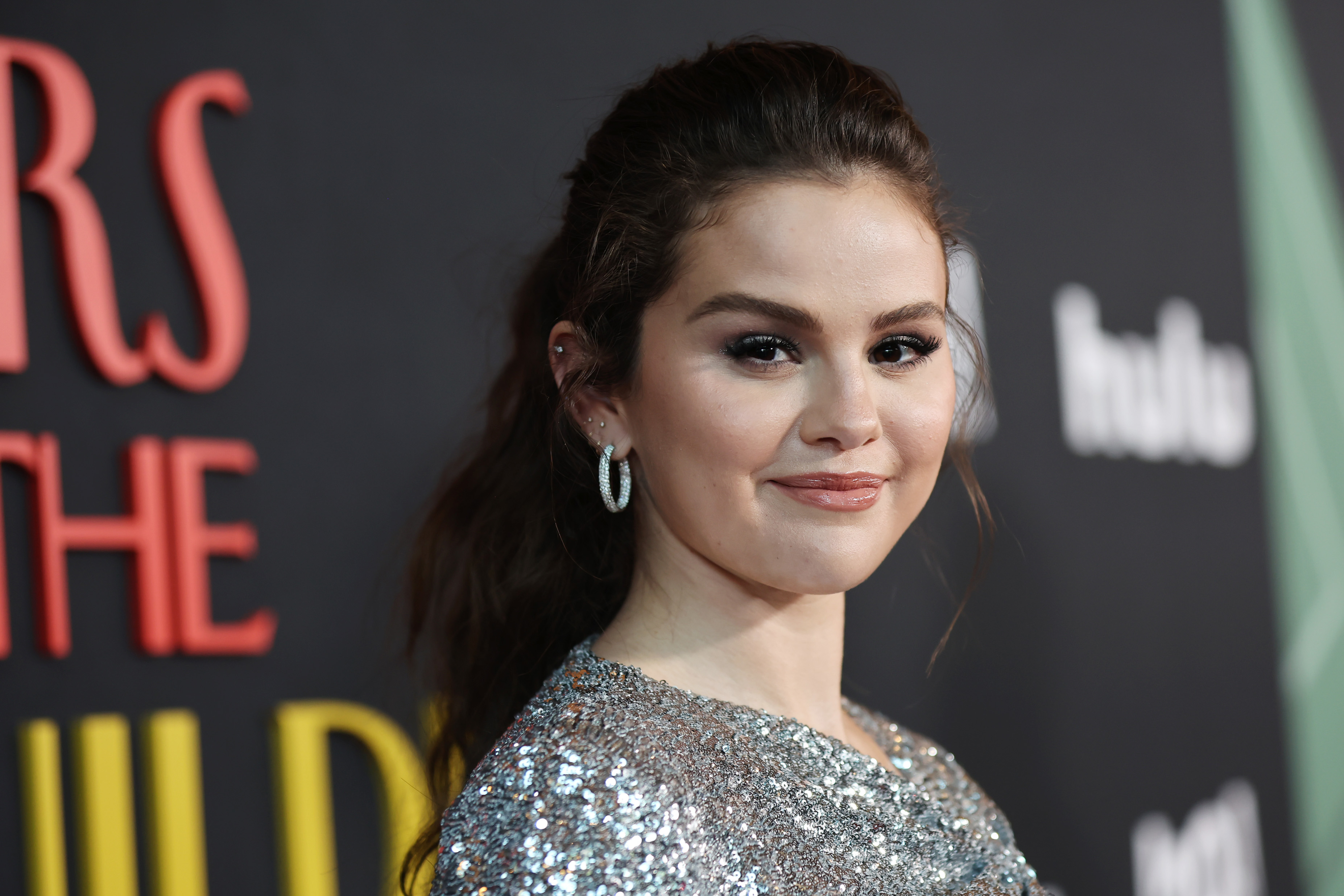 Selena has starred in the show since 2021, and on Tuesday she shared a behind-the-scenes video from filming alongside the caption: "Missing and wanting @onlymurdershulu." She also tagged Only Murders' official Instagram page and Hulu in the video.
This is a clear breach of SAG-AFTRA's strike rule that actors need to "refrain from posting on social media about any struck work," and followers picked up on it immediately.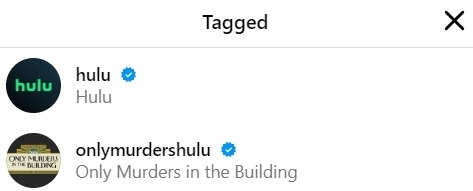 Commenting on the post, one person wrote: "I know you're not out on the picket line every day so you're not thinking about it but please remove the promo out of respect for the SAG-AFTRA strike and your fellow actors who are trying to get a fair deal and livable wages."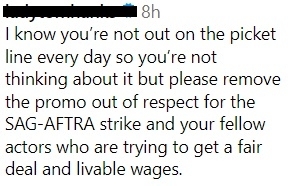 While another simply wrote: "girl the sag strike????" Someone else added: "you are still on strike, delete it for your own good!!!"


As Selena's fans desperately flooded her post with comments urging her to delete the video, or at least remove the direct references to Only Murders and Hulu, the star was also called out on a Reddit forum.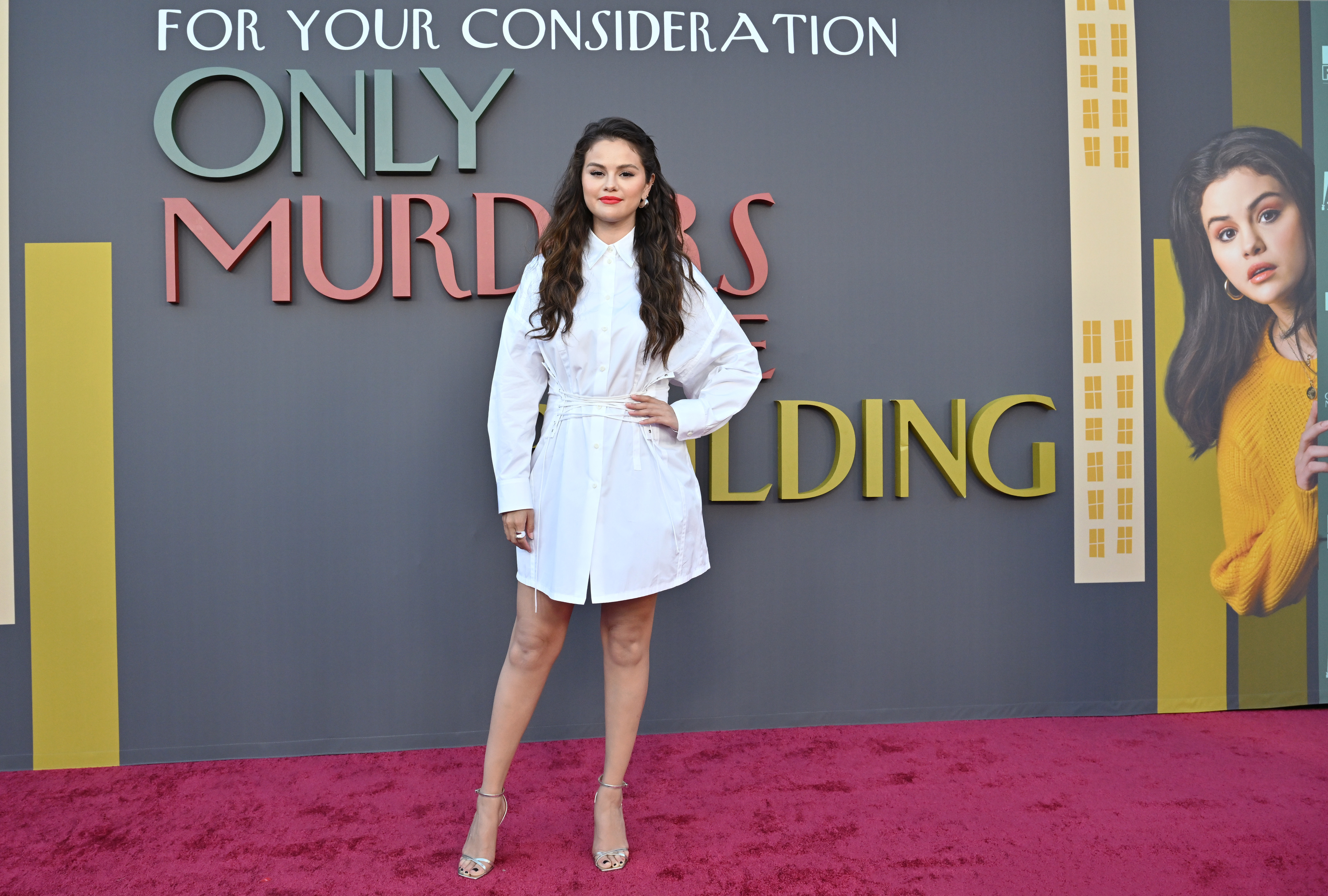 Someone commented: "This is direct violation. You're not supposed to mention your work, any work cause social media posts equal to promotion of said work. She is in BIG trouble. Possible blacklisting cause this is DIRECT VIOLATION of the promotion rules. Yikes."

"It's so disrespectful to everyone on strike," one more wrote. Another added: "The show didn't need promotion to begin with. If anything, this is going to give it bad rep amongst the industry."


"This shit annoys me so much. You can't strike against studios and promote the studios work at the same time," someone else pointed out.

It was speculated that Selena may have found a loophole in the strike rules because she is an executive producer in addition to an actor on the show. However, it was clarified that this would still break the rules as a member of SAG-AFTRA, which Selena is assumed to be as someone who has been in the industry since she was a child.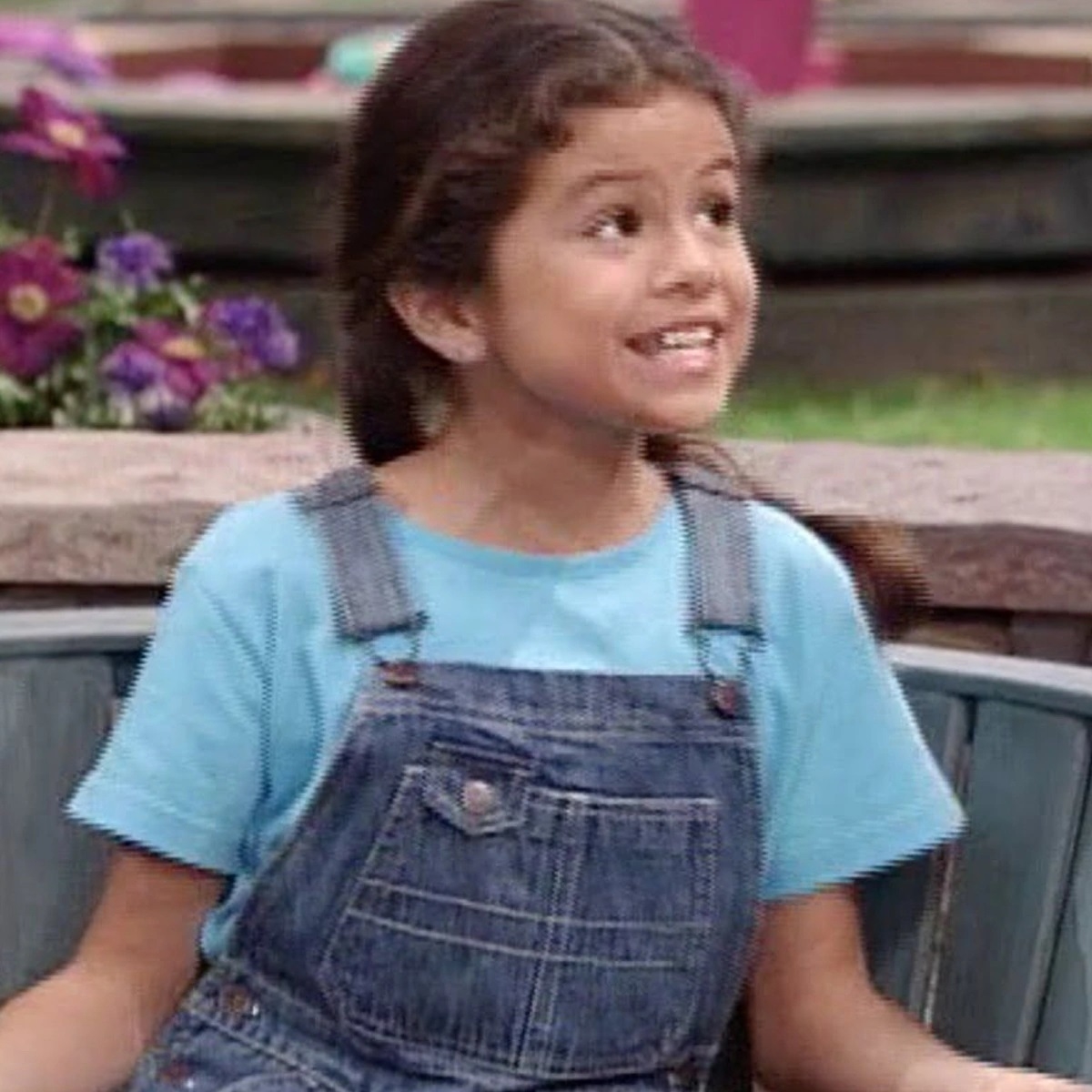 Some then argued that even if it was technically allowed, "it is a terrible look" for Selena to be finding ways to get around the rules instead of supporting her fellow actors.

Others questioned whether the post was a genuine mistake, but it didn't take long for users to notice that soon after she shared the backstage video Selena posted a selfie with the mantra "speak your mind, even if your voice shakes" written on a post-it note.
Selena did not add a caption to this post, but many found the timing of it suspicious.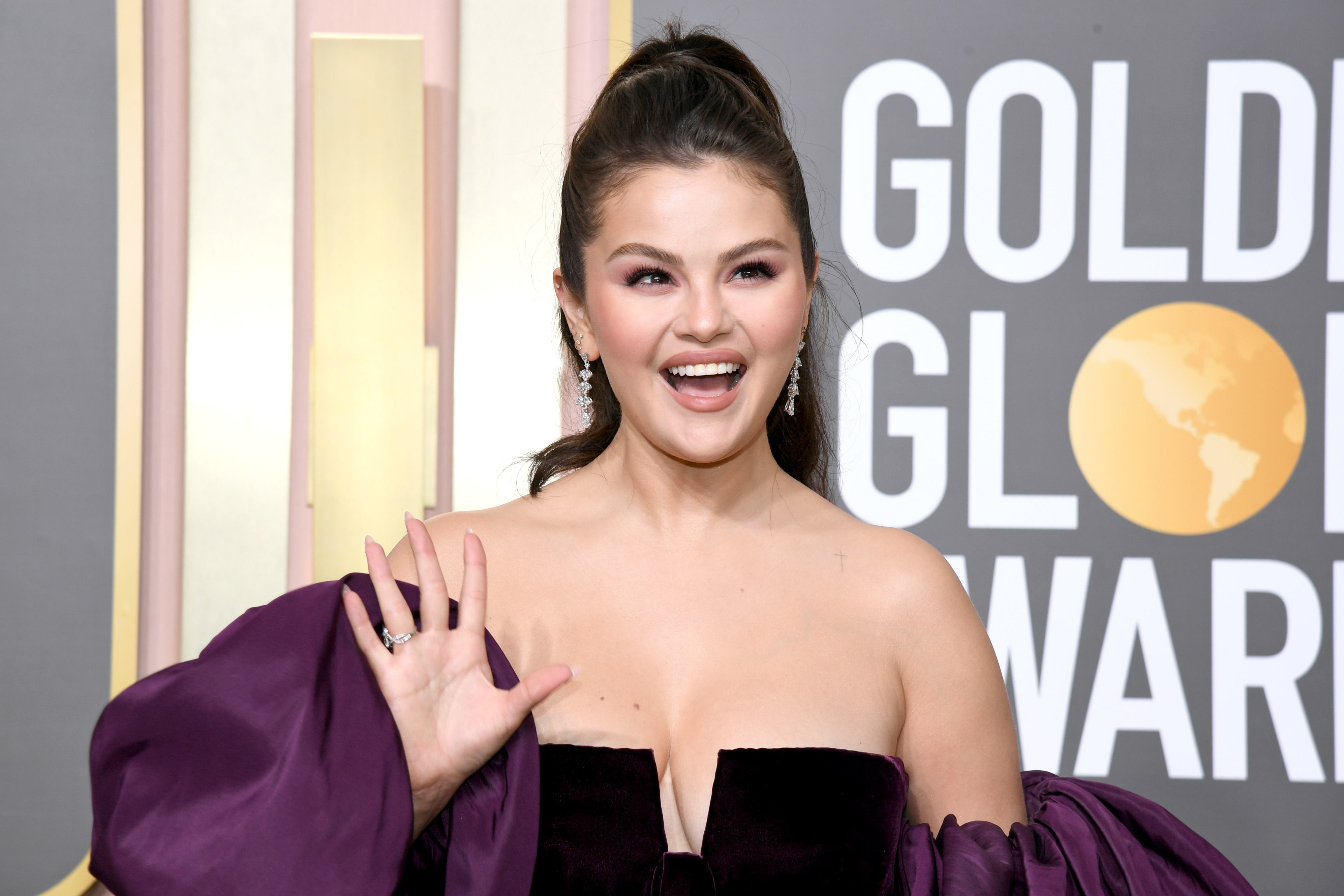 "It's pretty weird that she posted this an hour after. It's like she saw all the comments telling her to delete, and she was like nah. I'm going to do what I want to, even if it violates the strike," one person wrote.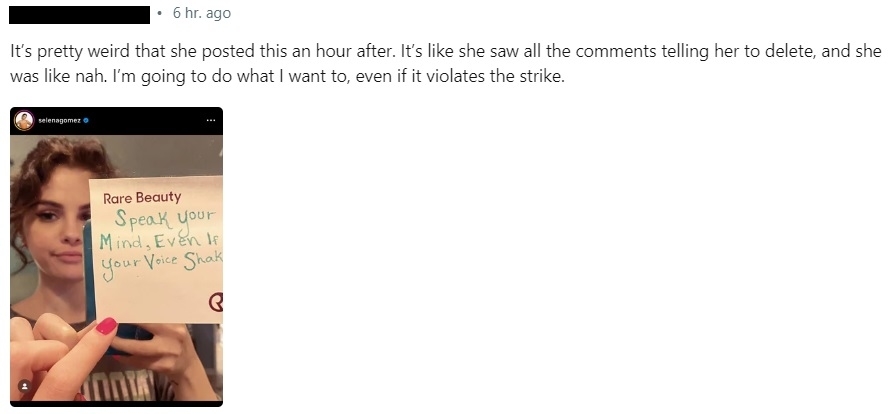 Another agreed: "she followed it up with vague posting 'speak even if your voice shakes'. Like wtf Selena, how out of touch are you? Like she's some hero for violating the strike."

It was also widely speculated that Selena may attempt to redeem herself amid the backlash in a similar way to Stephen Amell, who was pictured on the picket line shortly after courting controversy by saying that he didn't agree with the strike.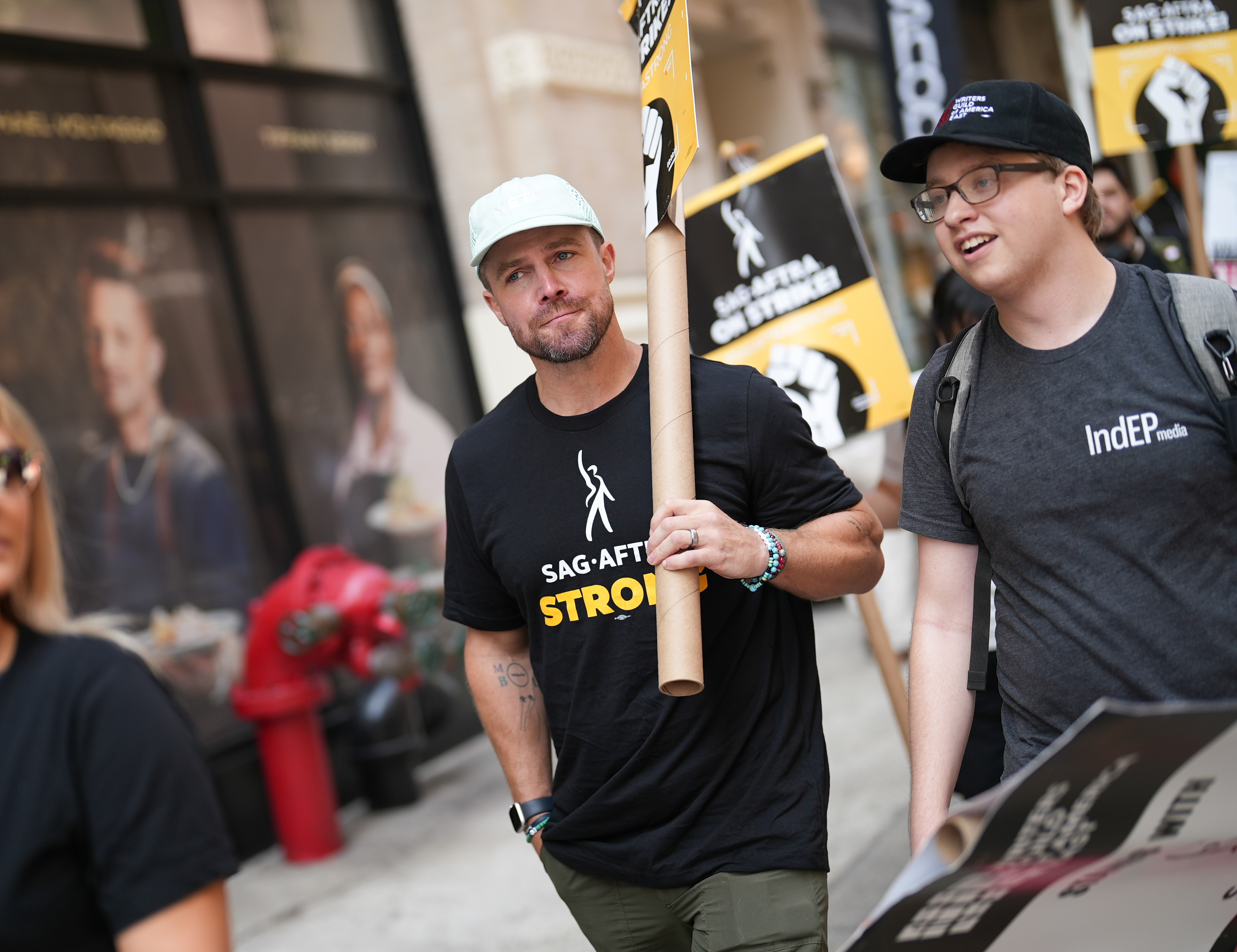 "She's going to have to pull a Stephen Amell. We'll see her protesting at the picket lines in due time," someone claimed.

Another agreed: "She will be pictured on a picket line by Friday."

So far, Selena has not publicly acknowledged the fact that she has broken SAG-AFTRA's strike rules, and both controversial posts remain live on her Instagram account.