Target is pulling a shirt for boys that replaced Princess Leia with Luke Skywalker after days of customer complaints.
The shirt, which cost $4.50, seems to be inspired by this image of Darth Vader and Princess Leia. Darth Vader is flanked by Daine Jir in the original image, which is cropped out below.
The picture comes from a scene in A New Hope that features Princess Leia being pretty badass as she faces off with Darth Vader.
But when Target released the T-shirt, fans were quick to notice the photo seems to have been altered pretty drastically.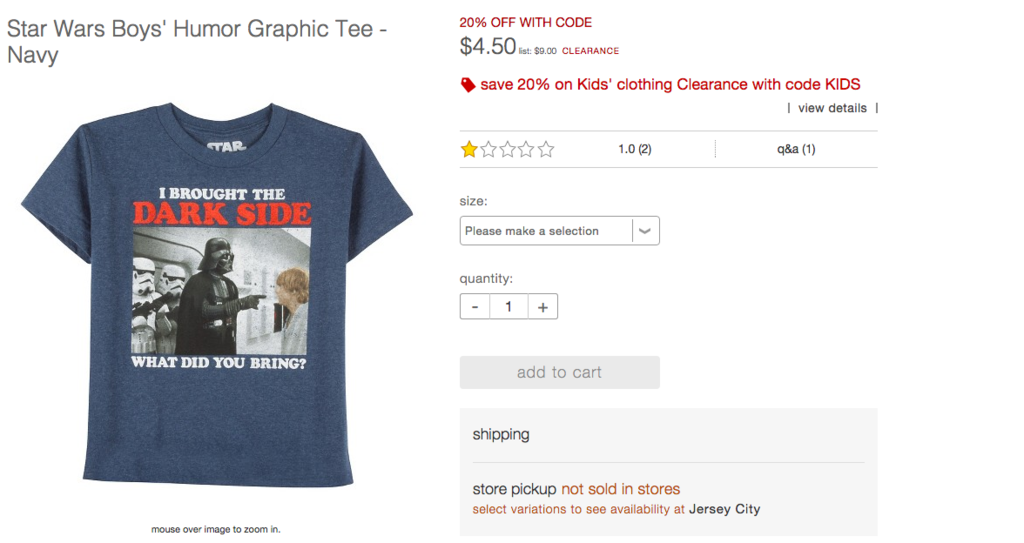 The shirt replaces Leia with Luke, who isn't even in the scene.
The change was quickly noticed by websites like The Mary Sue, and many fans took to social media to express their outrage.
Some people said that the choice to take Leia out of the scene was a clear example of sexism.
"How sexist can you be,Target?"
Other people took a more lighthearted approach, saying that the store had clearly gone to the "Dark Side."
"The Force doesn't have a glass ceiling...put Leia back!!"
After days of complaints, Target decided to listen to the fans.
The company is in the process of pulling the shirts from their shelves, spokesman Joshua Thomas told BuzzFeed News.
"The fans have spoken and we are going to remove that shirt from our assortment," he said.
Thomas added that the shirt was not designed by Target, and is still being sold at other retailers.