Tadhg Fleming is a filmmaker from Ireland. On Tuesday, he posted a video on Facebook that you need to watch ASAP.
Fleming was enjoying an evening with his family when a bat flew into their house. His dad, Derry, tried to catch it...and OMG just watch.
Fleming's dad grabbed a towel and tried to catch the bat. The ensuing commentary is pure gold.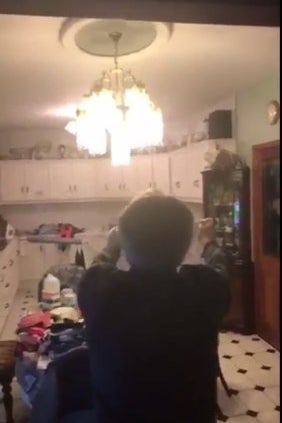 "He actually grabbed one of the towels my mam was ironing and then he went for a bigger towel. It was just pure chaos," Fleming told the BBC.
After getting more than 1.3 million views on Facebook, the video soon migrated to Twitter, where it has been retweeted over 100,000 times. "The world is going to hell. You owe it to yourself to watch this video of Irish people attempting to get a bat out of their kitchen," Jonathan Hopkins, who posted the video, wrote.

People were obsessed, calling it "comedy gold."
And "Catch him Derry" was declared the phrase of 2017.
"I nearly made myself sick laughing at that. You're a funny man, thanks for sharing," singer Hozier wrote.
They shared their favorite parts, like Fleming's mom cowering behind the door.
They demanded T-shirts.
Memes were created.
Brands even got involved.
Fleming told the BBC that the international attention for his video has been completely insane.