A Cop Is Going Viral After He Was Spotted Playing Football With A Group Of Kids
A man in South Carolina uploaded the video to Facebook saying he wanted people to know "what kind of cops we have in this town."
A video of a cop playing football with a group of kids is going viral after it was posted earlier this week.
The man who uploaded the video, Lorenzo Adams, wrote that the cop was an officer in Bennettsville, South Carolina.
Adams wrote:
Just driving by and witnessed this,,,, had to video Because of all the other videos out there,, please SHARE so people can know what kind of Cops we have in this town!!!!!
The video has been viewed nearly four million times since it was posted on Tuesday.
Bennettsville Police Chief Larry McNeil told BuzzFeed News that the officer in the video is named C.J. Mullinax, and he does this sort of thing all the time.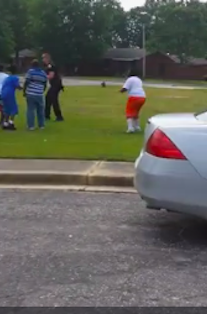 McNeil said that for the past eight or nine years the department has encouraged its officers to take time out of their days and interact with people in the town.
"The idea is to spend time with the community," he said.
McNeil said their goal is to build trust between officers and community members, and they believe they have been successful.
"The concept is to be a part of the community," he said. "We live here. These are our neighbors too."
McNeil said he thinks Mullinax is a "rock star," but all of his officers do things like he did.
"We were just fortunate and blessed that someone took a picture of it," he said.
Adams wrote on Facebook he's happy the video was being shared as a positive example of police officers in the community.