Everything You Need To Know About Tati, The POV Reaction TikToker That's All Over Your FYP
MAKE HIS POCKETS HURT!
It's an undeniable fact that Tati Mitch, known as @thereal_tati, is currently carrying TikTok on her BACK right now.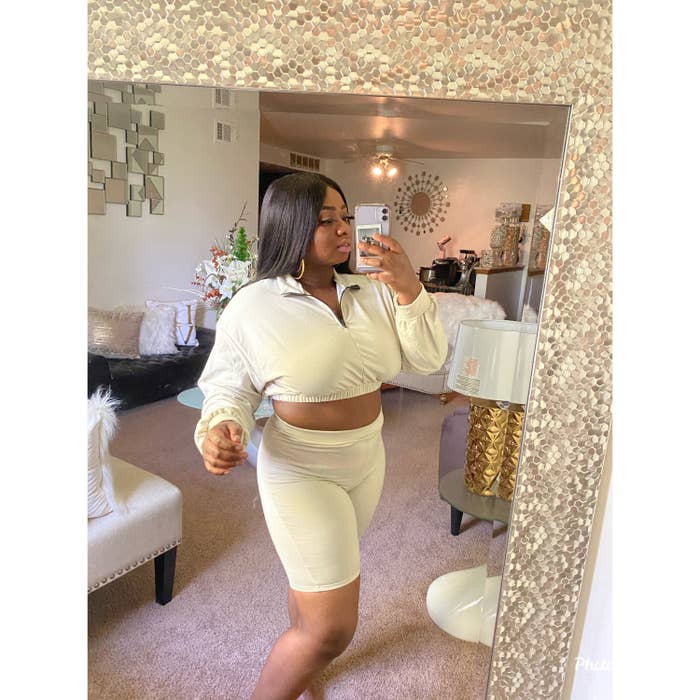 The success of the 21-year-old's hilarious reactions to different POV scenarios have garnered her more than 1.7 million followers and 47.3 million likes, with fans now affectionately calling their community "Tati-tok."
POV, or "point of view"-style videos have become a popular format on TikTok, where people film themselves in imagined conversations and dramatic scenes for other people to riff on.
Specifically, Tati's duets with @devincaherly have become a recurring storyline in her POV reactions, with fans shipping #Tevin and their *undeniable chemistry*.
Tati told BuzzFeed that she was inspired by other funny reactions she saw on her "For You" page and wanted to make people laugh.
"I love to make people laugh, and when I saw all these hilarious reactions, I was left screaming! They're all so funny. So I wanted to take my shot at it."
The popularity of Tati and Devin's duets completely surprised her, she says. "It's hilarious; I started off just being like, 'let me duet this boy, he has funny videos!' And then people kept tagging me in his videos, and then he started reacting to my videos and going along with it."
In the most recent development of this TikTok saga, Devin is flying Tati out from Michigan to New Jersey this weekend for their first official meetup.
"I'm excited to create more content with him! He's so creative, as well as so sweet and caring, too."
But beyond the Tevin tea, Tati is so glad people are able to be creative with her reactions and have fun with the content she makes — from creating dances and sharing their own spinoffs and adding to the Tati-tok world.
And, of course, we had to check to see what side of TikTok her FYP is showing her. "I wanted to answer this one! I am on the ALT SIDE!" she said. "I don't see no one dancing, and I have so many amazing creators on my FYP, like @itsundos, @fatraco0n and @spencewuah."
"I appreciate my followers so much, and I never knew I could get this much love on TikTok. So much has changed — now I have supporters from all over the world. They're making dances with it and everything, I love it so much! I am so beyond blessed and thankful for these opportunities."
In the end, Tati hopes her videos will continue to inspire people to just put themselves out there and be themselves. "Who cares if you get judged, because at the end of the day, don't worry about them. Be as creative as possible!"
"As a Black TikTok content creator, I'm happy to have grown as much as I have. I see other Black TikTokers growing their pages and finding success, speaking on Black Lives Matters and other under-discussed topics. I know a lot of people get shadow-banned when they talk on these issues, but I have hope that we can overcome it and find success together."
And when asked about her future with Devin, Tati laughs. "Oh, I don't know. Whatever happens, happens. We have to talk more and feel each other out, but if we don't become a relationship or whatever, I would love if we could be really good friends!"