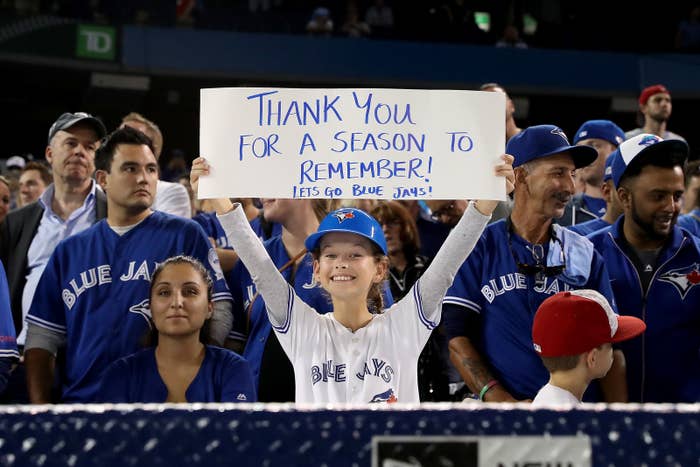 The first time I saw the 2016 Toronto Blue Jays in person, it was early March at the Yankees' George M. Steinbrenner Field in Tampa, Florida. It was 24°C and sunny, children in ball caps were gathered at the railing clamouring for autographs, and our newly anointed American League MVP Josh Donaldson had his pants rolled up with a portable speaker blaring music from his back pocket. It was a simpler time then — the team was mighty, refreshed, ready for another season, and everything was full of possibility. (They won that particular meaningless spring training game against the Yankees, 11–4.)
Had you asked me that day if I thought the Blue Jays would make it as far as they did this year, I likely would have dodged the question. Part of feeling like the underdog for so long is knowing you should keep your eager anticipation to yourself. Instead I would have shrugged, sipped my overpriced shandy, and wandered away to watch Jose Bautista do some of his signature yoga-like outfield stretching.
When it comes to the daily enjoyment of baseball, the burden of widespread expectation is absolute poison. Demanding a certain outcome from a long season is a guaranteed formula for disappointment, and a very easy way to miss all the many simple pleasures that pop up along the way. With the devastation of last year's ALCS loss still fresh in our minds, it just felt healthier to go in not wanting too much from a team we'd come to depend on for home run after electrifying home run. If only a championship will do, you're bound to ruin your good time, and what is baseball for if not a good time?
The Chicago Cubs advanced to the World Series for the first time in seven decades, and Cleveland is attempting to win its first championship since 1948, but there's still some sports jealousy that haunts Jays fans, like someone else is taking our allotted turn. Perhaps that's why this particular end hurts more than it actually should — maybe we got a little too greedy, clung too fiercely to the victories of the previous fall, and refused to settle for anything less than the absolute best.
Despite how much we tried to take this season for what it was, there was always this deep-seated fan notion that this was supposed to be "our year." I would even go as far as saying that there was this anxiety that it had to be our year, because we felt subsequent seasons simply wouldn't hold the same promise. We knew some high-profile members of this team were at real risk of breaking away when the offseason hit (notably Jose Bautista, Edwin Encarnacion, Michael Saunders, R.A. Dickey, and Brett Cecil) so it became important to monopolize on all that talent before it disappeared into another team's uniform.
To be fair, a World Series for the 2016 Jays was an understandable expectation to have for expert and casual fan alike. The roster looked largely similar to last year's — a team that generously broke our prior playoff drought and gave us some of the most invigorating moments in recent Toronto sports history. We were meant to improve on previous results, and there was always this ominous "last chance" tone to the whole six-month affair, emotions that made every do-or-die game feel so much more weighted than it already was.
I mean, that celebrated bat-flipper Bautista — who had been rising to ultimate glory with the Blue Jays since 2008 — surely he deserved a ring, didn't he?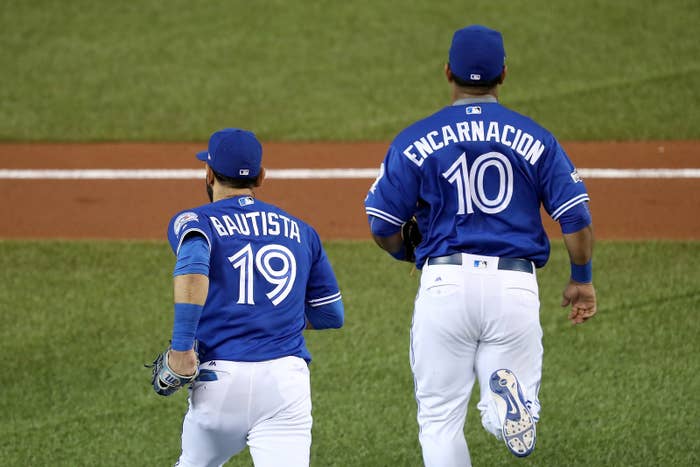 We can't go back and alter those lofty expectations, but we can reminisce on the pleasurable plays we got regardless. Being knocked out after being so close runs the risk of obliterating the image of, say, Michael Saunders running the bases on his third home run in a single game against the Orioles in June. It can make us forget the adorable smile on Josh Donaldson's face when fans' hats rained down on the Rogers Centre field after he earned his own hat trick against the Twins in August. It can erase the feeling of a wild card game with a truly miraculous Encarnacion-crafted extra-innings ending (I cried) and the incredible elation of sweeping those bad boys from Texas on an error in the ALDS (I cried again).
2016 was a year that brought us the face-punching Game 5 bat-flip revenge narrative of Texas' Rougned Odor. Thankfully, it also gave us comeuppance after the Jays artfully destroyed Texas 10–1 in in the first game of the ALDS. ("Revenge," said catcher Russell Martin, "is the best kind of revenge.") The season was not only defined by the youthful passion and resilience of players like Devon Travis, Roberto Osuna, Marcus Stroman, and Aaron Sanchez, but also by the distinction of fielding the oldest roster in major league baseball, something that Josh Donaldson hilariously blamed on the acquisition of 39-year-old pitcher Jason Grilli. All those league-loathed aggressive fist pumps and bat flips, all that self-love, team love, and in-your-face bravado. I suppose it's true that every fan thinks their team is special, but this year that truth felt like it was validated time and time again.
This year, there were so many new fans eager to enjoy the pleasures and stresses of the game. Average Rogers Centre game-day attendance was up 7,000 over last year, and up over 12,000 from the year before that. The 2016 Blue Jays cemented Toronto's reputation as a legitimate baseball city, something that's likely to endure long into the future regardless of what happens to this team. (We've even got the ticket price increases to prove it.) It turns out being being made to feel like an outsider, and being the target of flippant fan hatred, can be as galvanizing for a city's sports community as being loved, and that unapologetic, bold tone defined "Canada's Team" in a way that belied all the usual Canadian stereotypes.
In 2015 we may have been the fun, beloved, surprise contenders, but this year we were certainly not favoured by MLB public opinion to win. In fact, it would be fair to say that quite a few teams and fanbases largely disliked us. Some Texans were more than happy to celebrate that punch in the face with handmade signs, T-shirts, and a lifetime of free BBQ for Rougned Odor. It often felt like the postseason TBS broadcasters either didn't care about or had it in for us, an institutionalized slight that only made it more important that we take it all. We were hated for both our perceived and actual arrogance, and for our perceived and actual misdeeds. We were even forced to reckon with the fact that our rejuvenated fanbase could at times be genuinely awful, with reported racist heckling, aggressive sexist and homophobic behaviour, and a city-wide hunt for a single egregious beer tosser.
In the face of postseason loss, fan perspective is hard. The Jays may not have come out "the best" team in Major League Baseball, but they consistently refused to be put down, and when they were squeezing out the necessary wins, it very much felt like they deserved to go all the way. They gave us a chance to finally understand what it meant to be feared and hated in the world of this game, to have opponents concerned about our skill and our relentless ability to push on until the bitter end. At times we got to be the amusing villain in the comic book that is baseball, and others we were heroes in the most nail-biting of situations.
As Grant Bisbee so astutely wrote over at SB Nation, "Baseball needed this kind of parrot-toting, bat-flipping, mullet-flapping collection of monster bats, and for a while, we had them." I, for one, am mostly just in shock that they were ever ours at all. Even two exhilarating seasons into loving a baseball team that suddenly mattered, I still have a hard time processing the champagne showers and Bud Light bottle dumps of joy that filled their clubhouse.
You can use every possible cliché about gratitude in the face of this painful late October loss and every last one of them would be true — we got to see real live baseball magic this year, and despite any early spring expectations that have been left unfulfilled, that's a very rare thing indeed. We may not have gotten exactly what we wanted, but we got some of the most incredible moments this game can provide. Base-clearing home runs. Extra innings walk-offs. Strikeout after strikeout. Enough photographs of joyful victory leaps and hugs to fill a lifetime of baseball scrapbooks.
The last two years have more than proved that Toronto is a city that can produce baseball that really means something. We're no longer the mere footnote in the game's big narrative, the surprising sports headline, or even the adorable "I can't believe it" underdog story. After decades of Toronto baseball being dire, we were given back-to-back years of being an actual, legitimate threat, and even the most demanding and disappointed of fans can understand that kind of luck. This city has been blessed with a whole new kind of baseball identity, and it has been a pleasure getting used to it.
Now really all that is left to do is wait. We'll begrudgingly watch this year's Jays-free World Series with as much baseball-loving enthusiasm as we can muster. (Go Cubs.) We'll pack up our #19 jerseys, pull out our parkas, and worry about whatever deflating news this winter's hot stove might bring. But before this season of baseball becomes a distant memory, let's choose to live in the fond recollection of that well-timed Encarnacion home run. Let's remember a mind-bending Troy Tulowitzki toss to first, and a frantic, red dirt–streaked Donaldson slide into home. Let's wistfully recall the long stare of our hero Bautista, his altogether poetic defiance, and the feeling of watching him gently lay his bat down before he clears and rounds the bases yet another time.
Reason and perspective will tell you that there will be a lot left of this team to love next season, and that its future is in good hands. It may hurt that Cleveland is in the World Series, but the fact that some of the staff that built that championship-worthy team is now in our front office is a good reason to be optimistic. And yes, this might not have been exactly the end we wanted, but getting there was more incredible, more thrilling than we ever could have hoped. We got gift-wrapped, rising music, do-or-die filmic baseball at its finest. Even if we don't get that again for a while, we got to witness it, together, first hand.