The Notebook

New Line Cinema / Courtesy Everett Collection

Gosling and co-star Rachel McAdams became fast friends on set.

Gosling actually helped cast McAdams.

The scene with the birds almost didn't happen.

The famous on-screen lovers actually disliked each other off-screen. Gosling worked with director Nick Cassavetes during the audition process for the leading lady. New Line Cinema thought the birds were "too much" and wanted the scene nixed. Thankfully, this didn't happen in the final cut.

New Line Cinema / Via giphy.com

Crazy, Stupid, Love.

Warner Bros. / Courtesy Everett Collection

Gosling completely changed his character's personality.

Cast and crew members, including Gosling, submitted ideas as to what the film's title should be.

Gosling said he's a lot like his character Jacob.

Gosling actually said he felt more like Steve Carell's character Cal, than his own character. He had a hard time wrapping his head around his character, so he changed him up. Co-star Emma Stone admitted that one of the submitted "working" titles included Titanic 2: The Search for Jack and Rose.

Warner Bros. / Via reactiongifs.com

Blue Valentine

Weinstein Company / Courtesy Everett Collection

Gosling was initially against the oral sex scene.

Gosling and co-star Michelle Williams lived in a house with their on-screen daughter during filming.

At one point, Williams turned down the role of Gosling's leading lady.

Gosling actually loved the oral sex scene, saying it "felt real." In fact, the entire filming felt real, since he, Williams, and their on-screen daughter Faith Wladyka "played house" during filming. Heath Ledger's untimely death made Williams try and give up the role, because she felt like she should be there for her daughter first.

Weinstein Company / Via wifflegif.com

The Believer

Seven Arts Entertainment / Courtesy Everett Collection

Gosling's mother ran into the bathroom and sobbed after only 10 minutes into watching the film.

Gosling wanted to audition for the part after he learned about it from his cousins.

Director Henry Bean only wanted to cast a Jewish person in the lead role, but Gosling changed Bean's mind.

Gosling learned about the audition from his friends, not cousins. His Mormon upbringing was what made Bean realize Gosling "understood something about religion," and how both Mormonism and Judaism can isolate a person. Sadly, Gosling's mom did have a mini meltdown when she first started watching the film, due to both his character's attitude towards his heritage and life in general.

Seven Arts Entertainment / Via myanacondadontttt.tumblr.com

Gangster Squad

Warner Bros / Courtesy Everett Collection

Gosling met his character Sgt. Jerry Wooters' real kids during filming.

Gosling's co-star Sean Penn's line "Here comes Santee Claus" was scripted.

The film shot in 55 separate locations over a 68-day timespan.

Penn actually improvised that line and director Reuben Fleischer kept it in the film. Gangster Squad did shoot in that many different locations over that time period, and at one point during filming, Sgt. Jerry Wooter's real children told Gosling stories of their famous father.

Warner Bros. / Via giphy.com

The Ides of March

Sony Pictures / Courtesy Everett Collection

Director George Clooney cast Gosling after another actor had to drop out due to scheduling conflicts.

The film is based off a Beau Willimon play.

Gosling said he wanted to direct, so he was thrilled to watch actor-turned-director Clooney work.

Clooney said they wanted Gosling for the role since the beginning. Clooney co-wrote the script with Grant Heslov and Beau Willimon, based off Willimon's play. Gosling admitted he "wants to direct some day," and enjoyed watching Clooney work during filming.

Sony Pictures / Via goslingmyself.tumblr.com

Drive

FilmDistrict / Courtesy Everett Collection

Gosling sees the film as a modern-day fairytale.

Gosling was initially against Nicolas Winding Refn being the director.

Gosling considers this to be his superhero movie.

Gosling only wanted Refn as the director. He also said his character was like a knight who needs to rescue the princess in the tower. Furthermore, Gosling admitted that although he's been contacted about doing superhero movies, Drive felt like the one he wanted to do.

FilmDistrict / Via giphy.com

The Place Beyond the Pines

Focus Features / Courtesy Everett Collection

The same director of Blue Valentine directed this film.

Gosling thought he could have done even more with his character's tattoos.

The film's first draft was over 160 pages long.

Lars and the Real Girl

MGM / Courtesy Everett Collection

The film's script sat around for six years, because none of the studios wanted to pick it up.

Gosling slept with the doll in his mother's basement during filming.

Gosling actually learned how to knit during filming.

Director Craig Gillespie said he had the script for four years, not six, because "nobody was interested." Gosling did bring the doll home to his mom's house every night during filming. Additionally, women on set taught him how to knit during the all-day knitting scene.

MGM / Via giphy.com

Half Nelson

ThinkFilm / Courtesy Everett Collection

The film was actually inspired by a short film.

Director Ryan Fleck chose to shoot on Super 16mm instead of 35mm.

Gosling was the only person truly considered for the lead.

Gosling said Fleck didn't initially think of him for the lead. Half Nelson is inspired by the short film Gowanus, Brooklyn, which Fleck also directed and co-wrote. Moreover, Fleck opted for Super 16mm film over 35mm because he loved the grainy look to it.

ThinkFilm / Via giphy.com
Two Truths And A Lie: Ryan Gosling Edition
Looks like you need to brush up on your movie facts, but that's perfectly OK. It just means you get to stare at the beauty that is Ryan Gosling, and who wouldn't want that, amirite?!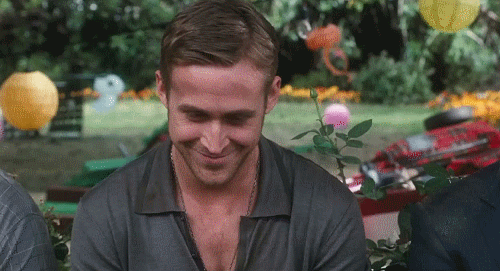 Wow, great job! You know a little somethin' somethin' about Ryan Gosling's work. That, or you just picked up on it while staring at his beauty for hours on end. Either way, you're a rockstar!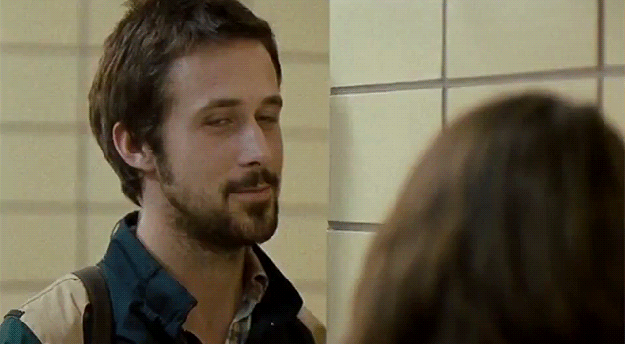 Fantastic job! You know the ins and outs of some of Ryan Gosling's biggest films. (Or, you're just an insanely good guesser, but that's not important right now.) You should feel extremely proud of yourself, and hey — this is just yet another reason why you and Ryan Gosling are meant to be together.