It would be remiss of me to not begin this post by mentioning that Ram Gopal Varma is an iconic dumbfuck. Over the past couple of years, he has displayed his disturbing sexism, vile homophobia and toxic machismo on Twitter, and unfortunately that made him a relevant talking point even though his filmmaking career has been in the deepest ditches of mediocrity.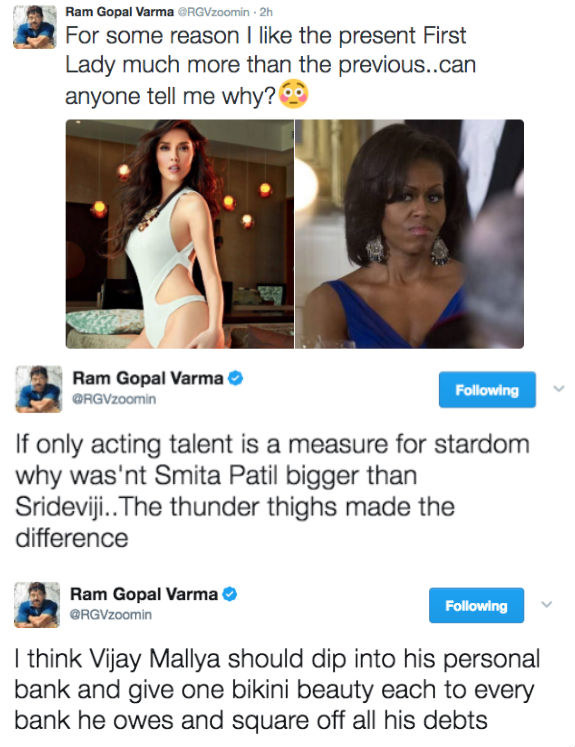 For some inconceivable reason, RGV has had it out for Tiger Shroff. He has publicly mocked Shroff for being "like a woman" and a "bikini babe". This is how RGV wished Shroff on his birthday recently:
On April 10, RGV went on a rather odd Twitter rant wherein he pitted Shroff against Vidyut Jammwal, wishing for them to fight each other to prove who is better.
He went "FIGHT! FIGHT! FIGHT!" into a vacuum.
He egged the men on to fight each other, and even placed bets...
He went on about Shroff destroying Jammwal in this hypothetical match. Please note that in the past, both Jammwal and Shroff have not once expressed a desire to destroy each other. This fictional fight club was a lonely one, with only one member yelling from outside the ring.
RGV went on...
And on...
And on and on and on.
And as karmic payback, Jammwal decided to tweet a phone conversation he had with RGV about his unprovoked Twitter rant.
Here's the entire conversation where RGV has been a pure, unadulterated asshole to Shroff despite Jammwal telling him to drop it:

RGV: First of all I think Tiger Shroff is a woman, he's transgender, that's what I think. Anyway, the point is that this is a campaign for what I want. Vidyut Jammwal kya kar raha hai chutiya, Tiger Shroff usko laat marega. Ball is in the court of Tiger Shroff, can he can prove to Ram Gopal Varma that he can kick Vidyut Jammwal's ass? Yeh toh pata lagna chahiye.

Vidyut: What are you drinking alone, sir?

RGV: Vidyut, you're the biggest, greatest man I ever saw in my life. Tiger Shroff is the greatest woman I saw in my life. Bottomline is whether you think you can beat the shit out of Tiger or not...

Vidyut: I don't need to think like that. I have bigger things to do in life...

RGV: I know. But is Tiger better than you? I don't know. I, as an outsider, know what you are and what he is. Cosmetic martial arts is what he is. I think you're a martial artist not because of the fucking exercises you do...

Vidyut: But why are putting me and him together, sir? We both have different journeys and destinations.

RGV: I'm doing this not you.

Vidyut: But why are you doing this?

RGV: The whole thing is a challenge to Tiger Shroff, not you. It has nothing to do with you.
On April 11, RGV woke up with a bitch of a hangover, filled with questionable remorse. He tweeted this:
He made a decision to kick the bottle...
And he expressed his gratitude towards Jammwal for calling out his dickery.
Conclusion: RGV is not a very nice man.