Farhan Akhtar Had A Hilarious Response To "Mumbai Mirror" Declaring Him "Almost Homeless"
Was this an elaborate but early April Fools' prank?
On March 31, Mumbai Mirror published this piece of information about Farhan Akhtar's current living situation: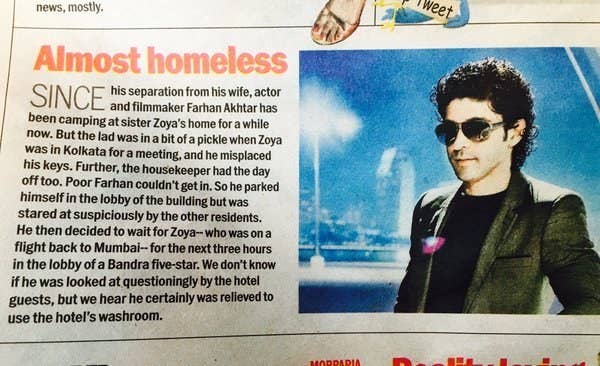 Since his separation from his wife, actor and filmmaker Farhan Akhtar has been camping at sister Zoya's home for a while now. But the lad was in a bit of a pickle when Zoya was in Kolkata for a meeting, and he misplaced his keys. Further, the housekeeper had the day off too. Poor Farhan couldn't get in. So he parked himself in the lobby of the building but was stared at suspiciously by the other residents. He then decided to wait for Zoya-- who was on a flight back to Mumbai-- for the next three hours in the lobby of a Bandra five-star. We don't know if he was looked at questioningly by the hotel guests, but we hear he certainly was relieved to use the hotel's washroom.
I don't know about you but the part where Mumbai Mirror vouches that Farhan was relieved to use the hotel's washroom is my personal favourite.
Would he hire writers from Mumbai Mirror to write his next screenplay? Who's to say?