I enlisted in the military in 2012. My weight ranged from 120 to 140 during this time. My DDD breasts could mostly account for that. Mid-basic training, I caught a glimpse of my stomach and saw, for the first time in my life, abs. Once I was allowed into civilian clothes, I couldn't believe how slim my legs were; how toned my shoulders had become.
Fast forward to my first official PT test. I didn't have one. I had spent some time doing training in Massachusetts so it had to be postponed. Once released, the test fell on a Sunday in February. This was 2014. Naturally, New England roads were ridden with stale, six foot snow so due to the Air Force's scoring methods, I received a 90 with an exempt run. I weighed in at 113 with an 18-inch waist—more points for me. That meant I wouldn't be due for another PT test for another six months. Awesome, I was in the clear.
March came, April, May, June, July. I was training for my test but gaining weight and sweating buckets. My pants stopped fitting. I was having dreams about a baby that looked nothing like me or my husband. Suddenly, we were pregnant. I went from drinking a bottle of Middle Sister with Ichiban sushi every night to being with child. I couldn't fucking believe it. I mean, I wouldn't believe it until he was out of me.
The effects came at me with a vengeance. I was becoming subhuman. I was starving, I was full. I was generally angry that this mutant thing taking shape inside of me was absorbing everything—my food, my emotions, my energy, any ability I had to not be burning fucking hot. I remember running to Subway and scarfing down a turkey and cheese flatbread in my car. I couldn't make it into the waiting room of my appointment. When I did get inside, however, I felt like I hadn't eaten in hours. That was the first time I felt any emotion toward our so-called bundle of joy.
And then the morning sickness commenced. My husband and I were sitting on the couch one morning eating pancakes that tasted totally normal the night before. I looked at him disgusted asking him how he could eat that shit. That's when I knew my body was getting ready to fuck me. The worst part about it was that I didn't throw up once—not once. Aside from getting skinned or scalped or like not being able to find a toilet when you have diarrhea, I don't think there's any worse torture than morning sickness that doesn't allow you a release. I just wanted the euphoric freedom of regurgitation. Everything tasted and smelled so gross to me. Why couldn't I just throw up?
Knowing the food wasn't gonna come back up, I force-fed myself protein shakes and protein bars. I was never a big meat eater and my OB was a huge stickler about what I was eating. She was a short Middle Eastern woman whose practice wasn't recommended because she was "impersonal" and "rude." I wanted her as my OB for that reason. I'm never interested in becoming friends with people who are in positions of trust to me. No, deliver my baby and leave please. Don't ever reach out to me again. Anyway, she was adamant about reducing calories and getting enough protein and I was committed to following her diet plan. I didn't follow her diet plan but I did eat healthily. I learned that I had no other choice.
I brought one of those microwave noodles to work one morning and realized via my hastily pumping blood that there was quite a bit of salt in there—twelve hundred milligrams to be exact. I know that could be a large number that actually means absolutely nothing but twelve hundred milligrams is actually significant. I wanted to fucking to fight someone, my adrenaline was so springy. Migos' Fight Night accurately describes my mood. The sodium wrapped itself around my heart and squeezed so hard my ears were popping. After that, I couldn't even have an apple without getting the shakes. Juice? Forget about it. I was scared to even drink enhanced water.
I guess I was somewhat fit because my job hardly noticed until ten weeks before my due date but I'm sure I made a lot of people uncomfortable with my grimaces at their buffalo chicken and my snarls at their sushi.
At my thirty-week mark, I was 140. The kid was ready to come out—I said so. I found my mucus plug stuck to the back of my hand in the shower, a piece of my tooth came out, my lips were chalking right off my face. I realized that I didn't think through letting my husband cum inside of me the day after my last birth control pill. I really sound like an unfortunate teenager complaining that it was just one time.
Well, we were doing all of the remedies—the spicy foods, the jumping jacks, the squats, the aggressive sex. I begged for every single one of our midwives to strip my membranes. They "didn't think it was safe." Our midwife Katie suggested we walk around the mall so we did. I got funnel cake, AJ got a slice. Since it was a Monday, we also got some ice cream from the shopette and watched the Bachelor. By eleven o'clock, my stomach began to feel bloated—like more bloated than six pounds of fluid, twelve pounds of fat and body tissue, and roughly two million gallons of blood pumping through my body. I looked over at my husband and told him I wasn't feeling so good but I secretly chalked it up to the ice cream. The unspoken truth was that "tonight" was the "night," as was every night for the last month. I decided to go up to bed after he did. I was pecking around Bing with SafeSearch turned off. I reasoned that labor could be induced due to my vaginal walls contracting and I just didn't feel like swallowing my heartburn while my husband charged himself into my elevated pelvis.
Five o'clock in the morning, I gradually awoke but I felt like my eyes were shot open or were open longer than I had been awake. I had enough energy to barrel out of bed and use the bathroom for the fifteenth time that the night. I got back into bed, played on my phone for a little, and finally dozed off. Seven minutes later, I was shot awake again. I dozed off easily, buried in the plushness of my comforter. And then, six minutes later, I was awake again. This time, I couldn't go back to sleep. I was filled with second trimester energy.
I grabbed my phone again—my go-to for humdrum reading material boring me back to sleep—but my body wasn't budging. That's when I noticed that whatever he was doing wasn't just kicking.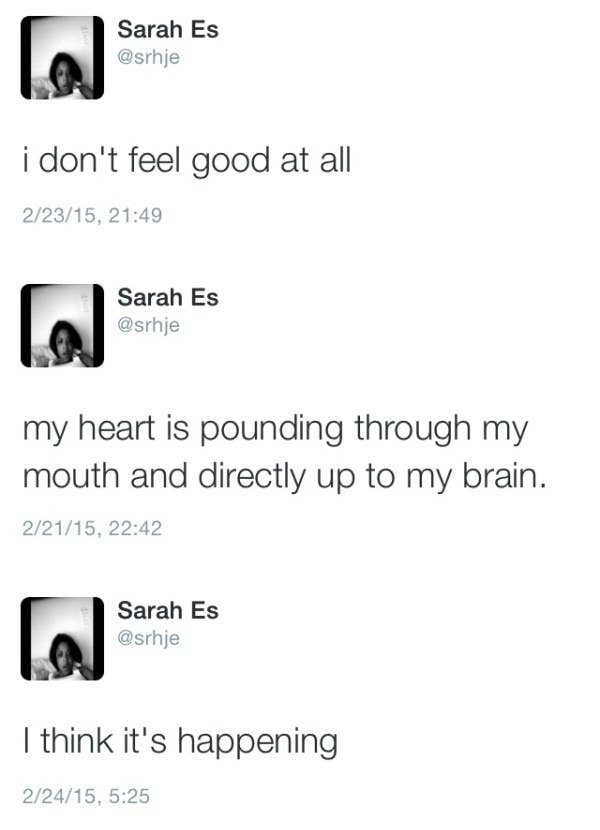 I opened my Baby Center app immediately and began timing. Yup, five minutes apart and just about fifty to sixty seconds in duration. I couldn't believe it! As a matter of fact, I didn't believe it. Contractions were supposed to be painful. Mine were also not rhythmic like our midwife described. I imagined a heavy basketball slowly being forced down into a pool of water (the pressure being the baby's head expanding my cervix) and then being swept back up (at which point the contractions would respite). At twenty-seven weeks, after having Chipotle and some fiber gummies before bed, I experienced severe Braxton Hicks while sitting at work the following morning. They came without a warning and landed me in the hospital for the rest of that evening. I thought it was gas and tried to tough it out for two hours but ended up dragging my feet to my car, honking at the slow-driving maniacs in front of me who couldn't tell I was obviously headed to the hospital.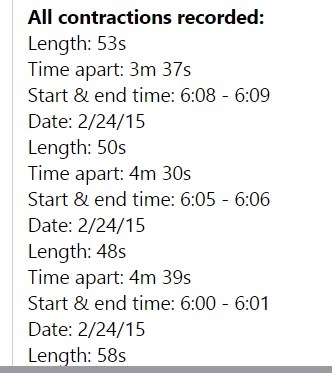 JWoww couldn't describe the feeling better, "It feels like someone is taking my intestines and trying to pull them out of my asshole." Yes, mutation. A mutant mutilating me. At twenty-seven weeks, after having Chipotle and some fiber gummies, I experienced severe Braxton Hicks while sitting at work. I thought it was gas so I toughed it out for two hours before dragging my feet to my car, honking at the slow-driving maniacs in front of me who couldn't tell I was obviously headed to the hospital. Well, that early morning, I felt nowhere near what I had felt that afternoon at work. I even felt like the contractions were spreading out. Trying not to feel discouraged, the idea of prodromal labor eased me and then turned my disappointment into brewing aggravation. I was a torturous two days overdue.
I got out of bed, swept the living room floor, I called my mother who predicted I had three or four more days to go based on the tough exterior I usually wear for her "Be Strong," Army cavalier, and then my husband and I sat down and had eggs. Suddenly, it hit me. I told him in a panic that we had to leave now. Stiffness circled my lower back and not the kind that would get me out of bed to do prayer poses in the middle of the night. I wriggled upstairs, regretting how hairy I had let my vagina become. With his eight-pound, twenty-two-inch body pulsating out of my.. well.. somewhat tight vagina, I had one heavy thigh up on our sink counter trying to turn the 1970's disco show to whatever you'd find when you search "lesbians" and "teens" in the same result. And then I stopped shaving so I could shave off some of the anticipation nesting was giving me—putting stovetop parts into the dishwasher, unzipping our couch cushion covers and throwing them in the wash. My husband dragged me out the door.
When we got into the car, the pain settled. A mile outside of the hospital, I couldn't breathe. We called our midwife at eight o'clock and I answered her questions through huffs. By the time we got inside, I was crying and shrieking. The nurse asked me to rate my pain, ten being my foot being run over by a lawnmower. I told her ten because it felt like my cervix was being run over by a lawnmower. It felt like a metal pole was placed horizontally across by stomach and my cervix was being drug through and out of my body. I had no idea what was going on—all I knew was that someone had clearly performed witchcraft on me.
We got to the delivery room and I was given something in my IV that made me nod off instantly. I looked at my husband and laughed, "Oh, shit." All of a sudden, an assembled stack of consent forms were being pushed into my face. I steadied the pen and carefully wrote my beautifully curled signature on the lines. The nurse looked at me and said, "Seriously?" "Yeah.." I groaned.
We left our bags in the car because we were still in our this-isn't-happening mindset, so, at one point, I asked my husband to get them. He was worried he was gonna miss the delivery and didn't want to risk it. I assured him I'd hold off on all dilation until he returned. There was no way this baby was passing through my cervix without an epidural. There is no way I'd ever do a natural childbirth voluntarily.
When the anesthesiologist came in, I asked AJ to rub my back because I hate needles. I was paranoid all afternoon about someone getting tangled in the tubes and cords plugged into a vein on the back of my palm so anxiety had reached its peak when my body belted out the most blood-curdling scream my reserve personality would ever emit. At the same time, I was growing frustrated with my husband's half-assed massage, affirming, "Just rub my shoulders!" I wailed through the shot and then went back to sleep. AJ would later tell me he felt like falling out.
I have no idea what he did the entire day. I slept pretty much the rest of the way after the epidural was administered. I woke up at the peak of some of the contractions and a couple times when his foot ran into the bed. I said to him, "AJ, please be careful of the bed," and then floated back into slumber. And then I jerked awake from the bed being jolted by his foot a second time and said, "My goodness. What the fuck?" He apologized endlessly and I felt terrible for cursing at him, I did.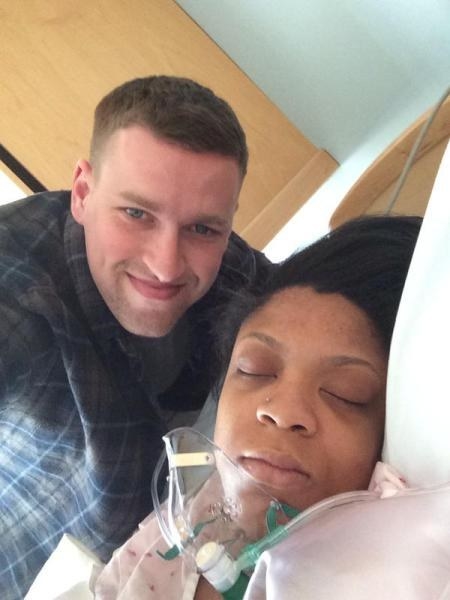 I also felt kinda bad because, at one point, I physically couldn't move so much I couldn't move my lips to tell someone I had to use the bathroom. I peed right there in the hospital bed and I knew it. AJ watched them flip and flop me over, bright orange, or clear I should say, trickling the floor.
At three o'clock, I did three rounds of three consecutive pushes. I feel asleep in between. The nurse tapped me on the knee each time, saying, "Hey, it's time to push again." I felt shoulders leave my body and out came our boy. Nurses clucked breastfeeding instructions around me. I didn't hear a word. AJ held my breast in the recovery room doing it for me. My mother's flight from Florida was just landing. She kept telling everyone "I'm grandma!" to which they'd respond that we looked like sisters—I wasn't sure which one she was enjoying more.
A week after we brought him home, I spent two days straightening my hair. Two days. Washing, blow drying, and flat ironing fragmented by soft, shrill crying. And breastfeeding turned out to be excruciating. Of all the literature I read and all the instruction AJ retained for me, we hadn't stumbled upon anything entailing the pain of breastfeeding. It felt like a lawnmower running over my nipples.