5 Easy After-School Snacks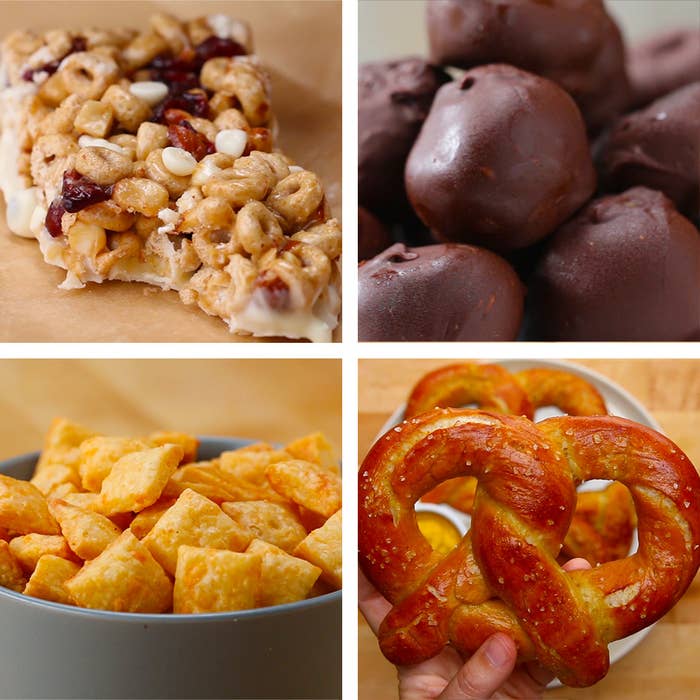 No-Bake Cereal Bars
Makes 8 bars
INGREDIENTS
½ cup honey
¼ cup peanut butter
3 cups toasted oat cereal
1 cup yogurt chips (save ½ cup for melting)
½ cup unsalted toasted almonds, chopped
½ cup dried cranberries
1 teaspoon coconut oil (optional)

PREPARATION
1. In a bowl, mix honey with peanut butter. Microwave for 45 seconds or until melted, stirring every 15 seconds.
2. In a large bowl, combine oat cereal, half of the yogurt chips (save the other half for later), chopped almonds, and dried cranberries.
3. Pour the melted honey mixture into the bowl and stir until well mixed.
4. Pour into an 8x8 baking pan lined with parchment paper, and gently flatten the mixture evenly around the pan.
5. Freeze for 30 minutes, or until the mixture has hardened enough to cut it into 8 pieces.
6. Melt the other half of the yogurt chips in the microwave for 15 seconds at a time, until melted. (Optional: Add 1 teaspoon of coconut oil to help with the melting process.)
7. Dip the bottom of the bars in the melted yogurt chips and place on a piece of parchment paper. Freeze for another 15 minutes.
8. Wrap each bar in parchment paper and store in the refrigerator or freezer for up to 3 months.
9. Enjoy!
Easy Cheesy Crackers
Servings: 6-8
INGREDIENTS
8 ounces shredded cheddar cheese
4 tablespoons unsalted butter, room temperature
1 teaspoon salt
1 cup flour
2 to 3 tablespoons ice water
PREPARATION
1. Preheat oven to 350˚F (180˚C).
2. Using a hand mixer or standing mixer, combine cheese, butter, and salt in a large bowl.
3. Once combined, mix in the flour and add the ice water one tablespoon at a time. The dough should hold together but crumble apart if you break it up in your hand. If it seems too dry, add a little more ice water.
4. Separate dough into two halves and pack together into discs. Wrap in parchment paper and chill in the refrigerator for 30 minutes.
5. Roll out dough to ⅛ inch thick, pinching the cracks on the ends.
6. Cut into 1-inch squares and pierce a hole in the middle of each square for ventilation during baking.
7. Place the separated crackers on a parchment-paper-lined baking sheet. Bake for 13 minutes, or until golden brown.
8. Enjoy!
Chocolate Peanut Butter Oat Balls
Servings: 24
INGREDIENTS
1½ cups peanut butter
⅓ cup honey
¾ cup oats
½ cup mini chocolate chips
3-4 cups chocolate, melted
PREPARATION
1. In a large bowl, combine the peanut butter, honey, oats, and mini chocolate chips. Stir until all ingredients are fully incorporated.
2. In the palm of your hand, roll peanut butter mixture into walnut-sized balls. Place on a piece of parchment paper on a baking sheet and freeze for 20 minutes, or until firm but not frozen.
3. Once firm, dip the peanut butter balls into melted chocolate, coating the whole ball.
4. Place back on the parchment and freeze again until chocolate is hardened.
5. Enjoy!
Homemade Soft Pretzels
Servings: 8

INGREDIENTS
1½ cups warm water
1 tablespoon salt
1 tablespoon sugar
1 packet dry active yeast
4½ cups flour
3 tablespoons oil, divided
⅔ cup baking soda
2 eggs, beaten
Coarse salt
PREPARATION
1. Preheat oven to 450°F (230°C).
2. In a bowl, mix water, salt, and sugar until combined. Add yeast, and let rest 5 minutes until yeast starts to foam.
3. Add flour and 2 tablespoons of oil, and mix thoroughly until a dough forms.
4. Remove the dough and use the remaining oil to cover the bowl.
5. Cover bowl with plastic wrap and leave in a warm place for 1 hour.
6. Cut dough into 8 pieces and roll them out into thin ropes, twisting the two ends to form a pretzel shape.
7. Add baking soda to a large pot of water, and bring to a rolling boil. Boil each pretzel for 30 seconds per side.
8. Transfer pretzels to a baking sheet, brush with egg wash, and sprinkle with salt. 9. Bake for 10-15 minutes, until golden brown.
10. Enjoy!