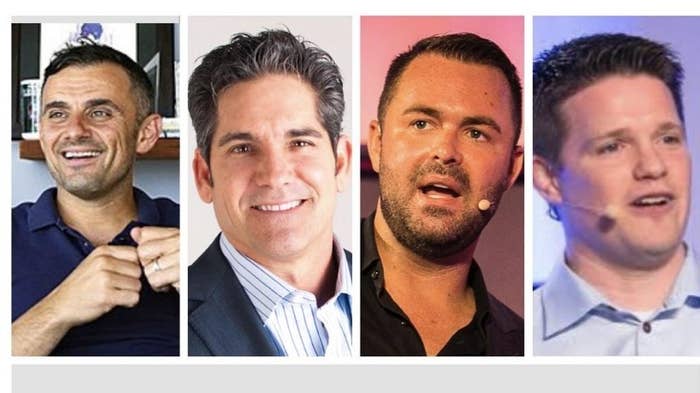 Digital Entrepreneurship can be defined as either the creation of specific content to cater to a certain consumer or the digitization of any retail business. From E-Commerce tycoons to Digital Marketing Experts, the Internet has created a platform for entrepreneurs to quickly implement ideas and create massive fortunes. With the advent of technology and a burgeoning digital literacy rate, entrepreneurs are actively capitalizing on the recent wave of digitization to grow their businesses and further their incomes and influence.
As with everything, there are certain stand-out individuals who have gained significant traction in the digital marketing and entrepreneurship scenes and have managed to positively impact millions of people all around the world.
Let's take a look at some of the most influential Digital Entrepreneurs using social media to positively impact people's lives:
Gary Vee
Gary Vaynerchuk, popularly known as Gary Vee, is arguably one of the most influential Digital Entrepreneurs of this generation. Originally from Belarus, Gary gained traction in the late 90s for successfully transitioning his father's local wine business into one of the first digitized platforms for alcohol in the country. "Wine Library" was a massive hit and Gary scaled the business from $3M in sales to $60M in sales in just a few years.
Today, Gary is a serial entrepreneur, a prolific investor and a highly sought after Public Speaker. He serves as the chairman of VaynerX and is also the active CEO of VaynerMedia, a highly successful advertising agency. However, Gary's rise to fame has largely been due to his Youtube channel which airs the #TheAskGaryVeeShow, a live Q&A show in which Gary motivates viewers to take control of their life and encourages them to work harder. By establishing himself as one of the most influential online personalities, he has been enabled to help millions of people.
Grant Cardone
Grant Cardone is another highly influential and successful Digital Entrepreneur. A native of Lake Charles, Louisiana, Grant has journeyed throughout the United States in order to build his prosperous empire which has enabled him to build a net-worth estimated to be as high as $400M. Grant has gained traction for mastering the art of sales, a profession which has gained him the opportunity to work with organisations such as Google and Ford in order to enhance their sales process and improve and optimize businesses globally.
In addition to being one of the best sales trainer in the world, he is also a New York Times best-selling author of several books, the most popular being The 10X Rule. Grant is also a renowned public speaker, holding conferences and events all around the globe, where he advises people on creating and sustaining wealth. A devout philanthropist, his foundation, The Grant Cardone foundation, helps and advises at-risk people on financial matters. Due to his extensive pursuits, Grant has amassed almost 7M social media followers, making him one of the most prominent Digital Entrepreneurs of this generation. As evidenced by the testimonials from his students and clients, he has used social media to positively influence millions of people.
Tim Burd
A California native, Tim Burd is widely considered to be the Godfather of Facebook Advertising and Marketing. His work has been regularly featured in Forbes, Entrepreneur, INC., and Bloomberg. In fact, Forbes has called him one of the top millennial entrepreneurs and Bloomberg went on to label him as The Digital Bounty Hunter for his work using social media to help thousands of victims receive justice in various legal cases.
Tim serves as the active CEO of AdLeaks, one the largest advertising communities in the world. He is also an online senior partner for Agency Y, arguably one of the most successful digital marketing agencies in the industry. Due to his vast expertise and knowledge on the matters of Digital Marketing, especially Facebook advertising, Tim has been frequently invited to speak at conferences and events all around the globe. As such, he has managed to gain a wide social media following. Tim's groups on social media have over 200,000 members, and are comprised of the most elite minds in advertising. Tim continues to advise people on ways to build wealth and market efficiently. It is rumoured that even Facebook has sent its own employees to his mastermind training sessions to gain more insight on their own ads platform! Tim has helped thousands of entrepreneurs and clients succeed using social media.
Russell Brunson
The last person on the list is Boise native Russell Brunson. Russell always had an entrepreneurial mindset, but his big break came when he managed to rake in an astonishing $1M selling potato gun DVDs a year after graduating college. This big break catapulted him to the apex of the online marketing hierarchy and since then he has managed to successfully market everything from supplements and shakes to coaching books and softwares. His endeavours have enabled him to help several other aspiring entrepreneurs and online marketers.
In October 2014, he launched his premier sales funnel software, ClickFunnels, which enables burgeoning entrepreneurs to effectively market their products and grow their businesses. He is also a talented writer, authoring bestselling books such as of DotComSecrets and Expert Secrets which are widely regarded as the best books to read if you are looking to get into entrepreneurship. Russell Brunson regularly uses social media for good, helping entrepreneurs grow, and helping people turn their passions into sustainable businesses
The social media stars listed above are a testament to the fact that hard work can trump natural talent any day. None of them went to fancy colleges or were born with a silver spoon in their mouth; however with perseverance and dedication, they have proven their worth to the world, and continue to use their social media platforms to give back.